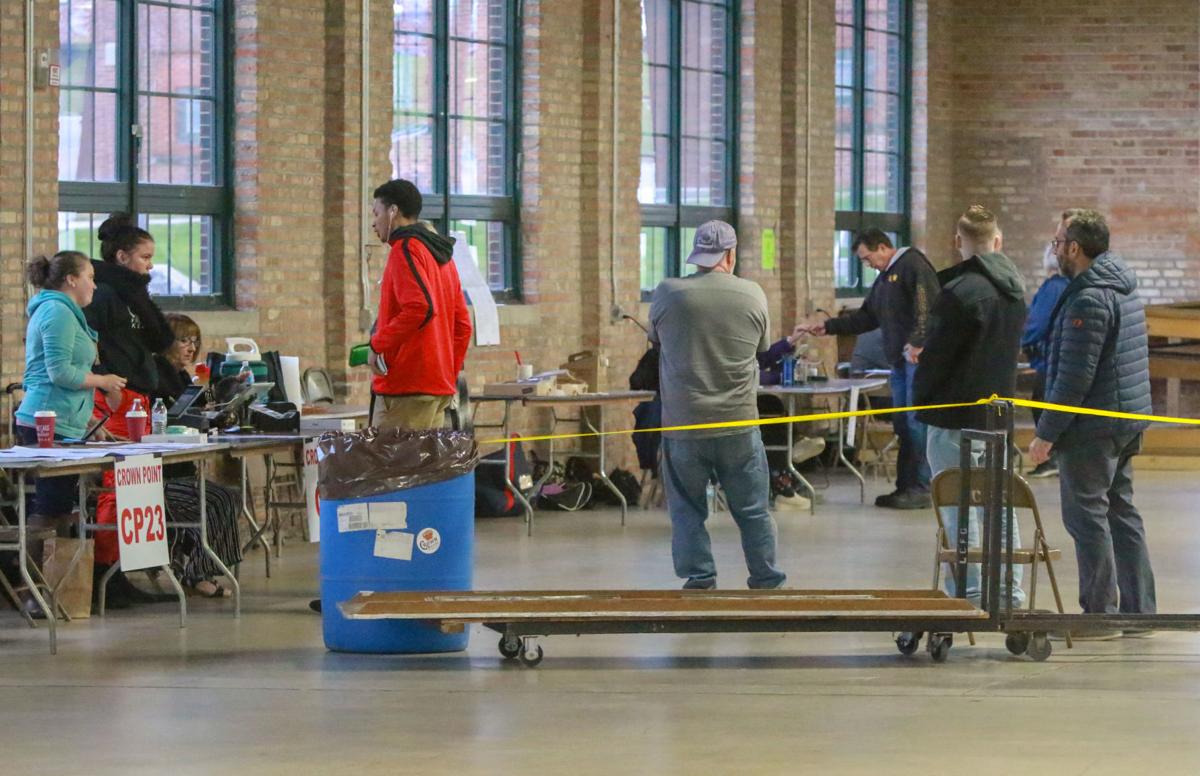 Lake County's patchwork precinct map is now a bit simpler after elections officials implemented a state-mandated consolidation plan.
At a public meeting Tuesday, the county elections board approved polling locations for nearly all of the consolidated precincts formed by the merger of 170 small precincts into larger ones.
The consolidation dropped Lake County's precinct count from 523 last year to 364 ahead of the May 7 municipal primary elections. As a result, almost 90,000 county voters will have a new polling place come election day.
With the roster of precincts finalized, Lake County has come to the end of a divisive process that began in 2014, when the Republican-controlled Indiana General Assembly ordered the county to pare down its number of small precincts. Lake County Democrats resisted, arguing the order would be felt most heavily in Democratic strongholds in north county.
After the Indiana Election Commission failed to adopt a consolidation plan, the general assembly turned the task over to Secretary of State Connie Lawson. Issued in August 2018, Lawson's plan called for the county to eliminate precincts with fewer than 600 active voters and purge precinct committee members whose precincts were merged.
County Democrats again protested, asserting the plan would disenfranchise elderly and minority residents without transportation, who would have to travel farther to reach their polling places. In January, the three Democrats on the five-member elections board countered with a proposal that would have split up 40 of the state-designated precincts with more than 1,200 registered voters.
State election officials rejected the plan, leaving Lawson's full order in effect.
Under the final plan, nearly all of the consolidated precincts have at least 1,000 registered voters, according to figures provided to The Times. In some cases, three precincts were merged instead of two.
Gary had the most eliminations — 54 small precincts were merged into larger ones, leaving a total of 51 consolidated and unchanged precincts. In Hammond, 33 precincts were eliminated, leaving 46 total precincts, while East Chicago lost 14 precincts for a total of  consolidated precincts.
To determine voting locations in the consolidated precincts, the elections board used a simple formula in which the polling place larger in precinct became the polling place for voters whose precincts were merged into it. The board has applied that concept to all of the consolidated precincts except East Chicago 25, which was formed by the merger of EC 25 and EC 26, and Gary 1-3, which was formed by the merger of G1-3 and G1-6.
A final decision on the polling location for those two precincts is expected at the elections board meeting on April 2, according to Assistant Director LeAnn Angerman.
Meanwhile, the elections office will send postcards to the nearly 90,000 registered voters whose polling place has changed to notify them of their new voting location, she said.