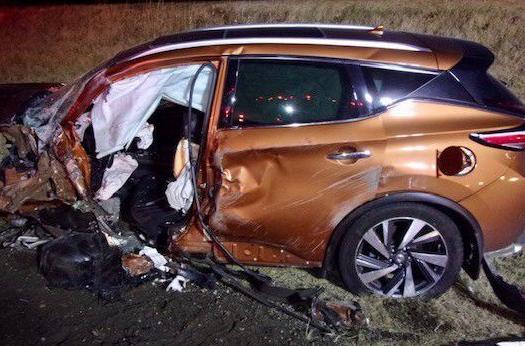 KANKAKEE TOWNSHIP — A pair of crashes along U.S. 20 on Friday afternoon that occurred less than a half hour apart left one motorist dead and three others injured.
Police first responded around 4:32 p.m. near the intersection of U.S. 20 and County Road 200 East for a crash, the LaPorte County Sheriff's Office said in a news release.
An investigation by Deputy Evan Doperalski found a silver 2004 Ford, driven by 61-year-old Arthur McNeeley, of Mishawaka, was traveling east on U.S. 20 in the left lane.
A silver 2001 Cadillac, driven by 69-year-old Debra Birkholz, of LaPorte, was stopped at County Road 200 East, yielding to traffic and waiting to turn north onto the road.
McNeeley attempted to avoid striking Birkholz, but hit her rear left side, police said.
McNeeley's vehicle then went into the westbound lanes where his front driver's side struck the front driver's side of a 2016 Nissan, driven by 62-year-old Brian Klingerman, of Bremen, in the westbound right lane.
Finally, a 2013 Toyota, driven by 53-year-old Kristina Wu, of LaPorte, was driving westbound on U.S. 20 and struck the rear driver's side of Klingerman's vehicle.
McNeeley sustained a lower body injury and was pinned inside his vehicle, requiring extrication. He was transported to an area hospital. Toxicology results are pending.
Inside Klingerman's vehicle, Brian Klingerman, 65-year-old Joyce Klingerman and 33-year-old Jessica Klingerman all were pinned inside, also requiring extrication. All three sustained upper body injuries and were transported to area hospitals for treatment. Brian Klingerman died several hours later, police said.
Other police officers responded to another crash around 4:57 p.m. near the intersection of U.S. 20 and County Road 300 East.
An investigation by Deputy Micah Hatley found a northbound 2005 Mazda, driven by 19-year-old Hailey Joe Del Valle, of East Chicago, disregarded the stop sign at U.S. 20, proceeding into the highway.
Del Valle then collided with a westbound 2016 Ford hauling an RV trailer, driven by 58-year-old Minh Nguyen, of Pattonville, Texas. Nguyen's truck and RV jackknifed, police said.
Del Valle was issued citations for disregarding a stop sign, learner's permit violation, false and fictitious registration, failure to register and no vehicle insurance, police said.
U.S. 20 was closed in both directions for 2½ hours as authorities responded to both crashes. 
Police did not report any injuries in the second crash.
Kankakee and Springfield Township volunteer fire departments, Michigan City Police, LaPorte County EMS, the St. Joseph County coroner, Ace Towing, Quick's Towing, Stan's Towing, Action Towing and Barnes Towing assisted at the scenes.
Get local news delivered to your inbox!
Subscribe to our Daily Headlines newsletter.