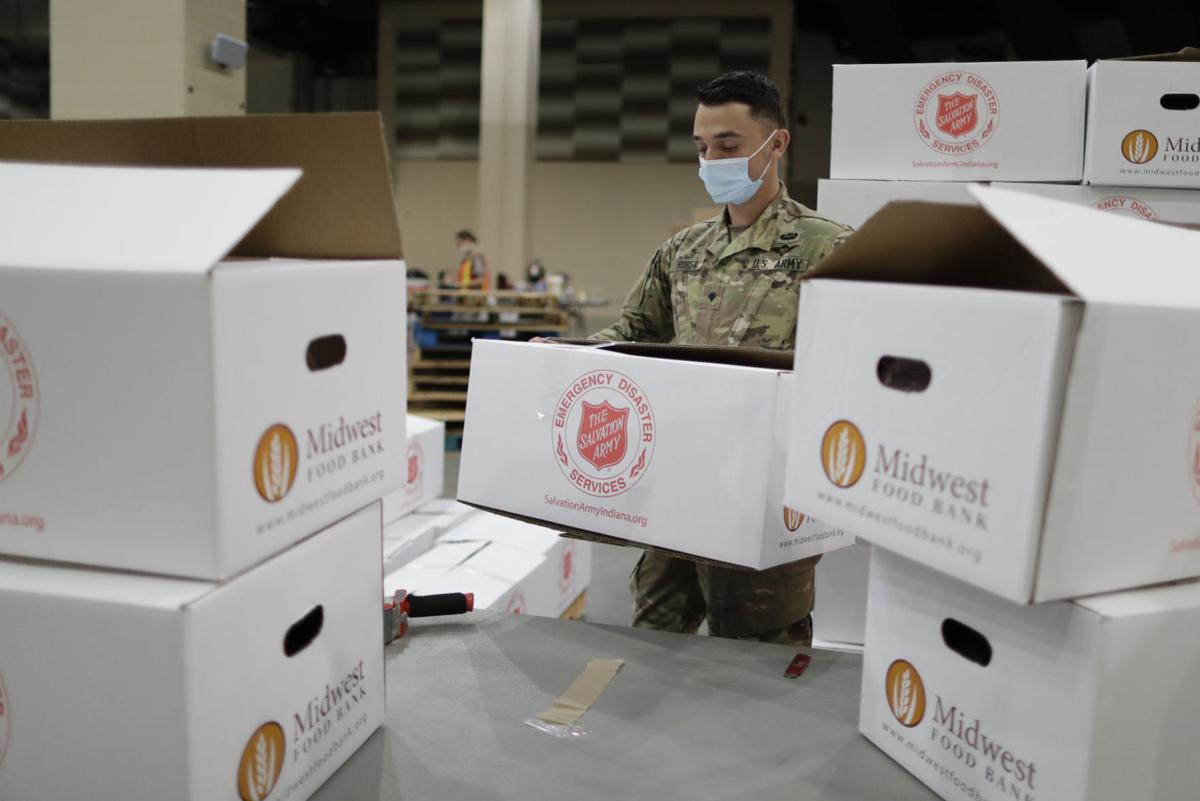 Six additional COVID-19 deaths were reported Friday in Northwest Indiana, including two in Lake County, two in Porter County and one each in LaPorte and Newton counties.
The additional deaths brought totals to 136 in Lake County, 15 in Porter County, 14 in LaPorte County, nine in Newton County and one in Jasper County.
Another 141 deaths were listed as probable, which means there was no positive test on record but a physician listed COVID-19 as a contributing cause based on X-rays, scans and other clinical symptoms. One of the deaths reported by Porter County officials was probable.
The additional deaths reported Friday occurred between April 9 and May 14, state officials said. All data was provisional and subject to change as more information is reported to the state.
An additional 614 Hoosiers tested positive for the virus, bringing Indiana's total number of confirmed cases to 26,655.
As the state expands testing in an effort to reopen the economy, the number of confirmed cases is likely to continue to climb, officials said.
Lake County added 64 cases in the 24-hour reporting period for a total of 2,747.
The Gary Health Department reported Friday a total of 534 positive cases and 16 deaths.
The East Chicago Health Department reported Thursday a total of 243 positive cases and seven deaths.
The Lake County Health Department reported the following totals for other communities: Hammond, 454; Crown Point, 300; Merrillville, 244; Dyer, 204; Hobart, 167; Schererville, 124; Munster, 115; Highland, 72; Griffith, 54; "unknown," 52; Cedar Lake, 46; Whiting, 43; St. John, 43; Lowell, 37; Lake Station, 37; "other," 11; Schneider, three; New Chicago, one. Totals include only residents of each community, not those being treated i medical facilities in those towns, officials said. 
Death totals included 20 in Crown Point; 14 in Hammond; 11 in Munster; nine each in Merrillville, Dyer and Hobart; three in Schererville; two each in Highland, Griffith, Cedar Lake and Lowell; and one each in Whiting, St. John and Lake Station.
The Porter County Health Department reported nine new positive cases for a total of 393.
All townships were reporting at least one case. Those with more than 10 included: Portage, 169; Center, 80; Washington, 46; Westchester, 31; Liberty, 19; Union 18; and Boone, 11. The majority of cases in Washington Township involved inmates at the Porter County Jail, county officials said.
The total of 15 deaths included nine in Portage Township, four in Westchester Township, and one each in Liberty and Center townships, county officials said.
In LaPorte County, the number of cases increased by eight to 352, according to state data.
Locations reporting more than 10 cases included: 172 at Westville Correctional Facility; 80 in Michigan City; 67 in LaPorte; and 15 in the town of Westville, according to the LaPorte County Health Department.
Newton County added three cases for a total of 71.
Jasper County added two cases for a total of 42.
Additional positive cases reported Friday occurred between May 5 and 14, state officials said.
A total of 165,448 Hoosiers have been tested for coronavirus, with about 16.1% receiving positive results.
Totals included 15,136 in Lake County, 2,899 in Porter County, 2,429 in LaPorte County, 733 in Jasper County and 241 in Newton County.
Tests occurred between March 31 and May 14, state officials said.
Hoosiers who have symptoms of COVID-19 and those who have been exposed and need a test to return to work may visit a state-sponsored testing site for free testing.
Testing also is available for those without symptoms who are at high risk because they are over age 65, have diabetes, obesity, high blood pressure or another underlying condition, and those who are pregnant, live with a high-risk individual or are a member of a minority population that's at greater risk for severe illness. 
The state is offering a drive-thru clinic in Gary. For details about state-sponsored testing sites, go to the COVID-19 testing clinic link at www.coronavirus.in.gov. Individuals should bring proof of Indiana residency such as a state-issued ID, work ID or utility bill.