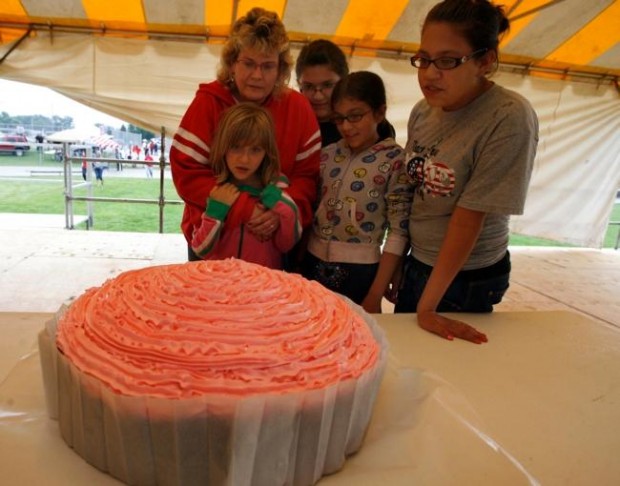 PORTAGE | It took 90 eggs, 30 boxes of Pillsbury cake mix, 25 pounds of frosting -- and three people to lift it out of an SUV.
The world's largest cupcake came to Portage on Saturday, just in time for the evening's Fourth of July festivities at Willowcreek Middle School.
Laura Zack, a Portage native and owner of Fantasy Cakes, of Crystal Lake, Ill., created the cupcake to qualify for the 2010 Guinness Book of World Records.
Portage mayor Olga Velasquez and Pride in Portage chairman Joe Csikos witnessed the cupcake's weigh-in at 68 pounds, outweighing the current Guiness record-holding 61-pound cupcake.
Zack's company donates 10 percent of its profits to Cakes for Kids, a nonprofit charity that helps provide food to needy children, and she is hoping to soon expand to Porter County.
"This area has a lot of festivals and markets," Zack said. "We want to get our name out there."
While waiting for the evening's fireworks to begin, Portage residents and visitors lined up to see the vanilla cupcake with pink buttercream frosting.
"You know you want it," said Sue Morrin, of Chicago's Hegewisch neighborhood, to her niece, Suzy Hernandez, 8, of Portage.
"We've got to hold on to her so she doesn't stick her fingers in the cake," Morrin said. "We're big cupcake fans, so we walked over here just to see it."
Suzy and her sisters, Samantha, 12, Sarah, 13, and Shannon, 10, all agreed they had never seen anything like it.
"It's yummy looking," Suzy Hernandez said. "I'm drooling."