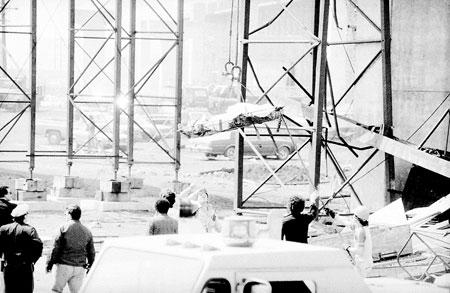 Wednesday's news and images from Minnesota triggered the region's collective memory of the April 15, 1982, Cline Avenue Bridge collapse.
A little more than 25 years ago, the worst construction accident in Indiana history claimed 14 lives and injured another 16 workers at the bridge site at the Riley Road interchange, part of the 5.68-mile, six-lane Cline Avenue extension stretching from Chicago Avenue to the Indiana East-West Toll Road.
Survivor Don Ketchum later told The Times he was pouring concrete when he heard "this huge, loud noise."
The first collapse happened at 10:44 a.m. A total of 444 feet of the bridge fell in sections like dominoes.
Ketchum, a laborer, was on the first section that crashed to the ground, bringing with it a storm of debris and falling men.
Don Hanft, an ironworker, wasn't far from Ketchum when he heard something that "sounded like wood snapping."
"If you can imagine a big piece of plywood snapping all at once," Hanft said, describing the sound, "and then there was just an unbelievable rumble from all the concrete hitting the ground. I was told by someone who was on a boat on Lake Michigan that he heard it."
Some survivors, including Ketchum and Hanft, fell 80 feet and lay buried in rubble and rebar as emergency workers struggled to get them out.
On Aug. 19, 2005, one man was killed and three were hurt when 240 tons of steel fell on a crew of ironworkers completing the final phase of a flyover ramp to connect Interstates 80 and 294 to Interstate 94 north.
Killed was Daniel Lopez, 33, of Munster. He worked for Wayne, Ill.-based Angus Construction and was a member of Ironworkers Local Union No. 1, of Chicago, and Local No. 395, of Hammond.
Be the first to know
Get local news delivered to your inbox!