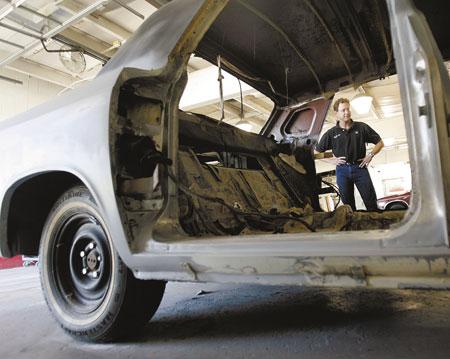 As a 13-year-old boy, Bill Cales Jr. watched from his front porch in 1966 as Dr. Martin Luther King led an open housing march through Chicago's Bridgeport neighborhood, right past Mayor Richard J. Daley's home on Lowe Avenue.
Cales is a locomotive engineer living in Lemont, Ill., and he owns the car King was using at the time he was assassinated in Memphis on April 4, 1968.
Not only does he own the car, but he is restoring the once-neglected 1966 Lincoln Continental, which lay in the weedy lot of a Memphis auto shop for more than 20 years after its owner could not afford the bill for repair of a blown head gasket.
The car is now at Al's Auto Body Experts II in St. John, where owner Rich Fortner and body man Jason Anderson are painstakingly putting the piece of rolling history back together.
They expect it to be ready for display at the 40th anniversary memorial at the National Civil Rights Museum in Memphis, where Cales said he would like to see the vehicle on display.
"This is one of those projects where if you don't love it, you should just step away from it," Fortner said. "It's going to be a beautiful car when it's finished. It's neat to do, it's a piece of history."
Ironically, it was a woman who has for almost two decades led a solitary protest outside the Civil Rights Museum who put Cales on to the car. A fan of Elvis Presley, Cales was in Memphis researching a do-it-yourself guide to Elvis sites when he visited the museum and met Jacqueline Smith.
Smith, the last tenant of the Lorraine Motel where King was shot and which is today a part of the museum, has protested for more than 14 years that the museum is not doing its part to fulfill King's legacy.
"We were having some small talk and I saw she had a big binder full of newspaper clippings and photos, and I came across this picture of a 1966 Lincoln sitting in a field, weeds coming up through the hood," Cales said.
Smith told Cales that was the "real car," and that the pair of vintage autos parked outside the museum are "fakes." When asked what she meant by real, Smith told Cales the car was the one King rode in while he was in Memphis supporting striking garbage workers in March and April 1968.
It had been lent to him by a wealthy civil rights patron, Cornelia Crenshaw, who previously had allowed King and his entourage to use the car when they were in town. And it was the car he was using on the date he was shot by James Earl Ray.
Cales traced the car to Hayes Auto Body Shop on McLemore Avenue, where its owner still kept the car even though Crenshaw had died in 1997, penniless after a legal fight with the city of Memphis. Hayes sold it to Cales for $6,500.
On the dashboard, the hand-built Lincoln still had the personalized factory plate that read "This Car Built For Cornelia Crenshaw."
Over those next few years, Cales began the process of restoration. He had Van Senus Auto Parts of Hammond rebuild the massive 462-cubic-inch V-8 engine, then had the drive train finished and a new interior built of original material.
All that was left was the body, which went to Al's in St. John because of a friendship between Fortner's father and Bill Cales Sr., both of whom are Shriners. It will be repainted in its original Oxford White with a black vinyl top.
The boat-like Lincoln dwarfs the other cars in Fortner's shop. "I'm the kind of guy who believes things happen for a reason," Fortner said. "I've been doing this 25 years, and this is the most fun project I have ever been involved in, the story behind it is so great."
High praise from a guy who has done cars for Mike Ditka, Gary Fencik, Keith Van Horne and Antwaan Randle El.
As for Cales, he says the car's historical significance outweighs the estimated $60,000 he will have put into it before all is done. "I didn't buy it for profit," he said. "The museum offered to buy it, but I don't want to sell right now. But I'll tell you that when I do, there will be some very happy charities."
His dad, Bill Sr., 80, who just rode his Harley-Davidson Road King to California and back, has caught restoration fever as well.
"It's been one headache, I'll tell you that," he said. "We've hunted all over the country for parts, but we're finally on the last leg of the journey.
"Think of who sat in that car, Ralph Abernathy, Jesse Jackson, Martin Luther King. Think of the conversations that went on in that car. I wish that car could talk."