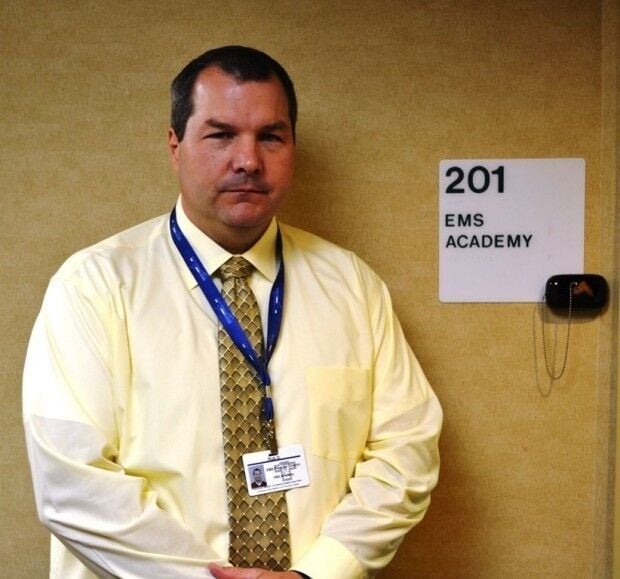 CROWN POINT — The director of Emergency Medical Services and of the EMS Academy at Franciscan Health Crown Point is being remembered as a passionate teacher with real-world experience who left a lasting impact on a generation of emergency responders in the Region.
Rob Dowling, 52, died Monday at Franciscan Health Crown Point. His death was the result of complications from COVID-19, according to the EMS academy's clinical coordinator Chris Winkelmann.
Dowling was a firefighter and paramedic in Hammond and Schererville before moving on to work for the hospital, and Winkelmann said his varied experience made him a valued and well-respected educator.
"He was a big influence in the EMS community, especially when it came to the education of new EMTs and paramedics," Winklemann said. "We want to be able to fulfill his legacy of what he did."
Dr. Daniel McCormick, president and CEO of Franciscan Health Crown Point, said Dowling "was a cherished member of our administrative team, working tirelessly throughout the pandemic bringing his kindness, clinical expertise and innovative spirit to our Franciscan community and the entire Northwest Indiana community during these very difficult times."
"Throughout his career," McCormick continued, "Rob showed enormous dedication and approached every day with a passion for helping others and a loving spirit. We hope his family finds comfort in knowing that he meant the world to us and made our community a better place. We are extraordinarily saddened by his passing and are praying for his family during this difficult time."
Dowling was escorted from the hospital to a funeral home in Cedar Lake Monday by a battery of local fire departments and ambulance services, including Crown Point, Cedar Lake, Lakes of the Four Seasons, Tri-Creek and others.
Crown Point Fire Chief Dave Crane said Dowling's passing is "a huge loss."
"I think it's because he came from the street level," Crane said. "Having somebody that's been on the street adds a different dimension to teaching it, if you've been there and lived it."
Through his work at the hospital, where he served as Emergency Medical Services director since 2012, Dowling routinely provided continuing education for first responders in addition to certifying new EMTs and paramedics. He also served as an exam proctor for the state of Indiana.
Lori Postma, a nurse and firefighter, worked with Dowling at Franciscan Health. Both work as emergency preparedness coordinators in the Region, just one of several roles Dowling held.
"It's really hard to talk about all the many things he did and he was responsible for because it's vast," Postma said. "He was very well-respected as an instructor and as a mentor; just a really great guy."
Dowling was a no-nonsense teacher, his former colleagues said, but someone who believed deeply in the work he was doing.
"He had a passion for emergency medicine and he believed in the importance of being as educated as possible to save as many people in the field as could be saved," Postma said.
"Rob was a straightforward person but a person that had a big heart and always wanted to help," Winklemann said.
"(Dowling) worked very hard and he was one of the local heroes, but he would never let you know he did all that stuff," Postma said. "He was not about having his name out there all the time. It was never like that, it was 'let's see what we can do to help people.'"