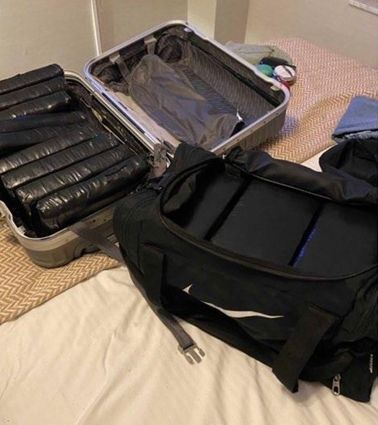 GARY — Two Indiana men were arrested and federal officials are seizing an airplane at the Gary/Chicago International Airport after nearly 221 pounds of cocaine was allegedly discovered in what is being described as the disruption of a suspected Mexico-to-Chicago drug pipeline, officials have announced.
Sebastian Vazquez-Gamez, 30, of Mexico, arrived in Gary at 6:43 p.m. Wednesday on a plane that traveled the day before from Mexico to Houston, according to a charging document and a news release from the U.S. Attorney's Office of the Northern District of Illinois.
Law enforcement surveillance watched Vazquez-Gamez help unload suitcases full of cocaine from the plane and then place them into a Lincoln Navigator SUV that arrived at the airport at 7:01 p.m. Wednesday, officials said.
He and others from the plane then drove to a hotel in Chicago's Gold Coast neighborhood, where Vazquez-Gamez was seen shortly after 9 p.m. loading some of the suitcases into a Toyota Highlander SUV with a temporary Indiana license plate. The Toyota was driven by Rodrigo Alexis Jimenez-Perez, 25, of Columbus, Indiana, charges allege.
The Toyota was pulled over by officers a few blocks away.
"Law enforcement asked Jimenez-Perez about the suitcases in the car, and he claimed to not know what was inside of them," the charges read.
Officials said they found 80 brick-shaped packages wrapped in black tape, which they said later proved to be 176 pounds of cocaine.
Jimenez-Perez was arrested on a charge of possession with intent to distribute a controlled substance, records show.
He reportedly told officials later he hoped the packages contained money and marijuana, but suspected differently when he felt their weight.
Vazquez-Gamez was taken by officials back to the hotel, where 20 additional brick-shaped packages of cocaine were discovered, charges say. Vazquez-Gamez was then arrested on a charge of possession with intent to distribute a controlled substance.
Sergio Ivan Blas, 39, of Indianapolis, was also charged, based on allegations of using Facebook Messenger to direct Jimenez-Perez to the Gary airport and then the Chicago hotel to pick up the 80 kilograms of cocaine, officials said.
He was located during a traffic stop on the afternoon of Nov. 4 in Indianapolis and was found with $6,000 in cash and a ledger recording the receipt and distribution of large sums of money, the charges read. Blas reportedly claimed he believed the money came from the sale of marijuana.
Federal court hearings were scheduled Tuesday for Jimenez-Perez in Chicago and Blas in southern Indiana, officials said. Vazquez-Gamez is scheduled to appear Wednesday in court in Chicago.
A spokesman for the Gary/Chicago International Airport declined to comment, stating that given that this is an ongoing investigation, there was no information to provide at this time regarding the recent reports.