Abandoned at age 9 by his mother at a "snake-pit" mental institution in Chicago, David Maust went on to brutally kill five teenage boys and harm at least a dozen others.
He stabbed his victims, tied them up, beat them and strangled them.
The gravity of Maust's crimes still resonate in Northwest Indiana today, some 13 years after he hanged himself in a Lake County Jail cell.
After serving time at Fort Leavenworth, Kansas, in the 1970s and in Illinois for the 1981 slaying of a 15-year-old Chicago boy, Maust moved to Oak Park, Illinois, in 1999 and nearly killed a roommate with a blow to the back of the head with a steel bar, police and court records show.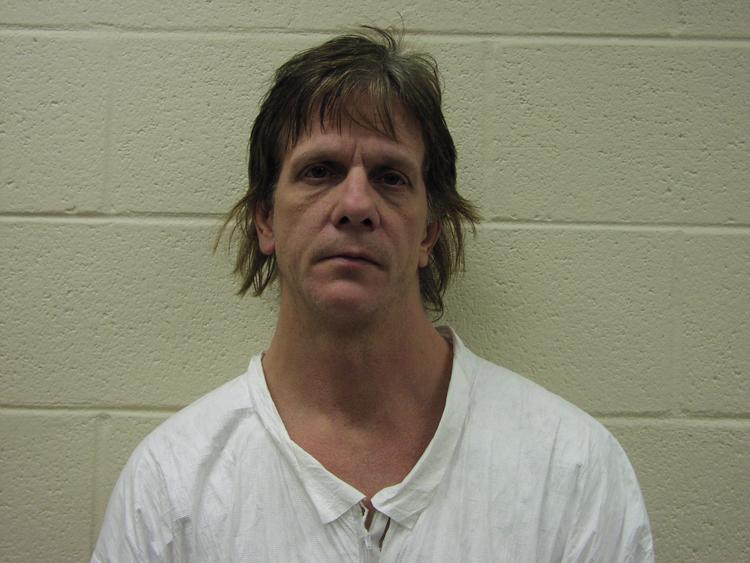 When glass shattered during the attack and attracted onlookers, Maust gathered the man up and took him to a hospital.
There always was some suspicion Maust killed more than five people, but both prosecutors and his defense attorneys came to believe he was telling the truth about his crimes, said Region lawyer Thomas Vanes, one of Maust's attorneys.
"He had no reason to hold back. He was an individual who wanted to die," Vanes said. "If he thought confessing to an additional homicide would get him closer to his stated goal of death, he would have done so."
Maust frequented areas where children played, and he used money, alcohol and drugs to entice teenage boys into spending time alone with him. It was those he befriended who were at greatest risk.
"He's definitely the most dangerous person I've ever met," said retired Hammond police Detective Lt. Ron Johnson, whose months-long investigation led to murder charges against Maust in the disappearance in 2003 of Nicholas James, 19, James Raganyi, 16, and Michael Dennis, 13, all of Hammond.
Records show Maust, too, thought he was dangerous and asked that he not be paroled from Fort Leavenworth.
He made a similar request to remain in custody before his release from prison in Illinois in 1999 after serving more than 17 years for killing 15-year-old Donald Jones, of Chicago. The request fell on deaf ears, Vanes said.
"Criminal justice institutions here could have stopped this and failed to do so," he said. "It's a huge red flag if a person doesn't want out."
When Maust's parole in Illinois ended in 2002, he moved hundreds of pounds of cement to a home in North Hammond.
He used the cement the following year to bury James, Raganyi and Dennis in the basement of his Hammond rental home in the 4900 block of Ash Avenue.
Maust often expressed regret for his crimes, writing that his victims didn't deserve to die and lamenting the grief he had caused their families.
Vanes thought Maust's contrition was genuine.
"The problem was it didn't last long enough to stem the homicidal impulses," said Vanes, a former prosecutor turned defense attorney. Earlier in his career, Vanes became the death penalty specialist for the Lake County prosecutor's office, and nine people he prosecuted were on death row, he said.
Maust was "easily the most fascinating person" Vanes has encountered in his 44½ years of working in the Lake County criminal justice system, he said. 
"Part of what made it fascinating was the contrast between the horrific violence he was capable of and the contrition he was also capable of," Vanes said. "Contrition is not in the DNA of most serial killers. I mean, it's just the opposite of what you expect."
Vanes said Maust's apparent remorse shocked the defense team at its first meeting.
"We expected a hard-nosed, bitter guy, and we saw just the opposite," Vanes said. "Here was a guy that wanted his punishment and wanted it quickly."
Johnson took a different view of Maust, who sat and talked with the detective for hundreds of hours in a cell at the Lake County Jail following his Dec. 9, 2003, arrest.
"He talks about God like that's his savior. He says, 'I will have to deal with God, and God will punish me for what I did,'" Johnson said. "He tries to get you into that feeling that he's legit, but then you have to look at the other side.
"If he got off today, tomorrow he'd be doing the same thing again. You know he'd be planning something else."
Maust wanted people to think he was honest, but an honest person doesn't kill other people, he said.
"He's telling you something he wants you to hear, but it might not be true, so you can't take anything he says at face value because he's a habitual liar," Johnson said. "That's the way he got away with everything, and that's the way he did his murders. He might tell you the truth today, but tomorrow the story's going to change. And it did."
Maust may have felt remorse for killing people, but his mind didn't work the same way as other people's, Johnson said.
"He regrets it because he got caught," Johnson said. "He might feel bad, but then he comes out of it and wants to do it again. That's a scary kind of person because either he can't control himself, or his mind is gone."
Maust pleaded guilty Oct. 31, 2005, to the murders of James, Dennis and Raganyi, accepting three consecutive life terms. In a note to Judge Clarence Murray, he requested: "Complete isolation and segregation for the entire term of my sentence. No contact with other inmates."
In a letter to Johnson in December 2005, Maust wrote that society would miss Johnson, who was preparing to retire after a 33-year career in law enforcement.
Maust also told Johnson that Maust planned to take his own life.
"Not now, but when the time is right, I will do the right thing for the parents and the taxpayers who have to be pissed with the thought of having to pay to keep an evil person like me alive," he wrote.
Maust hanged himself with a braided bed sheet in the Lake County Jail in January 2006, the same day he was told he would be transferred to the Indiana Department of Correction. Johnson was on his way to the jail to talk to Maust when his daughter called because she'd seen it on the news.
Maust died a day later of heart failure while on life support at St. Anthony Medical Center in Crown Point.
'It wasn't a normal case'
Johnson, the acting lieutenant in the Hammond Police Department Juvenile Division at the time, initially assigned another detective to investigate the disappearance of Raganyi and Dennis, who both were reported missing Sept. 10, 2003.
The other detective did everything right, Johnson recalls, but when Raganyi's mother called several days later, Johnson's secretary asked him to take her call.
"I could tell in her voice that something was wrong," he said. "It wasn't a normal case."
The boys had left runaway notes that listed various possible destinations. Raganyi's mother also received a voicemail from a number Johnson later traced back to a rest area off Interstate 65 in Roselawn.
For months, Johnson investigated.
Early on, he learned both boys had been hanging out with a guy known as "Crazy Dave," who resided on Ash Avenue.
"That's all they knew him by, Crazy Dave, so we wanted to find out who Crazy Dave was," Johnson said.
Investigators went to Maust's rental house and found him in the backyard, sitting on a railroad tie smoking a cigarette and drinking a beer.
"He was not nervous at all," Johnson said. "He was very cordial, friendly."
Johnson was immediately suspicious.
"If you would have seen him that first time, you would think he was suspicious just by looking at him because he was different," Johnson said. "He was different."
Later, when police went into the basement of Maust's rental home, Johnson noticed a buildup of cement in the southwest corner. 
"It didn't look really out of place because a lot of people in North Hammond had those buildups, just like 12 inches off the floor, so their washer and dryer wouldn't get water," he said. "But the thing that struck me funny — it was about 15 feet away from the water hookup, so it was all by itself over in the corner.
"It didn't look right, but at the time we didn't know anything different."
Not knowing what might have happened to the boys, Johnson continued with his investigation.
He wrote to authorities in states listed in the boys' notes, seeking any information on their whereabouts. He called police in Illinois for more information about Maust's criminal history.
He staked out Maust's home, watching to see if any other children were going in or out. He drove by, watching the house and keeping an eye out for the missing boys.
But the boys never turned up, and all evidence led back to Maust or his rental house.
"You couldn't prove they ever left there," Johnson said. "That's why we ended up doing what we did."
Maust later told Johnson he directed the boys to write goodbye letters and leave them in various locations in their homes. Some of the letters were not found until months after their bodies were exhumed from Maust's basement.
"David faked all this," Johnson said. "He made these kids think they were going on a trip."
Instead, Maust bought the boys breakfast at a Roselawn truck stop on Sept. 9, 2003. Dennis used the syrup to make a smiley face, not knowing he would be killed that night, Maust later told Johnson.
"The whole thing was just sad, sick," Johnson said.
In late September 2003, Johnson secured a misdemeanor charge of contributing to the delinquency of a minor against Maust.
A then-12-year-old boy told police Maust had given him and Dennis alcohol and marijuana on two occasions. Dennis was still missing at the time. Maust hired a lawyer.
Johnson didn't learn until later that Maust had killed the boys the night before they were reported missing. For years, he had agonized over whether he could have done more to prevent the boys' deaths. Knowing they were dead before he ever began his investigation provided some solace.
Still, Johnson had a hard time sleeping for a long time.
The 12-year-old boy had been lucky because he was with Dennis and Raganyi but decided to go home before Maust killed them, Johnson said.
Johnson eventually received permission to search Maust's basement from other tenants in the building and the homeowner, who also owned the trophy shop where Maust worked.
A cadaver dog took an interest in the out-of-place cement slab Maust had poured. Investigators drilled a hole in it, and coffin flies, an insect frequently present on or near corpses, came out.
On Dec. 9, 2003, investigators found Raganyi's and Dennis' bodies entombed in concrete in the basement. While authorities were exhuming the bodies, Maust was arrested as he rode a bicycle back to Hammond from the trophy shop.
The next day, police found James' body under an adjacent slab of cement.
Johnson had not been searching for James, but soon learned the teen had worked at the trophy shop with Maust. Like Dennis and Raganyi, James had been enticed with beer, marijuana and money, Johnson said.
Maust immediately began talking to police.
"After we arrested him, I was his best friend," Johnson said. "He called me every week to come down and talk to him in jail.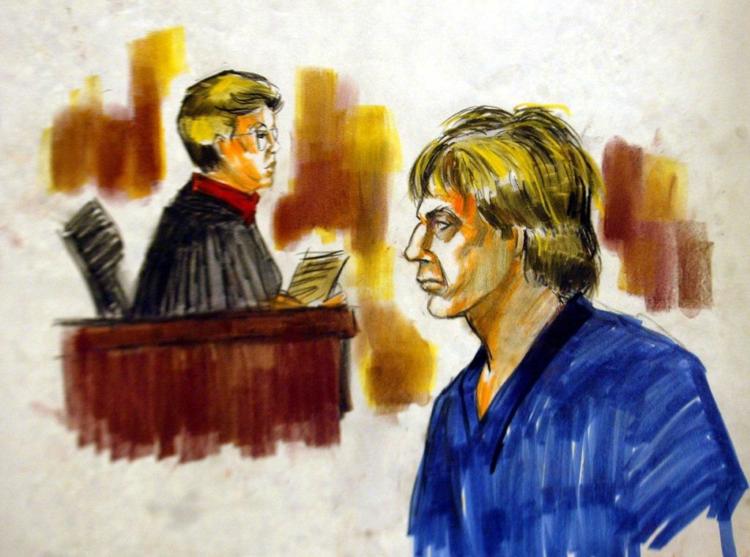 "You know you always want to go talk to your suspect because he might tell you something else," he said. "And we were hoping if he did anything to anybody else, he would tell us, but he only told us what we knew. We knew about five."
During their talks, Maust often repeated himself.
"He always referred back to his mother and his childhood," Johnson said.
Eva Reyes, Maust's mother, went to the Cook County courts in 1963 and had her then-9-year-old son committed to the Chicago State Hospital. She and his father, George Maust, had divorced a year earlier.
"His mother said he was a bad seed," Johnson said.
She accused Maust of trying to drown his younger brother in a lagoon at Humboldt Park by tipping a picnic table onto him. She also claimed Maust set his brother's crib on fire. 
Maust denied his mother's allegations.
Johnson got to know Reyes, who died in the years after her son's suicide.
"She denied mistreating him," said Johnson, who added Reyes claimed Maust was wild and out of control. "She didn't want to take any blame. … And so she started putting everything on David."
Reyes kept in touch with Johnson after her son committed suicide and said he was like a son to her, the investigator's wife, Kathi Johnson, said.
Ron Johnson recalled, "She said, 'Will you be my son now that David's gone?' It was sort of weird."
Chicago State Hospital records show Maust yearned for a relationship with his mother, but she showed little interest in him. When staff pressured her to take Maust swimming with a sibling and his stepfather, she replied, "I wish he would drown."
In a suicide note, Maust wrote his mother hated him all her life, yet he wished she would come and take him home. 
She never claimed his body. In the end, Vanes paid for Maust to be cremated and scattered his ashes in an undisclosed location, he said.
While some may conclude Reyes made Maust into the monster he was, Johnson said he couldn't blame her.
Maust could have sought help for himself, but instead he started killing people, he said.
Vanes took a different view of Reyes.
"Worthless as a mother is what she was," he said.
In court records, the defense team wrote Reyes had a "miserable and deprived childhood." Raised on a Georgia farm, "she was beaten by a stepfather (with boards and chains) and treated as a slave by her mother."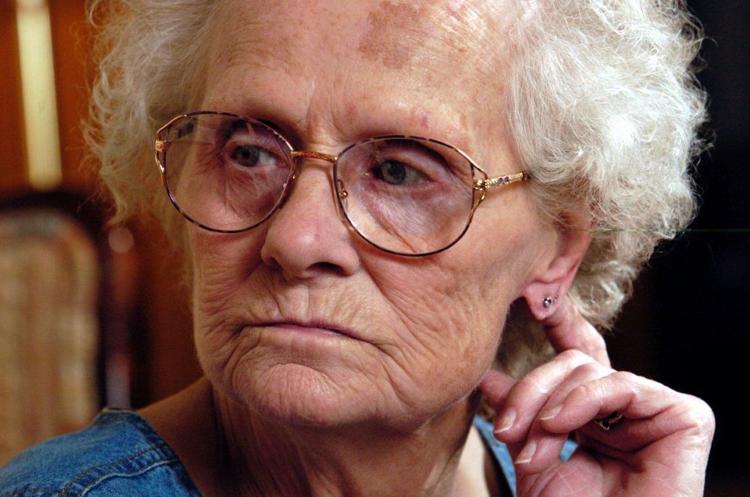 Staff at the Chicago State Hospital where Maust was committed as a child described her as "needy, self-centered and narcissistic."
"She is also variously characterized by these same people as infantile, emotionally stunted, very disturbed, occasionally psychotic," court records state.
When Maust was incarcerated awaiting trial for the 1981 murder of 15-year-old Donald Jones, of Chicago, a mental health professional wrote, "He is where he is because the system locked him up when he was 9 years old for no better reason than he was unwanted," court records show.
A psychologist who evaluated Maust for the Lake Criminal Court case concluded Maust's troubled childhood was at the root of his desires to kill.
"Where homicidal ideation in most persons is in response to anger or for instrumental gain, for David it is a response to relationship," a forensic psychologist's report states. "This means that those at greatest risk from David are not those males with whom there is a conflict. Rather, it is males with whom he establishes a friendship. The dynamic has a direct nexus to the predispositions, deprivations and traumas that characterized his development."
Vanes said Maust talked about his time at the mental institution as being devoid of any physical contact.
When Maust was sent to the Uhlich Children's Home in 1967 at age 13, "He said he should have been destroyed like a wild animal because he had absolutely no ability to relate to other people," Vanes said.
Maust was sent back to Chicago State Hospital in spring 1970, but he ran away. The hospital never reported him missing and didn't list him as discharged until that fall, Vanes said.
"That's how little they cared," he said.
Suspicion about sexual desires
Maust gave a statement to Illinois authorities in 1983 in which he detailed sexual contact with multiple boys at the children's home. He later said he was encouraged to embellish the statement with such details "to spice it up," Vanes said.
Vanes believed Maust was "pretty asexual." 
Johnson and Lake County Prosecutor Bernard Carter, who personally handled the case against Maust, believed sexual desire may have motivated Maust to harm boys.
"In many ways, he courted those young men as if they were a date," Carter said.
As a Juvenile Division detective, Johnson always warned parents that if they didn't watch their children, someone else would. Maust was one of those people, he said.
"I said, 'David, tell me one thing,'" Johnson recalled. "He said, 'What's that?' I said, 'How do you pick your victims here?' He said, 'I pick the boys. I watch and see. If nobody comes around, that's the one I pick.'"
Maust told Johnson he wanted to be a father figure to the kids. He met Dennis at Douglas Park and bought him ice cream.
"That's where the sex thing comes in because if it's just him trying to be a father figure, why does he have to kill them?" Johnson said. "And why can't he distinguish between the two and not kill them? But I can't answer that."
The bodies of Maust's victims were so badly decomposed, authorities were unable to determine if they had been sexually assaulted, he said.
Despite the suspicions that Maust may have had sexual desires for his victims, Maust always denied it, Vanes said.
"His rejoinder to that was always, 'All you have to do is ask the people I didn't kill, and they will tell you I never bothered them sexually,'" Vanes said. "And that was true. I mean, he assaulted more people than he killed."
One thing was clear: Maust had a death wish, Vanes and Carter said.
"It was a constant fight to get him to try to fight for his life," Vanes said. "We won the short-term battle there, but he won the war."
Maust talked about attempting suicide while stationed in Germany with the Army in 1973, but the electrical cord he used broke before he was harmed, Vanes said.
A year later, he killed James McClister, 13, by tying him to a tree and beating him to death. At a court martial, Maust was convicted of manslaughter and sentenced to four years at Fort Leavenworth.
After his release, Maust returned to the Chicago area and allegedly stabbed a co-worker in the stomach at his apartment on Chicago's far North Side in September 1979. Maust later told police investigating Jones' homicide he was acquitted because he lied and said he'd been throwing knives and accidentally struck the man.
Maust stabbed and drowned Jones in an Elgin quarry in August 1981, but the boy's body was not found until Oct. 7 of that year. After killing Jones, Maust left the Chicago area and was arrested in December 1981 for stabbing a teenager in Galveston, Texas. He pleaded guilty and was sentenced to five years in prison.
Maust was extradited from Texas to Cook County in 1983 to face charges in Jones' homicide. He was found unfit for trial and placed in a state mental unit until 1987, when the competency decision was reversed. Maust pleaded guilty to Jones' murder in 1994 and was sentenced to 35 years in prison.
Maust wrote to Cook County officials before his release from prison, asking that he be committed to a state mental institution for sexually violent offenders. He never got a response, Vanes said.
With credit for time served and good time, Maust was paroled from prison in Illinois in 1999 and moved to Oak Park. He moved to Hammond in 2002, after his parole in Illinois ended. Within a year, James, Raganyi and Dennis were dead.
Death penalty counts dropped
Vanes said his Lake County defense team, which also included attorneys Marce Gonzalez and Adam Tavitas, had started to gather evidence of Maust's troubled background and requested a meeting with prosecutors before any death penalty counts were filed.
Prosecutors never called, he said. They filed death penalty counts in February 2004.
In October 2004, Vanes filed a motion to suppress Maust's statement to Johnson the day of his arrest.
The defense argued Maust had hired an attorney to defend him on the misdemeanor count of contributing to the delinquency of a minor and had indicated to police several times he wanted to talk to his lawyer before responding to requests for interviews, information or voice stress testing.
During a hearing Nov. 18, 2004, Vanes played a videotape of Maust's confession.
Vanes said it was clear in the recording that Maust asked for a cigarette and a lawyer.
"Under the law, the minute you request a lawyer, all questioning is supposed to stop," he said.
Johnson said Maust often mumbled, and the tape wasn't clear. Johnson has known Vanes since grade school, and said he's a great attorney.
He recalled Vanes questioned him vigorously on the stand.
"He asked me, 'What did David say right there?'" Johnson said. "I said, 'To tell you the truth, I can't really understand. It's sort of garbled.'"
Carter's team, which also included top Deputy Prosecutors Barb McConnell and Peter Villarreal, began plea negotiations after that hearing.
"In my opinion, he said he did not want an attorney," Carter said. "It was not extremely clear with the judge. We knew it was going to be a close, close call."
In the end, Judge Murray never ruled on the motion to suppress. Prosecutors dropped the death penalty counts, and Maust took a plea deal. The boys' families were comfortable with the outcome, Carter said.
Maust wasn't happy about how Vanes had treated Johnson on the stand, the men said.
At one point during the hearing, Maust called a bailiff over and asked to speak to Murray. He got mad when his attorneys would not allow it.
Maust later wrote to Johnson, "Why didn't you people just erase the first six minutes of that tape and just say, 'You forgot to turn the camera on.'"
Johnson said he thought Maust deserved to be executed. Still, he was satisfied with the outcome of the case.
"We got him off the streets," he said. "That's what I was mainly worried about."
Sign up for our Crime & Courts newsletter
Get the latest in local public safety news with this weekly email.