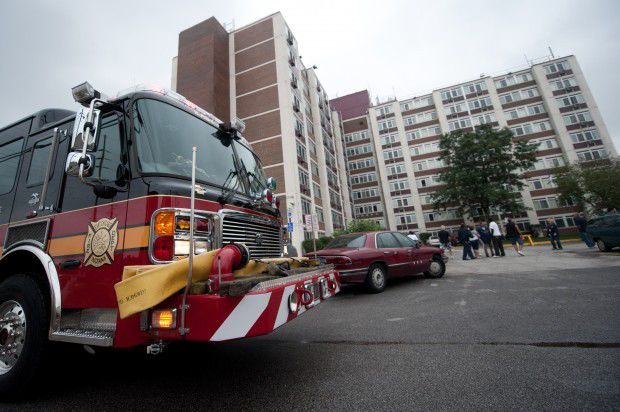 HAMMOND — A federal magistrate judge has sided with the American Civil Liberties Union by holding the East Chicago Housing Authority in contempt of court for violating a previous order that barred the local housing agency from warrantless searches.
U.S. District Court Magistrate Judge Paul R. Cherry in his ruling stated ECHA has violated a preliminary injunction entered in October 2016.
The injunction was born from a March 2016 lawsuit that challenged ECHA's practice of conducting inspections and apartment searches without tenants' voluntary consent, without a warrant, and through use of drug-sniffing dogs in the hallways.
The suit alleged such searches violated the Fourth Amendment.
At the center of the latest American Civil Liberties Union challenge is strongly worded language ECHA chose for a blanket consent form that — once signed by tenants — gave ECHA permission to gain access to apartment units for inspections.
If the tenant refused to sign, ECHA warned them with a disclaimer at the bottom of the form — presented in all-capital letters — that they could be threatened with possible eviction in a court of law, court records show.
Shawn Polk, a former ECHA resident with interest in the matter, argued in court filings the form does not advise tenants of their right to revoke consent at any time, and that ECHA's form implies the opposite.
He further argued residents "are being coerced" into providing consent for searches.
Cherry agreed with Polk's interpretation.
"The Court finds that the plain language of the Blanket Consent Form, for those who sign it, is coercive and conditions the signatory's continued residency in the building on continuing to give consent once the form is signed for the remainder of the tenant's residency with ECHA," Cherry writes in his findings. 
Consent must be "voluntary — that is freely and intelligently given" and "cannot be coerced by 'explicit or implicit means, by implied threat or covert force,' " Cherry continues, citing a previous court case.
Cherry has ordered ECHA staff to "cease and desist" from using the blanket consent form in any of its buildings.
Docs: ECHA entered apartment despite resident's objection
Polk filed a petition in February 2017 seeking to hold ECHA in contempt of court and, on that same day, Edith Bradshaw, a longtime John B. Nicosia Building resident, filed a motion to intervene as a representative in the class action lawsuit.
Bradshaw, 67, alleged ECHA conducted a warrantless "housekeeping" inspection of her apartment on Nov. 7, 2017, despite her explicit objections.
Bradshaw alleges she was hospitalized for 10 days starting Nov. 1, and told a building manager the following day she did not want anyone to enter her apartment before her release from the hospital, according to court records. 
She returned Nov. 10 to find a notice from ECHA management stating that staff inspected her unit, anyway. When she asked staff to tell her if they had a warrant, they refused to say either way, court records state. 
Bradshaw and the ACLU have argued ECHA did not have a warrant for any of their November 2017 entries for inspections.
The court determined no sanctions against ECHA are necessary at this juncture, noting the building manager, Clara Salinas, has ceased making entries at the John B. Nicosia Building without consent or a warrant after receiving notice of Bradshaw's complaint filed in federal court.
Nick Snow, attorney for ECHA, said he filed an objection to Cherry's ruling on behalf of ECHA, which argues the manner in which the form was presented to tenants "is critical to the determination of whether or not the form is so unreasonable as to rise to the level of a finding of contempt."
"At this time, although we object to the finding of contempt, ECHA has stopped using the forms in question until a definitive ruling is made. At that time, we will review the ruling of the court and take the necessary steps to comply with it," ECHA attorney Snow said in a statement to The Times.
ECHA also has proposed lease revisions to HUD that further advise tenants of their right to refuse consent and more clearly define procedures for gaining entry, court records show. 
Cherry has ordered Polk be awarded reasonable costs and attorney fees and that Bradshaw be awarded $100 in damages and reasonable costs and attorney fees.