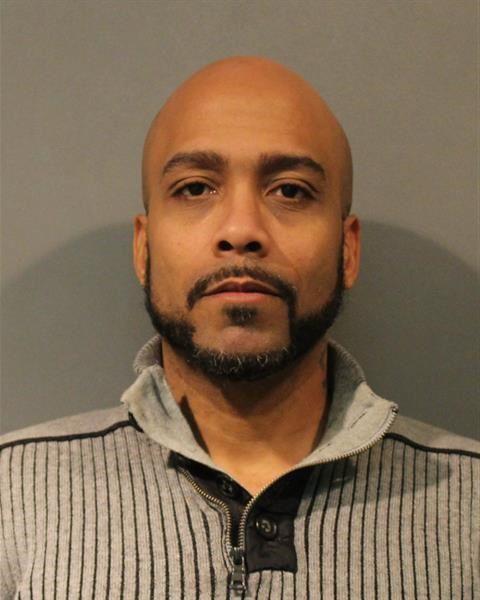 CROWN POINT — A Lake County councilman facing domestic abuse charges is denying he has a history of violence against women, as alleged in a newly released court document.
The Times has obtained a copy of a protective order that a Lake Circuit Court judge issued in 2015 against Jamal Washington by a 24-year-old woman who alleged several violent encounters with Washington, 44, a Merrillville Democrat.
He has served on county government's chief fiscal body since his 2014 election and is running to become a member of the powerful three-member Lake County Board of Commissioners.
The Times attempted to obtain documents associated with two other expired court protective orders issued against Washington more than eight years ago. The clerk's office said those documents were destroyed, as is most paperwork in cases that have been resolved for longer than two years.
Washington's name still appears four times on the Indiana Protective Order Registry, which lists court orders forbidding contact with alleged victims of domestic violence or stalking.
State law authorizes civil courts to issue protective orders in cases that may not rise to the level of criminal charges, but where someone places a family or household member in fear of violence or stalking.
Lake Superior Court Judge Elizabeth F. Tavitas issued a protective order against Washington on March 12, 2009, which expired two years later.
Tavitas issued another protective order against Washington on Jan. 4, 2010, in a separate matter. It expired 10 months later.
Former Circuit Court Judge George Paras issued two protective orders Dec. 4, 2015, against Washington, who said they were associated with criminal charges that he assaulted his wife and a second woman. Documents in one of these protective orders have been transferred out of Lake County and were unavailable. The Times is seeking those records.
Employee requested court protection from Washington
The other protective order from 2015 was issued against Washington on behalf of a 24-year-old woman who states she worked for Washington and has had a child with Washington, according to court records. The Times doesn't identify domestic violence victims without their permission.
A recently jailed, previously convicted wife batterer strutted around Tuesday's Lake County Council meeting like he owned the place.
That woman wrote on her application for court protection that Washington had assaulted her on four separate occasions.
She said Washington gave her a black eye June 1, 2011, when she accidentally broke a power window control of a car they were in.
She wrote a description of the second assault, which she said took place Oct. 1, 2014, at Washington's Merrillville home: "Punched repeatedly in face, stomach, arms and legs, choked until unconscious. Bitten on the face. Leg broken with a pan."
She said another assault took place May 1, 2015, in a car: "We were having a conversation about something, and he didn't like what I said and swung and hit me in the nose. I bled all over my clothes and car door," the protective order states.
You have free articles remaining.
Keep reading for FREE!
Enjoy more articles by signing up or logging in. No credit card required.
She stated there were no witnesses to those three incidents, but there were witnesses to a Dec. 3, 2015, incident at Washington's home, including Washington's wife.
She wrote, "Was being reproached about work. Was hit with a wooden stick, punched in face, and choked. He was arrested. Bitten on nose."
A copy of a Merrillville Police report, obtained two years ago by The Times regarding the Dec. 3, 2015 incident, states an Officer M. Reynolds was called to Washington's home that afternoon and met the 24-year-old woman.
Reynolds said she told him Washington choked her so hard she was gasping for air and that Washington "has physically abused her in the past." Reynolds states in his 2015 report he saw a bump on her forehead, a cut to her right nostril and red marks on her back.
Washington says only two protective orders issued
Washington said Wednesday no protective orders have been issued against him for violence other than the two in 2015 involving his wife and the 24-year-old woman.
He said the 24-year-old woman later dropped all the allegations against him, and a special prosecutor who later entered the case dropped all charges against him involving the 24-year-old woman.
"She recanted her whole story. She said (in a court deposition) she made it up," he said. He said he doesn't know why she made up the allegations.
CROWN POINT — Lake County Councilman Jamal Washington was released from Lake County Jail Thursday after posting a $5,000 cash bond.
Washington said the 24-year-old woman also went to Paras to say she lied and to lift the protective order. Washington said the judge refused unless Washington stopped supporting Paras' challenger, Marissa McDermott, who defeated Paras in 2016 and is now circuit court judge.
Paras said in 2016 he did meet with Washington to seek his political support but didn't discuss the protective order, which he said was lifted by the 24-year-old woman.
The prosecutor also charged Washington with strangulation and battery of his wife in the Dec. 3, 2015, incident.
Washington said the special prosecutor dropped all felony counts against him a year ago under an agreement in which he pleaded guilty to battery resulting in bodily injury and invasion of privacy, both class A misdemeanors.
Washington admitted he pushed his wife and caused her pain. He received a suspended one-year sentence. The protective order in that case expired.
A special prosecutor now is seeking to revoke Washington's probation in the wake of new felony and misdemeanor charges of criminal confinement, intimidation, misdemeanor battery and interference involving a Dec. 5 dispute with Washington's 23-year-old cousin, Kamaria Buckley, at the councilman's home, where she was living.
Washington denies any wrongdoing in that case. Buckley later recanted her claims against Washington in an interview with The Times. However, prosecutors have said the evidence in the case supports pursuing charges.
There is no record of Buckley having obtained a protective order against Washington.