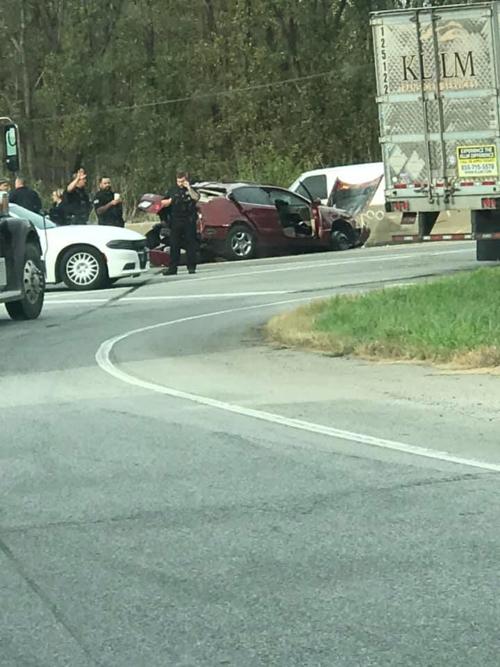 PORTAGE — A pursuit ended with officers pulling the unconscious suspect out of a burning vehicle Wednesday morning. 
At 9:15 a.m. police were called to a theft from Walmart at 6087 U.S. 6, said Portage police Sgt. Rob Maynard. 
The Walmart loss prevention employee told police the suspect stole alcohol and housewares and then fled in a maroon Lexus driving westbound on U.S. 6. 
Portage officers saw the described vehicle going north on Willowcreek Road and tried to stop the Lexus in the area of Central Avenue. However, the suspect led chase onto the Willowcreek Bypass. 
While attempting to turn, the suspect lost control and struck a raised concrete curb and guardrail on the east side of the road, causing a flat tire. The suspect continued fleeing, going west on Interstate 94 and exiting on the Ind. 51 ramp. 
While at the top of the ramp, the driver lost control of the vehicle again, sliding sideways and crashing into a middle concrete barrier, bringing the chase to a stop. 
As officers approached, smoke began pouring from the engine compartment and filling the vehicle. The driver was not wearing a seat belt and police found him unconscious in the wreckage, Maynard said.
Officers pulled the man out of the smoking vehicle and began to administer medical aid a safe distance from the crash. 
The man, age 37, suffered serious internal injuries and had to be airlifted to the University of Chicago trauma center, police said.
One Portage officer suffered a minor cut while pulling the man from the burning vehicle and a Portage squad car was damaged during the chase when the suspect vehicle's rim struck an officer's windshield.
Further investigations discovered the vehicle was reported stolen on Saturday to the Gary Police Department and police found multiple stolen items from previous thefts, Maynard said. 
The driver will face charges of theft, possession of a stolen vehicle,resisting arrest, reckless driving, criminal recklessness and several traffic infractions. His identity will be released once charges are filed with the prosecutor's office. 
Northbound lanes of Ind. 51 were temporarily closed and reopened at 11 a.m. Assisting the Portage police were first responders and officers from Ogden Dunes, Indiana State Police, Lake Station, Lake County Sheriff's Department, the University of Chicago Medicine Aeromedical Network and Hoosier Helpers.