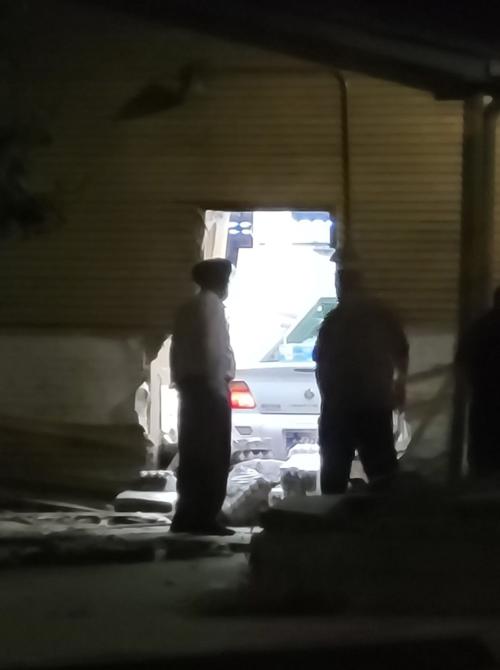 WHITING — A child was at the wheel of a vehicle when it struck two cars and crashed through a liquor store, seriously injuring a customer inside, court records alleged. 
William Qualls Jr., 41, of Whiting, was charged with criminal recklessness committed with a deadly weapon and five counts of neglect of a dependent, according to Lake Superior Court records. 
At 7:56 p.m. Aug. 31, officers responded to a crash with injuries at a liquor store at 1506 119th St. in Whiting. Police found that a vehicle had plowed into Paradise Liquors, entering inside the building's interior.
A customer was injured in the crash and was taken to a hospital with a gash on her leg, court records said. 
Police followed the tire tracks on the sidewalk and found the vehicle had struck two other vehicles before hitting the building wall.  
A woman and five children, ages 8 through 12, were in the vehicle with Qualls during the crash, court reports said. 
Police interviewed Qualls and the woman in the passenger seat who is mother of two of the children present. The woman and Qualls told officers while Qualls was driving, the vehicle began to rev up and would not stop, causing the crashes. However, investigators did not believe their accounts of what happened, the court documents stated. 
During the course of the investigation, police were informed by personnel of one of the children's schools that it was one of the children, age 12, who was driving the vehicle during the crash. 
Police interviewed Qualls and the woman a second time, and they told them the 12-year-old was sitting on Qualls' lap while holding onto the steering wheel, reports alleged. However, because the child's feet could not reach the pedals, Qualls was operating the gas and break pedals. 
Qualls maintained that the vehicle malfunctioned that day and would not stop and the woman said the vehicle habitually would rev and drive forward on its own. 
The customer who was struck has had to have two surgeries and a blood transfusion since the crash. She currently has a drain pump attached to her body to prevent infections. 
Qualls has been ordered to be held without bail until Oct. 23, in which after his bail has been set at $50,000, according to Lake Superior Court records.