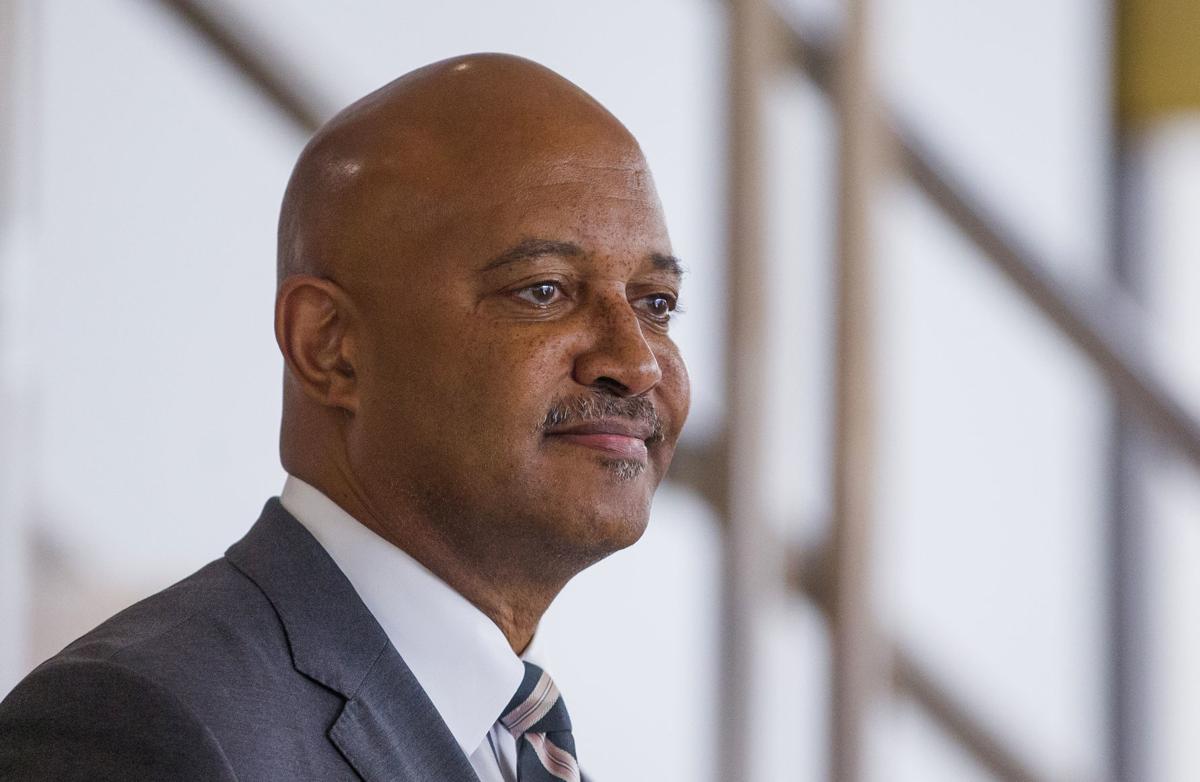 The Indiana Supreme Court has suspended the law license of Attorney General Curtis Hill Jr. for 30 days, after unanimously determining Hill committed multiple acts of misdemeanor battery by groping four women, including a Region lawmaker, at an Indianapolis bar.
According to the high court's order, Hill cannot participate in any legal matters beginning May 18.
His law license automatically will be reinstated June 17 — three days before Hill is hoping to be renominated by delegates to the Indiana Republican Party's state convention to run for a second, four-year term as attorney general.
The Supreme Court did not address in its 19-page ruling whether Hill's suspension means he'll no longer be the state's attorney general once his suspension takes effect.
Under state law, the attorney general must be "duly licensed to practice law in Indiana." Hill's suspension explicitly prohibits him from practicing law during the 30-day suspension period.
Republican Gov. Eric Holcomb, who would fill the vacancy if Hill no longer is attorney general, said he's consulting with legal counsel on whether the suspension of Hill's law license means Hill has forfeited his office.
"I am seeking a quick turnaround on those questions," Holcomb said. "I'll make any and all decisions that I have the authority to do so."
Hill, meanwhile, rejected the notion that the temporary suspension of his law license means he's out as attorney general. 
In a statement, Hill said Chief Deputy Attorney General Aaron Negangard will "assume responsibility for the legal operations of this office" during the suspension, and Hill will reclaim his authority as attorney general when the suspension expires.
"I accept with humility and respect the Indiana Supreme Court's ruling of a 30-day suspension of my license with automatic reinstatement," Hill said.
"I offer my deepest gratitude to my family, friends and the entire staff of the office of the Attorney General. My staff has worked tirelessly and without interruption and will continue to do so on behalf of all Hoosiers."
Earlier this year, the Republican-controlled Indiana House voted 83-13 to approve a measure that would have declared the attorney general's office vacant if its occupant's law license was suspended for at least 30 days.
Holcomb said if the House version of Senate Bill 178 had made it to his desk, he would have signed it into law.
But the proposal was scuttled in the final days of the 2020 legislative session by Senate President Rod Bray, R-Martinsville, because he said many GOP senators believed it was too close to the election to change the qualifications for attorney general.
Kyle Hupfer, chairman of the Indiana Republican Party, said he's confident no matter what happens in the shor -term, Hill will not prevail at the June 20 state convention against the other candidates vying to be party's candidate for attorney general in the Nov. 3 general election.
"The Indiana Supreme Court unanimously confirmed that Curtis Hill committed battery against four female victims. Hoosiers would be best served by having a new attorney general. I have faith in our delegates," Hupfer said.
The leader of the Indiana Democratic Party said following the Supreme Court's ruling that Hill is "a disgrace."
"His conduct as an elected official was repulsive and will be a lasting stain on the office and the party he serves," said Lauren Ganapini, Democratic Party executive director.
"Now the uncertainty created by his punishment could tip the state into a constitutional crisis. Over and over, Indiana Republicans failed to remove him. They now own his shameful conduct and the crisis it's created."
Senate Democratic Leader Tim Lanane, D-Anderson, said Hill can resolve all of these issues by "finally doing the right thing — he must resign."
'Rude and insolent'
The Supreme Court has the authority to suspend Hill's law license because it regulates who is allowed to work as an attorney in Indiana.
It also sets and enforces the Indiana Professional Conduct Rules all state-licensed lawyers are obligated to follow.
In this case, the high court's five justices agreed Hill violated two professional conduct rules by engaging in an act of criminality and conduct prejudicial to the administration of justice.
Regarding criminality, the Supreme Court said Hill's nonconsensual touching of the backs and/or buttocks of four women, including state Rep. Mara Candelaria Reardon, D-Munster, during a March 15, 2018 party celebrating the end of the annual legislative session constituted misdemeanor battery.
"Having reviewed the record, we readily conclude there is ample evidence showing that the manner of respondent's touches was both 'rude' and 'insolent,'" the court said.
Moreover, the court determined Hill's behavior occurred within the scope of his office, based on Hill's testimony that he intended to discuss legislation and nurture goodwill at the party with state lawmakers who oversee the attorney general's office, including state Sen. Lonnie Randolph, D-East Chicago.
As such, there was a sufficient nexus between Hill's conduct and his work as an attorney to conclude his criminal act "reflects adversely on (his) honesty, trustworthiness or fitness" as a lawyer, in violation of the Rules of Professional Conduct, the court said.
The Supreme Court also found Hill's conduct was prejudicial to the administration of justice because it damages public esteem for the legal system when the "chief legal officer of the state of Indiana" commits a crime.
Former Supreme Court Justice Myra Selby, who took testimony from the women and Hill as hearing officer in the attorney discipline case, recommended in February that Hill's law license be suspended for 60 days, without automatic reinstatement, as punishment for his misdeeds.
The high court said it opted for a 30-day suspension and automatic reinstatement to match the sanctions issued to other Indiana lawyers found to have physically abused people within the scope of their legal practice.
Hill repeatedly has denied any wrongdoing in connection with the incident.
A special prosecutor in October 2018 declined to file criminal charges against Hill after concluding "a protracted, contentious and expensive legal proceeding" was not in anyone's interest for a possible misdemeanor conviction.
Check back at nwi.com for updates to this story.