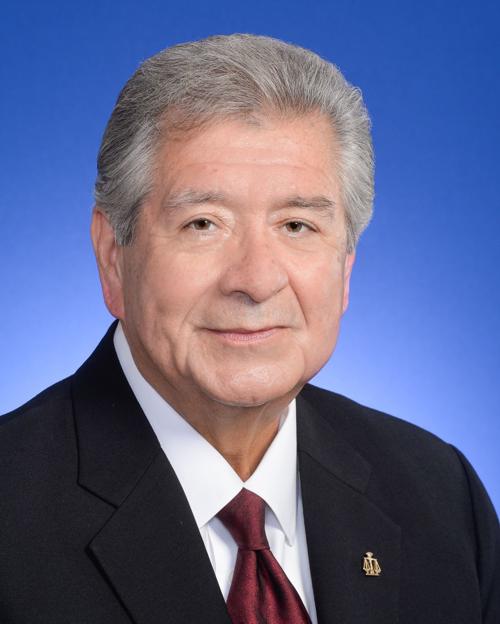 Police ticketed retired judge and current Lake County Clerk Lorenzo Arredondo and former Sheriff Rogelio "Roy" Dominguez for school bus stop-arm violations last month, shortly after several local police departments stepped up enforcement thanks to state grants.
Arredondo was stopped about 3:10 p.m. Aug. 28 in the southbound lanes of the 6900 block of Broadway, according to a ticket filed in Merrillville Town Court.
Dominguez was ticketed between 3 and 4 p.m. Aug. 29, after a Hobart officer stopped him in the area of U.S. 6 and Wisconsin Street, police confirmed.
Arredondo declined to comment Monday, saying he had not yet "received notice from the clerk."
"I have to see what the documents are first," he said. 
Arredondo signed his ticket, but the signature is not an admission of guilt, records say. His initial appearance was scheduled for 5 p.m. Nov. 18, according to the Town Court.
Arredondo served as a judge in Lake Superior Court, County Division, for four years in the 1970s and as Lake Circuit Court judge from 1980 to 2010, when he retired from the bench. He was sworn in as Lake County clerk in December, after former Clerk Michael A. Brown stepped down to take a seat on the Gary City Council.
Dominguez confirmed he received a ticket from Hobart police.
"The officers were doing a great job enforcing the laws," he said. "I encourage them to keep at it."
Dominguez's ticket was expected to be filed this week in Hobart City Court, officials said.
Dominguez, a Merrillville attorney, served as Lake County sheriff from 2003 to 2010.
Arredondo was cited for a school bus stop-arm violation and reckless driving under a state statute updated earlier this year, the Lake County prosecutor's office said.
The changes to the law were spurred by the deaths of three siblings fatally struck by a pickup truck while crossing the road to board their school bus in October in Fulton County.
Merrillville Police Chief Joseph Petruch said Merrillville police stepped up school bus stop enforcement about two weeks ago, after receiving a grant. Hobart police also stepped up enforcement when the school year began.
The two police departments were among 39 agencies statewide to receive a total of $380,000 in grants through the Indiana Criminal Justice Institute for overtime school bus stop enforcement efforts this fall.
Merrillville received a $6,000 grant. Hobart's grant totaled $10,000.
Other Northwest Indiana communities that received grants included Cedar Lake police, $4,000; Chesterton police, $12,000; Griffith police, $5,000; Hammond police, $8,000; LaPorte police, $3,000; and Lowell police, $4,000. 
The new school bus safety law took effect July 1.
State law requires drivers to stop while the arm is extended. On highways divided by a physical barrier or unimproved median, traffic traveling in the opposite direction as the school bus may proceed with due caution.