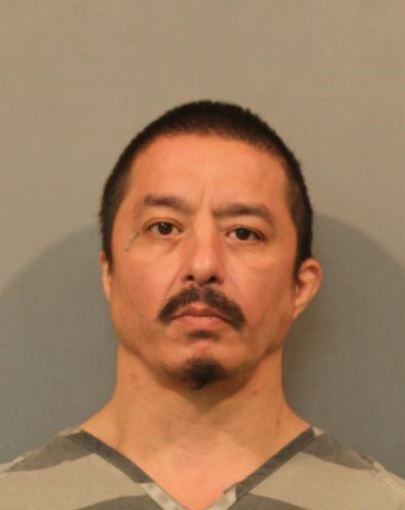 CROWN POINT — A man fatally stabbed his girlfriend's daughter's boyfriend Friday morning after he and his girlfriend arrived to pick up her grandson, watched the victim collapse in a nearby yard and proceeded to drop the grandson off at school, court records allege.
Mark A. Jaramillo, 46, of Crown Point, was in custody Wednesday on one count of murder in the homicide of Rafeal J. Marcano, 27, of Hobart, Lt. James Gonzales said. He has not yet entered a plea.
Hobart police were called about 9 a.m. Friday to the 3800 block of Swift Street after Marcano was seen running along 38th Avenue while yelling for someone to call 911 and collapsed in a front yard, Lake Criminal Court records state.
Witnesses told police a couple in a tan Saturn Ion appeared to be chasing Marcano but sped off after two bystanders began to tend to Marcano's wounds.
Before he was taken to a hospital, Marcano told a witness and a police officer the man who stabbed him was "Mark" or "Marco," records allege.
Police followed a blood trail back to Marcano's residence, where they found blood in the grass, disheveled leaves and dirt indicating a fight, a blood smear on the back door, a broken phone in the kitchen and a small amount of marijuana, records state.
Marcano appeared to fall unconscious as medics loaded him in an ambulance and later died at a local hospital, according to court documents.
Marcano's girlfriend told police her mother and Jaramillo arrived at her home to take her son to school, and Marcano "was smiling even though they were on bad terms" with Jaramillo, records state.
Marcano's girlfriend said her mother began motioning for her to come outside, but Jaramillo walked in the home "puffed up like a tough guy," documents state.
She told police her mother pulled her outside and she heard a yell, as if Jaramillo and Marcano were fighting. She was able to break free from her mother and go back inside, where she saw Jaramillo dragging Marcano and carrying a knife, records allege.
She said Jaramillo put the knife to Marcano's throat outside the back door, and she could see blood on Marcano's back, records state. The woman got into her mother's Saturn thinking she could use it to stop Jaramillo, but her mother pushed her hard enough that she ended up in the front passenger seat, records state.
Her mother got in the driver's seat and Jaramillo eventually got in the back seat, and her mother drove away, according to court documents.
The woman's son was in the car as they drove to her son's school and dropped him off with a school resource office, as they normally would do, records state.
The woman told police she was scared for her and her son's life, especially because Jaramillo was seated in the back seat with the boy holding the knife, documents say.
Jaramillo and her mother dropped her off at a relative's residents, records state.
Police located Jaramillo and the woman's mother later Friday at a Motel 6 in Hammond.
The woman's mother told detectives she didn't like Marcano because of the way he treated her daughter. 
The mother said she knew her daughter told police the killing was planned, but she and Jaramillo did not go to her daughter's house to kill Marcano, according to documents.
Jaramillo claimed Marcano attempted to punch him while he was inside Marcano's home, so he stabbed Marcano, records state. He alleged said he "didn't know how the blade got in his hand."
Jaramillo told police he was on parole for an armed robbery in Wisconsin and called his parole officer in Gary after the stabbing to request a transfer to Kentucky, where he "has a lady friend," records state.
Both Jaramillo and his girlfriend told police the knife used against Marcano was "gone," but neither said where it was, documents allege.