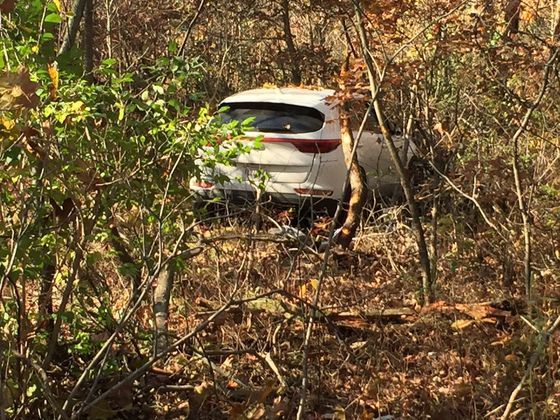 Police are searching for a man accused of fleeing a traffic stop on Interstate 65 on Wednesday, striking a police squad car, speeding through a residential subdivision and then crashing a rental car. 
A Hobart police officer attempted to stop a vehicle for speeding at about 10:10 a.m. Wednesday on southbound Interstate 65 near mile marker 233, according to a news release from Indiana State Police District 10.
The traffic stop occurred southeast of Lowell about three miles north of Ind. 10.
The 2018 Kia Sportage — a rental vehicle out of Indianapolis — didn't stop and a pursuit was initiated, police said. 
The Kia made a U-turn by driving into the median and headed north.
The driver, at that point on the outer shoulder, put his Kia in reverse and drove south as he approached a state trooper working in a construction zone on northbound I-65 northbound, police said. 
"The Kia then drove into the median and drove straight at the state police car, swerving at the last minute, hitting the (car)," the release stated. 
The pursuit continued southbound. The driver of the Kia braked hard, went back into the median, and then again into the northbound lanes of I-65, police said. 
The Kia then went across southbound I-65 lanes, down through the ditch on the west side and through a wire fence into a subdivision, police said. 
The driver drove between two homes, crashed the SUV in a wooded area and fled, state police said. 
The driver reportedly asked a resident in the subdivision for a ride, but instead fled, leaving a jacket behind, police said. 
The trooper involved in the crash was taken to St. Anthony's Hospital in Crown Point with injuries that were not life threatening.
The driver — described as black, approximately 6 feet, 3 inches, and about 240 pounds — was wearing a black T-shirt with white lettering. He reportedly has a stocky built and appears in his mid 30s.
He was last seen in the area of County Line Road and Ind. 10.
Anyone who has information or sees this individual is urged to call 911.