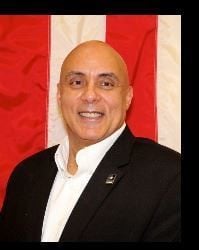 EAST CHICAGO — An East Chicago councilman was accused of being intoxicated and interfering with public safety on the scene of a large church convent fire in mid-October, police said. 
Councilman Robert Garcia, of East Chicago, has been charged with one count of refusal to leave an emergency area, one count of interfering with public safety, one count of public intoxication and one count of disorderly conduct, according to records from Lake Superior Court. A summons for Garcia was filed on Nov. 12.
At 12:08 a.m. Oct. 16, East Chicago's Uniform Patrol Division was doing traffic control at West 150th Street and Indianapolis Boulevard as firefighters battled a structure fire on the St. Stanislaus Church campus after a convent caught fire.
As several first responders converged on the scene, police instructed bystanders to stay on the sidewalk that was outside the blocked intersection.
East Chicago Officer Stephen Schindler saw a man identified as Garcia walk through a blocked intersection while recording on a cellphone, police said.
Schindler approached Garcia to tell him to walk outside of the intersection or stay on the sidewalk.
Police said Garcia replied, "I'm good," and continued walking through the intersection disregarding Schindler.
When Schindler told him to leave the area again, Garcia disregarded his order and continued walking through the intersection, East Chicago Deputy Chief Jose Rivera said.
Schindler approached Garcia a third time, asking him if he was a police officer or firefighter. After Garcia replied "no," Schindler instructed him again to stay out of the blocked area.
While Schindler was talking to Garcia, he smelled a strong odor of intoxicants, commonly associated with alcoholic beverages, coming from Garcia's mouth and person, according to the police report.
Schindler also reported that Garcia's eyes were bloodshot and watery and his speech was slurred and confused, Rivera said.
Police said Garcia's attitude was "angry, uncooperative and insulting," stating that Garcia shined his cellphone's light in the officer's face so he could not see.
During the interaction, Garcia allegedly said, "Do you know who I am?"
The incident began to draw the attention of bystanders, and Schindler prepared to arrest Garcia for public intoxication and grabbed his phone to place him in handcuffs, Rivera said.
However, Garcia allegedly moved away from Schindler and walked toward the sidewalk.
Rivera said Schindler gave Garcia a professional courtesy and decided not to arrest him on scene. Schindler later filed charges through the Lake County prosecutor's office "in order to avoid a scene."
Rivera said that Garcia filed a complaint against Schindler on Oct. 26, demanding an investigation and that Schindler should be disciplined.
He stated an internal investigation was opened immediately to review officer conduct. The police department reached out to Garcia on three occasions to conduct a formal interview and to request the video and a copy of an ordinance or policy "that states a council member's duties is to check on the efficiency of the fire department at a fire scene like he stated on his complaint."
Rivera said as of Friday, Garcia has been uncooperative regarding his complaint against Schindler.
Garcia said he was unable to provide comment as advised by his legal representative. The Times reached out to his lawyer, who did not immediately respond. 
East Chicago City spokesman Steve Segura said he had no comment at this time.