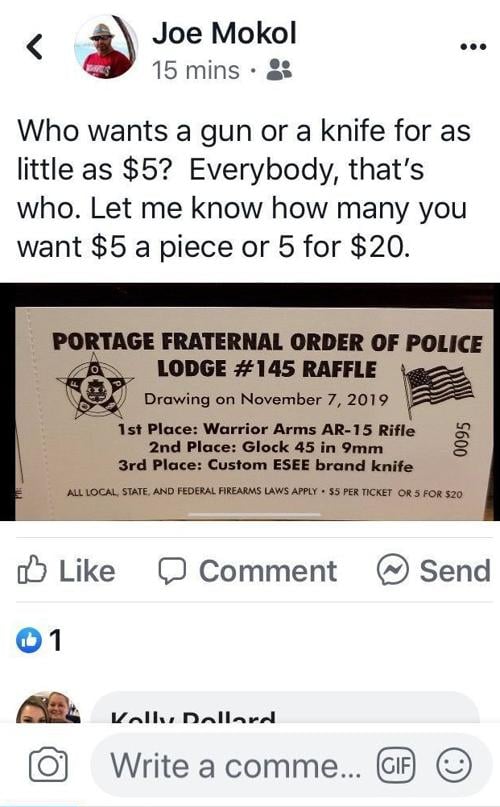 PORTAGE — A local Fraternal Order of Police lodge is defending its decision to offer an AR-15 rifle as a top prize in a current raffle.
"Apparently there was some concern raised that one of the prizes for this year's raffle was an 'assault rifle' and that may be viewed as inappropriate based upon some recent events where a similar type of firearm was used for homicidal purposes," the executive board of the Portage FOP Lodge 145 wrote in a response to those concerns.
"We certainly sympathize with the victims and the families harmed by these events, but we are of the belief that the blame for such crimes lie with the person and not the weapon," the group said.
The lodge is offering a Warrior Arms AR-15 Rifle as the top prize in the fundraising raffle, which will have a drawing Nov. 7, according to a copy of a raffle ticket posted recently on Facebook by Portage police patrol supervisor Lt. Joe Mokol.
On Wednesday afternoon, a suspect armed with an AR-15 and a handgun in Philadelphia shot and wounded six police officers during an hours-long standoff, according to police reports.
Second prize in the local FOP raffle is a Glock 45 9mm handgun, and third prize is a Custom ESEE brand knife, according to the FOP's post.
"Who wants a gun or a knife for a little as $5?" the comment reads on Mokol's raffle ticket post. "Everybody, that's who. Let me know how many you want $5 a piece or 5 for $20."
The post was brought to the attention of The Times on Friday, less than a week after nine people were killed and 27 injured by a gunman in a popular nightlife area in Dayton, Ohio.
A day before the Ohio shooting, a gunman with an assault rifle killed 22 people and wounded dozens of others in a Walmart store in El Paso, Texas.
"Responsible firearms ownership is a pillar of a law enforcement officer's lifestyle, and the members of F.O.P. Lodge #145 support both the state and federal constitutions, which contain provisions to guarantee the people's right to bear arms," the group said in its written statement.
"The AR-15 or Armalite Rifle-15 has become the preferred firearm of domestic law enforcement when danger is near," the group said. "For the same reasons the AR-15 has become popular with law enforcement, it has also become the most popular civilian rifle in America. If we in law enforcement are to be trusted with such firearms, then so should the peaceable people that we swore to serve."
The FOP said whoever wins the rifle will have to submit to a background check.
"Therefore, we see no conflict with law enforcement's general mission to provide for public safety and the awarding of this prize," the FOP board stated.
Lodge leaders said they have offered this same prize during past raffles, and this is the first time it is has been questioned. An online search revealed dozens of raffles across the country with similar prizes, the group noted.
"Regardless of what other groups are doing, we believe that our membership supports our decision to offer this prize, and those who support the F.O.P. also support this decision," the group stated. "We think this can be confirmed by the fact that it only took four members six days to sell over 500 raffle tickets."
The local FOP lodge is made up of active and retired law enforcement officers, who make charitable donations to local community programs. The raffle in question is just one of various fundraisers hosted by the group.