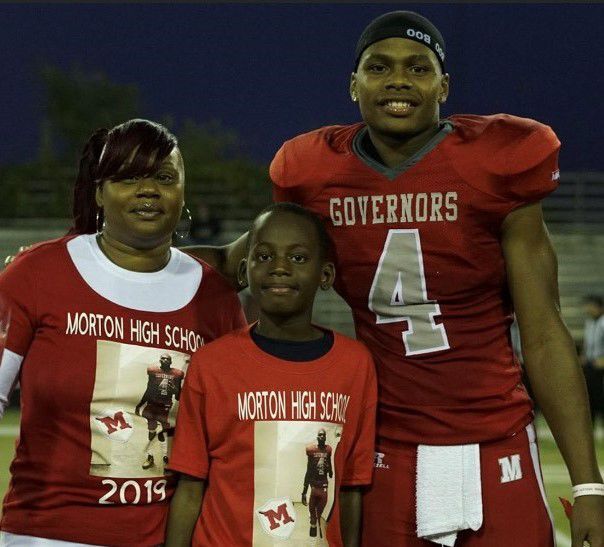 INDIANAPOLIS — A former football star at Hammond Morton High School who later enrolled at the University of Indianapolis was shot and killed early Thursday morning, Indianapolis police said.
According to the Indianapolis Metropolitan Police Department, Koebe Clopton died at a hospital after he was found with "injuries consistent with gunshot wound(s)" in the 5800 block of Radnor Road. IMPD was initially called to a residence there around 1 a.m. for a report of shots fired.
In Hammond, Morton's football coach was emotional as he processed the news Thursday, but remembered the 2019 graduate as a model student-athlete and citizen.
"I don't know how else to say it, it's just a damn shame," Mac Mishler told The Times. "The kid was an extremely great individual. He was a great student, a great athlete and just a great person."
"You can see it all over social media," Mishler said. "He was a great person that touched tons of peoples' lives … an extremely driven kid and he's one of those kids where, when I look at it, he's a role model for other kids in our community."
"He did something every day that made you smile and made you laugh," Mishler added. "He's one of those kids that brightened the room with his personality. He talked to everybody, he loved everybody, he wanted to help everybody."
Sean Kinsey, who was the head coach at Morton when Clopton played there and now serves as the school's athletic director, said those who knew Clopton were stunned and hurting.
"This is the roughest day I've had in a long time doing this job," Kinsey said.
According to Kinsey, Clopton had just begun his junior year as a student at the University of Indianapolis, where he was on academic scholarship. Clopton was a member of the Greyhounds football team from 2019-2020 before deciding to leave the team this spring, according to the school.
Kinsey said one of the things that has made Clopton's killing reverberate was his insistence on staying in touch with his former coaches and teammates. Kinsey said he spoke to his former player Tuesday and that their conversation included working through Clopton's struggles in a new Spanish class.
"He was one of those kids who was constant," Kinsey said. "He would reach out to you and check in on you. A lot of people are hurting because he was a special kid."
Indianapolis police said no one was taken into custody after the shooting and that the investigation into Clopton's death remains active.
Anyone with information is asked to contact Detective Brad Nuetzman at 317-327-3475 or brad.nuetzman@indy.gov.
Anonymous tips can also be made by calling Crime Stoppers of Central Indiana at 317-262-8477 or visiting crimetips.org.