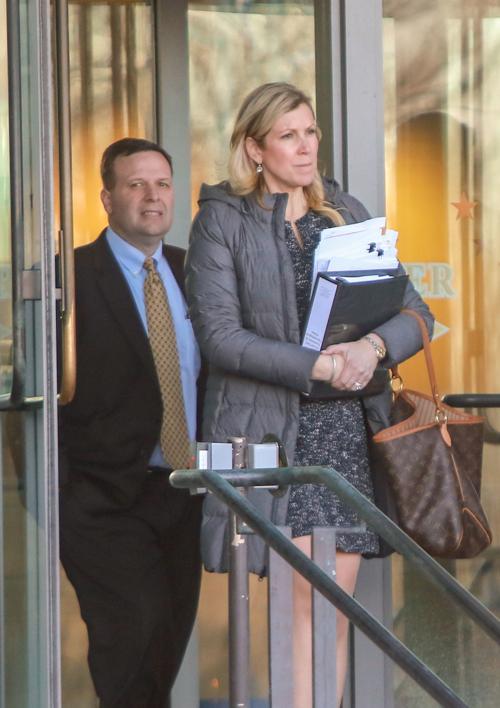 HAMMOND — Former Portage Mayor James Snyder may learn before next Valentine's Day if he faces a second jury trial on a bribery charge.
Federal court records indicate federal prosecutors told a judge they must weigh their options before deciding whether to proceed further with allegations Snyder corruptly solicited a $13,000 bribe in 2014 from a Portage truck dealership.
If they decide to drop that charge, it would be vindication for Snyder who has maintained since his indictment three years ago he didn't sell out his office.
Snyder still would have to appeal a second guilty verdict of tax evasion stemming allegations he cheated the Internal Revenue Service by hiding income from his private mortgage business.
He could face a prison sentence of more than two years in prison on that count.
However, Snyder was able to celebrate Thanksgiving with a win against federal prosecutors.
U.S. District Court Judge Joseph S. Van Bokkelen granted Snyder a new trial Nov. 27, overturned a conviction based on allegations Snyder corruptly steered a garbage truck contract to the former owners of Great Lakes Peterbilt of Portage.
A federal jury reached that verdict Valentine's Day this year.
Had the judge upheld the bribery verdict, Snyder would be preparing for a longer sentence.
Instead, federal prosecutors now must weigh their chances of winning a new conviction before a new jury trial in the light of evidentiary problems exposed by Snyder's vigorous defense.
Court records indicate Assistant U.S. Attorneys Philip Benson and Jill Koster conferred by telephone Friday with Snyder's legal team and the judge. The prosecutors asked the court to give them 45 days to review the transcripts of Snyder's 19-day before deciding on how to proceed with the case.
Snyder's legal team agreed to the continuance and won't push for a speedy trial, which is Snyder's right.
Approximately six years ago, federal investigators began looking into public contracts awarded under the administration of Snyder, a Republican businessman, served as mayor of Portage, the third largest city in Northwest Indiana from 2011 until his conviction removed him from office.
Federal prosecutors allege solicited a $13,000 bribe from Steve and Bob Buha, the former owners of Great Lakes Peterbilt of Portage in return for giving his approval to a $1.125 million contract to the Buhas to provide the city with garbage trucks.
The judge stated in his 17-page ruling there were several irregularities practiced by federal prosecutors.
He said the government tried to prove bribery against Snyder without the testimony from the Buhas, the central players in the alleged bribery scheme.
Federal prosecutors refused to call the brothers to the witness stand at trial. Assistant U.S. Attorney Koster told the judge she believed the brothers might give the jury false or conflicting testimony about their motive in giving Snyder $13,000.
The brothers then refused to testify as defense witnesses, on Snyder's behalf either.
Snyder's legal team said they were unable to call the Buhas as defense witnesses because federal prosecutors refused to grant the brother immunity from future prosecution if they took the witness stand.
The government had given the brother immunity earlier to testify before a grand jury investigating the bribery allegations three years ago.
Faced with the threat of future prosecution, the brothers exercised their Fifth Amendment right to remain silent.
Snyder didn't take the witness stand either.
Judge Van Bokkelen, who served many years as a former U.S. Attorney and worked in private practice as a defense attorney, said in his ruling he couldn't recall a case that was tried without the testimony of the giver or the receiver of the bribe or the testimony of some other direct witness of the bribery.
The judge said federal prosecutors presented too much of the government's case against Snyder through testimony by an FBI agent who investigated the case, rather than witnesses with first-hand knowledge of the disputed acts by Snyder and others.
This tactic denied Snyder's defense attorneys a meaningful chance to question the validity of government allegations since the agent was only reciting the comments of others who weren't testifying under oath.