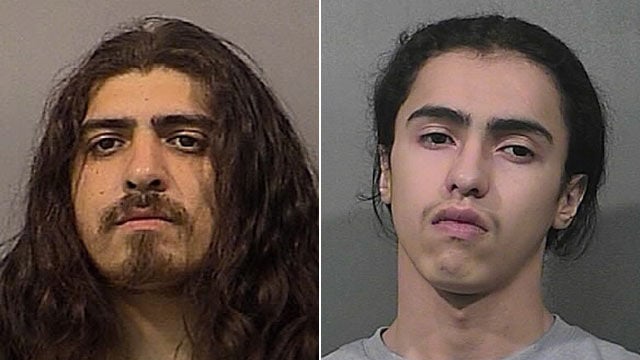 The Indiana Court of Appeals has affirmed the 120-year prison term issued last year to an East Chicago man who gunned down a gang rival while saying "Merry Christmas, mother (expletive)."
Angel Garcia-Berrios, 26, was convicted of murder and sentenced to 60 years in prison, plus an additional 60 years for committing the crime while belonging to a gang, for the Jan. 24, 2016, slaying of 25-year-old Thaddeus Rodriguez Jr., of Hammond, in the 4800 block of Olcott Avenue in East Chicago.
According to court records, Garcia-Berrios and Rolando Leal Jr., 30, of Portage, ambushed Rodriguez because Garcia-Berrios believed Rodriguez had stolen a gold chain from his sister.
Records show Garcia-Berrios and Leal ran toward Rodriguez carrying their guns. Garica-Berrios said "Merry Christmas, mother (expletive)" and shot Rodriguez multiple times, killing him.
Leal separately was sentenced in 2018 to 110 years in prison for his role in the murder, plus a gang membership enhancement.
In his appeal, Garcia-Berrios challenged, among other things, the basis for the criminal gang enhancement that doubled his prison sentence.
Garcia-Berrios argued there was not enough evidence to show he was a member of a criminal gang. He also claimed the gang enhancement statute is unconstitutional.
The appeals court rejected those arguments in a 3-0 ruling.
It noted four different witnesses testified at trial about Garcia-Berrios' membership in the Two Six gang, including Garcia-Berrios' use of hand symbols and spoken phrases the gang uses for identification.
"Based upon the record, we conclude the state presented sufficient probative evidence that Garcia-Berrios was a member of a criminal gang while committing the offenses and committed the felony offenses in affiliation with a criminal gang," the appeals court said.
Under Indiana law, the criminal gang enhancement — which the appeals court deemed constitutional — means Garcia-Berrios must serve at least 75% of his sentence.
As a result, Garica-Berrios' earliest possible release date from prison is Feb. 21, 2107, according to the Indiana Department of Correction.