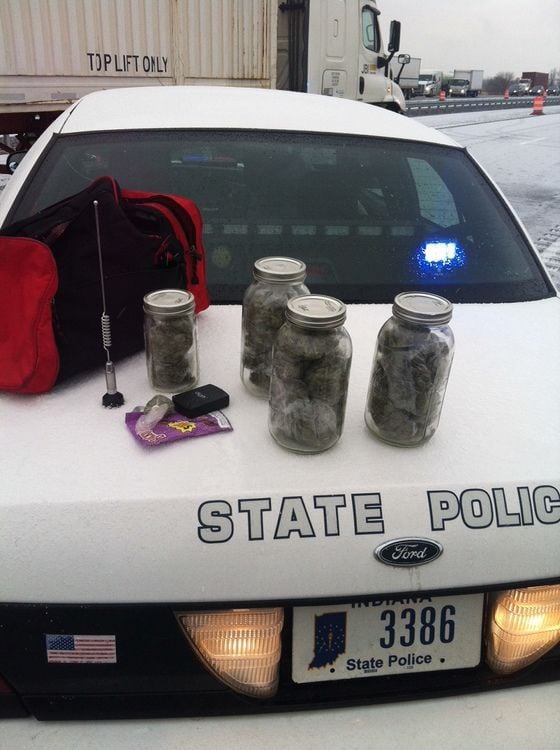 A Gary man crashed his Jeep three times and evaded police twice Wednesday morning on Interstate 65 before his arrest. 
Durell Rhymes, 42, of Gary, was apprehended at about 9 a.m. Wednesday and taken to Lake County jail — about five hours after he first came in contact with police on I-65 just north of DeMotte.
Dispatch received a call at 4:07 a.m. about a reckless driver on southbound I-65, according to a news release from Indiana State Police. When a Lake County sheriff's officer located the Jeep allegedly involved, the driver drove off with the county squad car in pursuit. 
Rhymes lost control and ended up northbound in the southbound lanes before crashing into the guard rail in the median. The officer lost sight of the Jeep after Rhymes drove off.
A little after 5 a.m., State Police First Sgt. Terrance Weems responded to a crash involving a Jeep and a semi-tractor trailer on northbound I-65 near the 233 mile marker, state police said. 
"It soon became clear the Jeep involved in this crash was the one that fled earlier from the county officer," state police said. 
While fleeing northbound in the southbound lanes, the Jeep hit the rear tandems of the trailer being pulled by a 2005 Freightliner, taking off the roof of the Jeep. 
"The brake lines on the semi were broken after being hit and the semi became disabled. The Jeep after hitting the semi fled south bound on I-65 without stopping," according to state police. 
About four hours later, a state trooper saw the Jeep in the left lane on I-65 about one mile south of the Crown Point exit. As the trooper approached the vehicle, Rhymes alleged attempted to put the Jeep in reverse and flee the area but could not due to heavy traffic in the area.  
Police uncovered about eight pounds of of marijuana after a search of Rhymes and the Jeep. They also found money, assorted pills, and an open container of alcohol, police said. 
Rhymes has been charged with resisting law enforcement with a vehicle, dealing and possession of marijuana, operating while intoxicated refusal, having an open container and leaving the scene of a crash. The Lake County Sheriff's Department may also have charges pending, state police said.