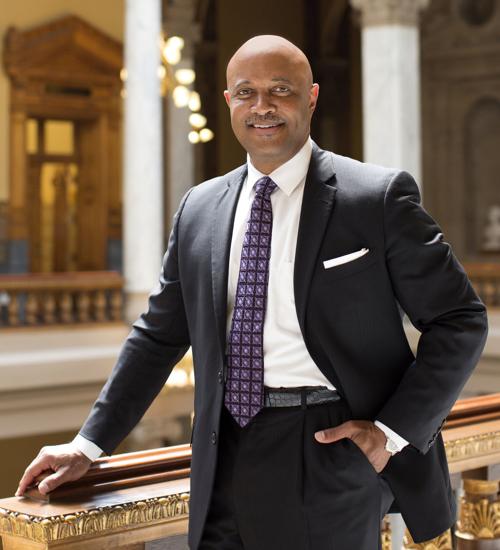 MERRILLVILLE — Policymakers, law enforcement officers, community activists and more came together Tuesday morning for a two-hour discussion seeking to chip away at the causes of crime in Lake County, especially among youth.
State Rep. Lisa Beck, D-Hebron, said coordination among local resources — law enforcement, social workers and schools included — is imperative to addressing the varying types of crime ranging from gun violence to substance abuse and more.
"Lake County is so diverse in crime," Beck said. "We need to make sure we're providing services from the beginning — helping the families, not just the child."
The small-group forum came as a part of Indiana Attorney General Curtis Hill Jr.'s statewide crime prevention listening tour. His visit to Indiana Wesleyan University in Merrillville was the fifth stop on a 14-city tour to hear the crime-related concerns of regional community leaders. 
Hill has visited Evansville, Jeffersonville, Terre Haute and Fort Wayne with additional stops planned in Bloomington and Indianapolis, among other cities. He also stopped in Lafayette on Tuesday.
"We find that there's a different flavor in the various sections of Indiana related to crime prevention," Hill said. "This particular area is heavily influenced by its connection with Chicago, so you can't help but have some of that bleed into here."
From the tour, Hill said his office is working to compile resources gathered at each visit to be shared with other communities throughout the state. Each community presents its own challenge, Hill said, but from these conversations the attorney general said he hopes his staff can work to provide resources to law enforcement agencies or develop legislative recommendations to help further the efforts of local faith-based organizations and nonprofits seeking to prevent crime in their own neighborhoods.
"One of the strong themes that came from this meeting was the need to have focused engagement in parenting," Hill said. "The root cause of many of the problems — whether it's incidents of violent crimes or substance abuse — much of it has to do with the disintegration of the family unit and the need to teach youngsters how to be more effective in parenting and to provide them with resources and mentors."
Hill will present his findings from his series of community visits in his office's 10th annual Drug Abuse Symposium on Oct. 29-30.
Dr. Michael McGee, medical director of emergency services at Methodist Hospitals and founder of anti-violence nonprofit POP on Youth Violence, said he found Tuesday's discussion to be a good step in collaborative planning, but that he hopes the meeting Tuesday can be used to encourage greater state support for regional efforts.
"All of these nonprofits out here are doing good charity work," McGee said. "But, somehow, some way, funding has to happen in order for them to truly make an impact and make a difference."
Sign up for our Crime & Courts newsletter
Get the latest in local public safety news with this weekly email.