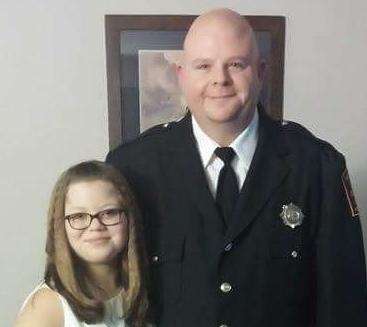 A Hobart paramedic hospitalized earlier this week said Friday he suspects he was exposed to a powerful synthetic opioid while attempting to resuscitate an overdose patient.
Ron Reed Jr., a paramedic for Hobart Fire Department, told The Times on Friday he fell unconscious and suffered labored breathing after he treated an overdose patient Wednesday afternoon at Rivinia Pines mobile home park, 534 E. 37th Ave. in Hobart.
Reed said he was dispatched to Rivinia Pines about 5 p.m. Wednesday for reports of a cardiac arrest patient. Paramedics determined at the scene the man, who appeared to be in his 30s, had suffered an opioid overdose.
Reed said they administered the man 6 milligrams of naloxone, a drug that can rapidly reverse an opioid overdose, but the man's breathing remained labored. He said that was unusual – it typically only takes 0.3 to 2 milligrams of naloxone to treat a heroin overdose. He said he suspected the man used a powerful synthetic opioid, such as fentanyl, due to the subdued effect of the life-saving drug.
The paramedics transported the man to an ambulance, where Reed attempted to intubate him. He said while attempting to insert a tube in the man's airway, the man coughed and snorted in his face.
Another ambulance transported the man to the hospital, and Reed returned to the station with his captain. He said within eight minutes he began to feel sick.
"I told my captain I had to stop," he said. "The whole world was spinning."
Reed said he laid down outside the ambulance and fell unconscious. He said he awoke within a minute and a half after another paramedic administered him naloxone. Others at the scene told him he hardly breathed during that 90 seconds.
Reed was transported to St. Mary Medical Center in Hobart. He said he was treated again with naloxone after a second episode at the hospital.
Reed said he could not be certain, but he believed the patient expelled some residue opioid when he coughed on him during the intubation, which then got into Reed's sinuses.
It would not be the first time a Lake County first responder was harmed by exposure to synthetic opiates.
A Griffith police officer was hospitalized in April after he inadvertently disturbed a white powdery substance in a home where a 35-year-old man was being treated for an overdose.
Hammond police began carrying naloxone in September after two officers required medical treatment following accidental exposure to heroin containing fentanyl between December 2016 and February 2017.
The incidents underscore the threat posed by powerful synthetic opioids, such as fentanyl, which is 30 to 50 times more potent than heroin and potentially fatal in dosages as small as two milligrams, according to the U.S. Drug Enforcement Administration.
Reed, who is also vice president of the Hobart Firefighters Local 1641, said he has been a paramedic for 15 years and responds to about 10 to 12 overdose calls a month.
"I'm not going to say I'm not nervous," he said. "It's a different world we live in now, but we can't stop and put on (Hazmat suits) on every call. People would die."
Reed said he had spoken with Hobart Fire Chief Randy Smith and other local EMT officials about ways to prevent exposure to synthetic opiates, including a policy requiring first responders to wear respirators and goggles on overdose calls. He said his chief planned on implementing such a policy immediately.
Hobart Assistant Fire Chief Jack Baker said Thursday the incident with Reed was under investigation. He could not be reached for comment Friday.
Reed said he had a follow-up visit with doctors scheduled Monday and hoped to return to work Tuesday.