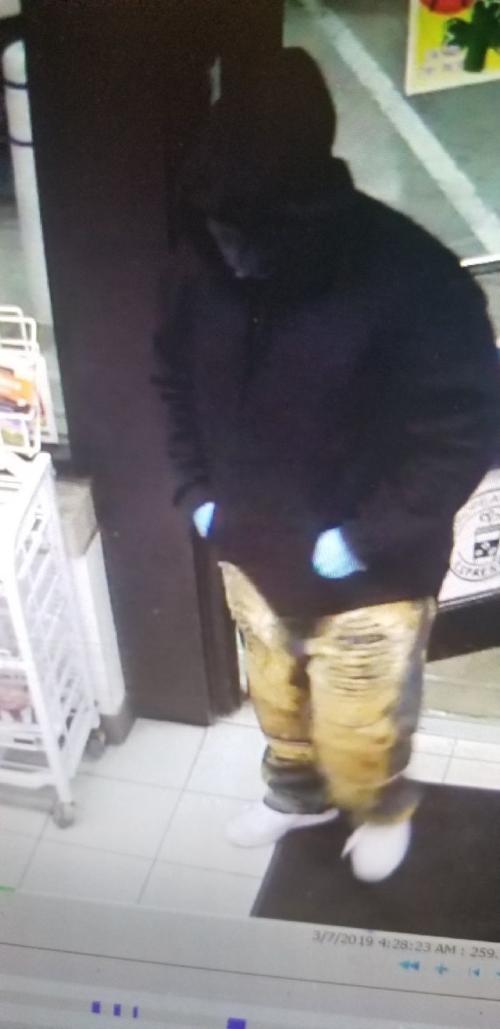 HOBART — Police are seeking tips about a man suspected of robbing a Family Express gas station and a customer at gunpoint early Thursday.
The man entered the Family Express at U.S. 6 and County Line Road about 4:30 a.m. Thursday, reached into the front pocket of his hoodie and partially displayed a black handgun before ordering an employee and the customer to give him money, Hobart police Capt. James Gonzales said.
The men then ordered the employee and the customer to a back room and left the business, heading east.
The suspect was described as black, with a dark-colored sweatshirt, dark-colored ski mask, blue and gold jeans, light-colored tennis shoes and blue-colored latex gloves.
Anyone with information about the man's identity is asked to contact Detective Zachary Crawford by email at zcrawford@cityofhobart.org or by phone at 219-942-4774.
Police released a photo of a surveillance image shown to an officer at the scene. No additional surveillance images were available, because Family Express refuses to release them to police unless the department enters into a contract, Gonzales said.
"Family Express requires the Hobart Police Department to enter into a legally binding contract with them, which we are unable to, because it exposes the city of Hobart to civil litigation," he said.
During a hearing in a murder case last week, Lake Criminal Court Judge Samuel Cappas ordered Family Express to turn over surveillance videos the Lake County prosecutor's office had been seeking as part of an investigation into a defendant's alibi.
Deputy Lake County Prosecutor Christopher Bruno told the judge other gas station chains had turned over their videos without a court order.
Schuyler D. Geller, attorney for Family Express, told Cappas a security consultant advised the company would-be criminals could potentially use surveillance videos released to the media to case its stores. The company believes its decision to not release video protects its customers and business, he said.
Geller declined to comment Friday for this story.
Gonzales said Hobart police are committed to serving and protecting city residents and businesses and "will not be hindered or deterred from our mission."
"It saddens me to think that the placement of the surveillance cameras is more important than the safety and security of patrons and employees," he said. "In my 22 years of being a police officer, I have never had to jump through so many hoops to try and obtain surveillance video."