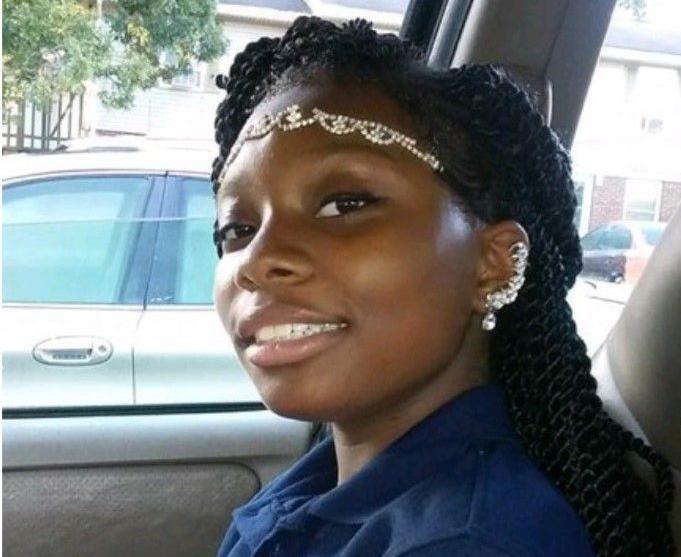 CROWN POINT — A teenage girl accused of stabbing her mother to death nearly two years ago pulled a bloody, broken knife from her purse the night of the homicide and told two boys, "I broke the tip off on that (expletive)," court records allege.
Chastinea Reeves, 17, smirked as she made the statement and later laughed as she showed the boys a photo of a woman, who was slumped over and appeared to be deceased, records state.
The allegations against Reeves were outlined as part of a plea agreement Lake County prosecutors reached last month with Matthew Martin, 18, of Merrillville, Reeves' co-defendant and one of the two boys.
Martin and Virgil King, 19, of Gary, were charged in July 2017 with assisting a criminal and auto theft. King pleaded not guilty and has a court hearing set for Feb. 5.
Reeves appeared Tuesday in Lake Criminal Court with her court-appointed attorney John Cantrell, who said he plans to file two motions to suppress evidence in the case.
Magistrate Natalie Bokota rescheduled Reeves' trial for June 3.
Defense wants statements tossed
Reeves was arrested a day after her mother, Jamie M. Garnett, 34, was found stabbed to death Feb. 13, 2017, in the family's home in the 4400 block of West 23rd Place. The homicide sparked a search for Reeves, who disappeared after dropping off her younger sibling at a family member's Gary home.
Reeves was charged with murder in Lake Juvenile Court in February 2017. Lake Criminal Court Judge Thomas Stefaniak Jr. waived her to adult court July 18, 2017, without deciding on a motion to suppress a statement Reeves gave to police. 
Cantrell said Tuesday outside the courtroom there are questions about whether detectives had legal permission to interview Reeves.
A man believed to be Reeves' father traveled to Gary from South Carolina and permitted her to be interviewed by detectives, but that man never has been adjudicated as Reeves' father by a court, Cantrell said.
"He had no more right than the Man in the Moon to give police permission to interrogate my client," he said. 
Cantrell also plans to file a motion to suppress any evidence obtained from a "fraudulent" Amber Alert police issued after Reeves' disappearance.
Cantrell alleged police considered Reeves a suspect and wrongfully elicited information from those closest to her by using the alert to suggest she was a missing, endangered child. 
"Amber Alerts are not an investigative tool to help police attempt to solve cases," he said.
The question regarding use of Amber Alerts never has been litigated in Indiana and could set a precedent, Cantrell said.
Deputy Prosecuting Attorney Maureen Koonce said in court Cantrell has talked about filing motions for some time. The case remains pending, and her office wants to move it along, she said. She asked for a spring trial date.
Night of homicide detailed
Even if a judge agrees to throw out Reeves' statement, a jury likely still would get to hear from Martin.
Martin pleaded guilty in December to felony assisting a criminal in connection with Reeves' case and felony battery in a separate case. He faces sentences of one to six years and 0.5 to 2.5 years in prison on each count, to be served consecutively.
He agreed to testify against Reeves and will not be sentenced until her case is closed.
When asked about Martin's plea agreement, Cantrell said, "He is signing something to get himself out of trouble." 
According to court records, Martin and King met Reeves at the Oak Knoll Apartments the night Garnett was killed. Reeves allegedly handed King, her boyfriend, the keys to Garnett's 2001 Ford Escape and they drove it away.
Later, Martin noticed what appeared to be blood on Reeves' clothing, records allege. As the three walked along 21st Avenue, Reeves took the knife out of her purse and talked about breaking it, records say.
Martin told police he kicked in a door to an abandoned building in the 2000 block of Delaware Street and tossed the knife inside. Police later recovered the knife, records show.
After Reeves changed out of the bloody clothes, King poured bleach on them, attempted to light them on fire and eventually threw them down a chute in an abandoned building in the 2300 block of Adams Street, records state.
Reeves later showed Martin a photo of a deceased woman before King removed the SIM card from Reeves' phone and destroyed it, records allege.