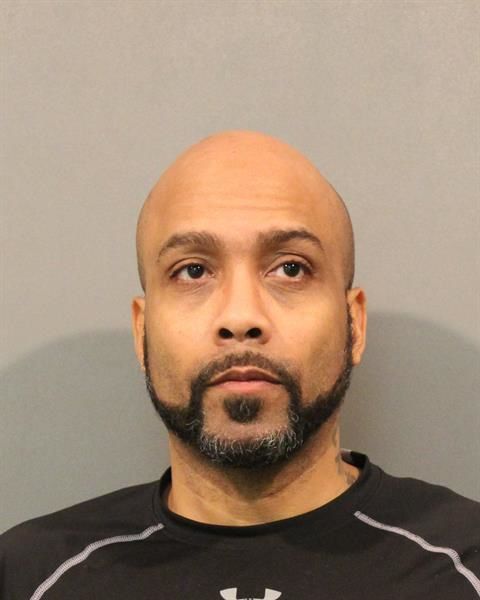 GARY — A Gary councilwoman injured in a domestic incident Wednesday — allegedly at the hands of longtime political ally Jamal Washington — said she wants to thank everyone who has sent her "prayers, well wishes and support."
"I'm doing OK, and I survived," LaVetta Sparks-Wade, D-6th, told The Times on Thursday.
Sources close to the investigation told The Times the alleged incident lasted nearly 16 hours, including Sparks-Wade being held against her will and being battered.
Washington, a former Lake County councilman and current Gary City Council candidate, is accused of taking Sparks-Wade's phone during the hourslong confinement. She eventually was able to make contact with a friend for help early Wednesday, and the friend called 911, sources said. 
Though not yet formally charged, Washington, 45, is being held on probable cause for domestic battery, criminal confinement and intimidation in connection with Wednesday's incident, jail records show. Lake County prosecutors said they expect to file formal charges Friday.
The incident prompted a top Gary city official to consider banning Washington from City Hall, pending an outcome in the case.
A once steadfast supporter of Washington through his two domestic violence convictions, Sparks-Wade, who is running for Gary mayor, said she was not prepared Thursday to make a detailed statement about the incident, but she planned to address the matter at a later date. 
Washington was arrested at 9:51 a.m. Wednesday by Gary police after allegedly barricading himself inside a home he shares with Sparks-Wade in the 3900 block of Martin Luther King Drive, a Gary city official and assisting law enforcement officials have confirmed.
He was booked into the Lake County Jail at 8 p.m. Wednesday after a full day in the custody of Gary police for questioning, jail records and police sources confirmed.
When contacted by The Times, Lake County Sheriff Oscar Martinez confirmed county and city police responded Wednesday morning to Sparks-Wade's residence to "conduct a welfare check on an individual."
Martinez described it as a "domestic situation." 
Despite requests, the Gary Police Department, the lead investigating agency, has declined to provide further details surrounding the incident.  
Brewer wants Washington banned
Gary City Council President Ronald Brewer said he wants to see Washington, once charged, prosecuted to the fullest extent of the law for allegedly battering one of his colleagues in a domestic incident Wednesday. 
Brewer said he's researching the legality of possibly banning Washington from City Hall, saying he poses a threat to Sparks-Wade and other public officials, given his history of domestic violence.
Washington has been twice-convicted for past domestic violence involving female family members. 
"We've seen previous cases with ... Washington, and it's very clear at this time that he doesn't need to serve in any capacity in any political office," Brewer said. 
The council president said he received a call Wednesday stating Sparks-Wade was "being held against her will in her home, which was due to a very intense domestic violence situation."
"Domestic violence is very hurtful and damaging, and no acts of this type of abuse will be taken lightly. It's one thing to hear of a domestic violence situation, but to know the accuser and victim makes it even worse," he said.
Washington's arrest Wednesday morning comes less than two months after Porter Superior Court Judge Jeffrey Thode sentenced him in connection with his conviction for battering a female cousin.
The judge sentenced Washington to 180 days at the Lake County Jail, but suspended all but time already served to be spent on unsupervised probation.  
Special prosecutor Stanley Levco, of Evansville, who is handling Washington's most recent case, told The Times he was made aware of the arrest and that it would be his responsibility to prosecute any alleged violation.
He said Wednesday he would check with the Lake County probation department when it reopens Friday.
Washington was living with Sparks-Wade
Washington announced earlier this month he was back on the campaign trail, filing paperwork to put his name on the May 7 ballot as a Democratic candidate for one of the three at-large seats on the Gary City Council.
Washington previously told The Times he moved from his previous residence on Connecticut Street in Merrillville's Hilldale subdivision, where he twice was involved in domestic assaults, to Sparks-Wade's home in Gary's Glen Park neighborhood to gain city residency status.
The two long have been political allies, appearing together on a near-daily basis on Facebook live broadcasts to discuss Gary and Lake County politics, corruption and their individual election platforms.
Washington served four years as the 3rd District Lake County councilman, representing residents in Merrillville, parts of Gary, Lake Station and Schererville.
A number of legal scandals have dogged Washington over the years.
Washington's name has appeared four times since 2009 on the Indiana Protective Order Registry, listing court orders forbidding him contact with people who alleged in court they were in fear of him.
One arose over allegations of domestic violence that prompted Merrillville police to arrest Washington Dec. 3, 2015, for the alleged assault of his wife and a female employee. Washington pleaded guilty in 2016 to battering his wife and was placed on probation. The charges involving the other woman later were dropped.
Washington had to serve 15 days in jail for violating his probation after Merrillville police arrested Washington again Dec. 8, 2017, for the battery of his 24-year-old cousin.
Washington pleaded not guilty and demanded a jury trial, which took place late last year.
Washington was convicted Nov. 14 of misdemeanor battery and interference with reporting a crime for the assault on his cousin, but acquitted him of more serious felony counts of battery, criminal confinement and intimidation.
In that case, his cousin testified he choked, body slammed and threatened to kill her with a mallet in December 2017. 
Washington couldn't be reached for comment. It's unclear if he has hired an attorney. Darnail Lyles, who represented Washington in his last domestic violence case, did not return a phone call seeking comment. 
Washington has denied allegations of abuse in spite of the repeated misdemeanor convictions, routinely declaring his arrests were part of a larger political conspiracy theory against him because he speaks out against bad government and corruption. 
Gary police mum on details
Gary police have declined to provide basic details surrounding the incident. 
"What I can release at this time is on January 30, 2018 approximately the Gary Police Department responded to a call for service in the 3900 block of ML King Drive," Gary police Lt. Dawn Westerfield wrote in an email. "Gary Police Officers became aware of the situation when they were dispatched to that location. Lake County Sheriff Department, Gary Police Department and Gary EMS all responded to the location. This was not a SWAT operation. 
"The case is ongoing and no further information will be released at this time to preserve the integrity (of the) investigation."
While Indiana law enforcement agencies have discretion to withhold certain information to protect the integrity of sensitive investigations, under the state's open records law, they must release certain information pertaining to a call for service within 24 hours of an event.
That includes time, date and place; identity of the person arrested; the reason for the arrest; the general circumstances leading to the arrest; and the investigating officer and agency.
If an incident involves an alleged crime or infraction, law enforcement must disclose the time, date and location of occurrence; the factual circumstances surrounding the incident; a general description of any injuries, property or weapons involved; and the name and age of any victim, unless they were a victim of rape or other sex crime. 
Check back at nwi.com for updates to this story.