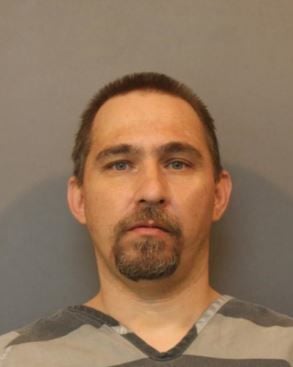 CROWN POINT — A Lake Criminal Court jury found an Illinois man guilty Monday of murdering a Hammond woman in 2018 by intentionally setting a fire at her home while she, her son and the defendant's estranged wife were sleeping.
Ronald A. Gee, 45, of Berwyn, was found guilty of felony murder and three counts of arson, according to the Lake County prosecutor's office. He was acquitted of two counts of attempted murder and one count of murder.
Gee could face 45 to 65 years in prison for murder and 10 to 30 years in prison on the highest arson count, which was a level 2 felony.
Before going to trial last week, Gee rejected the state's plea offer, which would have called for a 45-year sentence.
Jurors who heard testimony and evidence during the six-day trial before Judge Natalie Bokota ultimately rejected Gee's alibi that he was at home with a friend at the time of the arson at 19 Doty St. in Hammond.
Gee's estranged wife, Robyn Gee, testified it was Ronald Gee who was seen in surveillance images driving their silver Ford Explorer early April 14, 2018, before the fire that killed 62-year-old Brenda Young Poole and injured Robyn Gee and her boyfriend, Michael Young. 
Early on, Lake County Deputy Prosecutors Jacob Brandewie and Tara Villarreal played a video of flames engulfing the entrance to Poole's home. One of Poole's family members became so emotional, she had to leave the courtroom for a short time.
The state played more videos of Gee and the SUV. A Hammond police officer with the FBI's Gang Response Investigative Task Force testified about Ronald Gee's cellphone location data.
Robyn Gee testified Ronald Gee was upset with her the day before the fire, because it was his weekend to watch their children and she decided not to return to the home they shared in Chicago the night of April 13, 2018.
She had filed for divorce from Ronald Gee and was dating Poole's son, Michael Young, she said.
Robyn Gee said Ronald Gee threatened to take her children away from her and she said, "Over my dead body." Ronald Gee replied, "That can be arranged," she said.
In response to questions from defense attorney Kerry Connor, Ronald Gee testified he and his estranged wife had no agreements about who would watch the children., other than to "work around each other as much as possible" because "money was always a problem." 
He admitted he had filed reports with Chicago police alleging Michael Young and Robyn Gee had threatened him. He also said he called the Illinois Department of Family and Child Services to report himself because he discovered — in Robyn Gee's absence — his kitchen was full of rat and mouse droppings.
When the jury asked why he didn't clean the kitchen himself, Ronald Gee claimed Robyn Gee would not allow it.
Ronald Gee claimed a friend spent the night with him and he dropped the friend off just before 10 a.m. April 14, 2018.
Bradewie questioned why phone records showed Ronald Gee's first call April 14, 2018 — which was placed about 10 a.m. and lasted a minute — was to the same friend Gee claimed he had just dropped off.
Ronald Gee said, "It could have been a butt dial for all I know."
The judge scheduled Gee's sentencing for July 6.