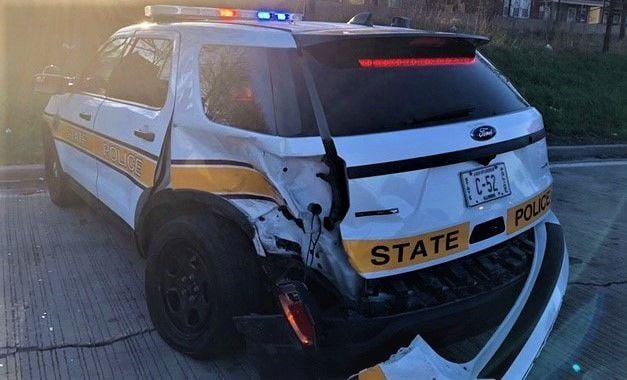 CHICAGO — An Illinois State Police sergeant was treated and released from a local hospital after his squad car was struck by an accused drunken driver, who also was treated and since has been charged in connection with the crash, police said.
Phillip Mckenzie, 61, of Chicago, struck the sergeant's car late Thursday on Interstate 94 at East 75th Street when he was driving intoxicated and failed to move over for the stopped emergency vehicle, State Police allege.
State troopers responded to investigate the crash at 5:36 p.m. after learning two vehicles had collided in the area.
The sergeant was inside his squad car with emergency lights activated when Mckenzie, traveling on the ramp from I-94 to 75th Street in a silver Honda, veered right off the highway and struck the right driver's side of the sergeant's car, police said.
Both the sergeant and Mckenzie were transported to local hospitals with  injuries that were not life-threatening. A female passenger in the Honda with Mckenzie was uninjured, police said.
Mckenzie is accused of violating Scott's Law, an Illinois law that requires drivers to move over when approaching a stationary emergency vehicle that is displaying flashing warning lights. It was named after Scott Gillen, of the Chicago Fire Department, who was struck and killed by a drunken driver while assisting at a crash.
In 2021, there have been 12 Illinois State Police squad cars struck and seven state troopers injured as a result of drivers violating Scott's Law, police said.
Violators could face a maximum fine of up to $10,000 and, if they injure another person, have their driver's license suspended for up two years.
Illinois law requires drivers to slow down, drive with caution and move over to another lane when approaching stopped emergency vehicles.
When entering a highway construction area, drivers must slow down, discontinue wireless use and yield or change lanes away from any authorized vehicles or workers in the area.
Mckenzie was charged with an aggravated Scott's Law violation, aggravated driving under the influence and driving without a license, police said.
State Police urged the public to not drive intoxicated and to always move over when approaching a stationary emergency vehicle.