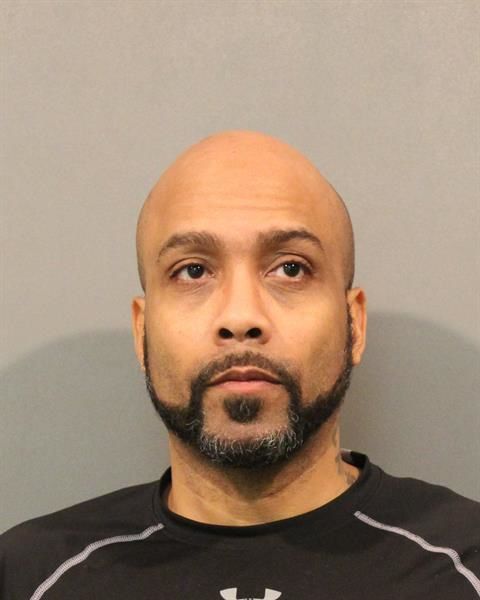 GARY — Former Lake County Councilman Jamal Washington is in jail for 15 days following his latest domestic charge as prosecutors seek to revoke his probation in his most recent conviction, the Lake County prosecutor's office said.
Washington is on a 15-day hold, meaning he can't post bond for 15 days, pending a planned filing by the special prosecutor to revoke his probation in his most recent conviction, the Lake County prosecutor's office said.
Lake Superior Court Magistrate Judge Kathleen Sullivan ordered Washington be held without bond Friday. 
Washington, 45, was formally charged Friday with five felony counts related to criminal confinement, domestic battery and intimidation in an incident involving Gary Councilwoman Lavetta Sparks-Wade, who long has been one of his biggest supporters and political allies and is currently running for Gary mayor.
Washington is running for an at-large seat on the Gary City Council. 
Sparks-Wade told police ex-Lake County Councilman Jamal Washington threatened to kill her, and in a fit of rage, battered and held her against her will in her home, newly filed court records show. 
Sparks-Wade: Leaving was 'most lethal time'
Court records show how Sparks-Wade feared for her life as her "live-in boyfriend" and current Gary City Council candidate struck her several times with his fists and at least once with her cellphone, striking her in the lip during the near-16 hour ordeal that began about 4:30 p.m. Tuesday, court records allege.
"She stated she didn't attempt to leave because that would increase her chance of not surviving," Gary Police Detective Robin Bolde wrote in charging documents.
Leaving Washington was the "most lethal time," Sparks-Wade told authorities.
The alleged domestic abuse ended shortly before 8 a.m. Wednesday when she escaped their bedroom and texted her friend, a Lake County sheriff's officer, for help, court records state. 
Authorities noted swelling on Sparks-Wade's upper lip, a wound on the inside of her lip, swelling on her neck and right side forearm. She was taken Thursday to the hospital for treatment, according to court records.
Washington was arrested early Wednesday morning after authorities responded to Sparks-Wade's home in the 3900 block of Martin Luther King Drive to conduct a welfare check. When Gary police arrived, they found Washington being detained by two Lake County officers on scene, including the friend Sparks-Wade texted.
Washington was booked into the Lake County Jail at 8 p.m. Wednesday after a full day in the custody of Gary police for questioning.
He was formally charged Friday morning. He faces charges of criminal confinement with bodily injury, felony level 5; domestic battery resulting in moderate bodily injury, felony level 6; criminal confinement, felony level 6; intimidation where threat is to commit a forcible felony, felony level 6; domestic battery in which the defendant has a prior conviction of any sort of battery, felony level 6; and domestic battery, a Class A misdemeanor. 
Sparks-Wade told The Times she is doing OK and thankful to have survived the ordeal.
For years, Sparks-Wade has been unwavering in her support for Washington through his domestic violence convictions, going so far as favorably testifying on his behalf late last year when he faced a jury trial for battering a 24-year-old female cousin.
She posted bond for him in that case, and also sent The Times a video through Facebook after his arrest, which purported to show Washington, who is off camera, asking the cousin to leave the house, contrary to allegations he held her there against her will. 
Moments after the jury issued a verdict in that case, the two even appeared in a Nov. 14 Facebook video together where Washington claimed the charges were brought as part of a conspiracy against him.
Court records filed Friday, however, show it was less than a month later that she alleged he abused her, she told authorities.
Sparks-Wade said she didn't report him to authorities then, but on Dec. 13, he allegedly smacked her face with an open hand and threatened to stab her in the neck, the affidavit states.
Five days later, Porter Superior Court Judge Jeffrey Thode sentenced Washington in connection with his conviction for battering a female cousin to 180 days at the Lake County Jail, but suspended all but time already served to be spent on unsupervised probation.  
Abuse sparked by campaign differences
Sparks-Wade said Washington in court documents had been living with her since October.
Washington previously told The Times he moved from his previous residence on Connecticut Street in Merrillville's Hilldale subdivision, where he twice was involved in domestic assaults, to Sparks-Wade's home in Gary's Glen Park neighborhood to gain residency as he sought a seat on the City Council.
As longtime political allies, the two often appeared together on a near-daily basis on Facebook live broadcasts to discuss Gary and Lake County politics, corruption and, most recently, their election platforms.
The two had been arguing all day Tuesday over "basically anything they could think of," she told police, and if she interrupted him, Washington considered that "disrespect," and would call her vulgar names and degrade her, according to records.
Documents describe the two arguing about their respective campaigns and whether they should maintain their political and personal relationships, setting off Washington.
Shortly after they posted political videos to Facebook about 4:30 p.m., Washington allegedly became upset over social media comments and began dialing people in a flurry of phone calls to complain.
Washington became enraged when Sparks-Wade said she was going to hire a certain individual as her campaign manager, court records state.
She pleaded with him to stop
Washington struck her in the back, arm and head with his fists, before she laid across her side of the bed and attempted to cover up so he couldn't strike her in the face, Sparks-Wade alleges in the affidavit. 
Washington allegedly threw her phone at her face, striking her in the lip, the document stated. As she crawled across the bed, Washington allegedly threatened to "beat her (expletive)," "knock her out," and "kill her," the court records state.
Sparks-Wade said after Washington calmed down, he let her go to the bathroom and wash up.
"Blood was gushing into the sink," she told police, as she used paper towels to soak up the blood. Washington followed her into the kitchen as she grabbed ice for her injury, she told authorities.
Washington then forced Sparks-Wade to call in sick from work as a 911 dispatcher, records show. 
As Washington slept, Sparks-Wade eventually got up the courage to leave the bedroom.
Detectives observed red stains on the bathroom floor, sink, bed comforter and sheet, and on napkins used by Sparks-Wade to clean up, records show. 
Sparks-Wade reported to police that Washington also called her excessively after church Jan. 27, threatening to damage her property with bleach.
"She stated when she arrived at home that day, she smelled bleach but nothing was damaged," the report states.
A history of domestic violence
Washington's name has appeared four times since 2009 on the Indiana Protective Order Registry, listing court orders forbidding him contact with people who alleged in court they were in fear of him.
One arose over allegations of domestic violence that prompted Merrillville police to arrest Washington on Dec. 3, 2015, for the alleged assault of his wife and a female employee. Washington pleaded guilty in 2016 to battering his wife and was placed on probation. The charges involving the other woman later were dropped.
Washington had to serve 15 days in jail for violating his probation after Merrillville police arrested Washington again Dec. 8, 2017, for the battery of his 24-year-old cousin.
Washington pleaded not guilty and demanded a jury trial, which took place late last year, resulting in a conviction on misdemeanor charges but an acquittal of the felony charges. 
In that case, his cousin testified he choked, body slammed and threatened to kill her with a mallet in December 2017. 
Gary Mayor Karen Freeman-Wilson said while he is only charged at this point, Washington has shown a "very troubling" pattern of abuse.
"Certainly, my heart goes out to (Sparks-Wade). People are innocent until proven guilty, but there's a pattern here, and this pattern is very troubling. It's troubling for a layperson, but even more troubling for an elected official who has been entrusted in the past with overseeing the jail population, entrusted with the court system. And to think that he has, for the third time, found himself in front of the judiciary, it's just unfathomable," she said. 
Special prosecutor Stanley Levco, of Evansville, who is handling Washington's most recent case, told The Times he was made aware of the arrest and that it would be his responsibility to prosecute any alleged probation violation.
Washington could not be reached for comment and court records do not indicate if he has hired an attorney.
Darnail Lyles, who represented Washington in his last domestic violence case, said Friday that Washington sought his representation after his arrest. Lyles said he remains in negotiations with Washington and the two plan to meet over the weekend.
Washington served four years as the 3rd District Lake County councilman, representing residents in Merrillville, parts of Gary, Lake Station and Schererville.
He has yet to comment on the latest charges.
However, the 45-year-old previously has denied allegations of abuse, routinely declaring his arrests were part of a larger political conspiracy theory against him because he speaks out against bad government and corruption.