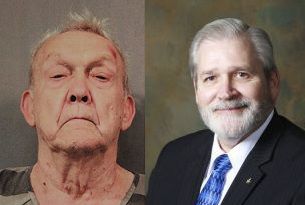 CROWN POINT — Defense attorney Scott King said Monday that William Landske "snapped" and shot a longtime friend to death over tax preparation delays, but predicted jurors would not find enough evidence to convict the 84-year-old of murder.
Lake County Supervisory Deputy Prosecutor Michael Toth urged the jury to return a guilty verdict, saying Landske intentionally drew in prominent local attorney T. Edward Page to make sure he could "put that bullet in his chest."
Landske's trial began Monday before Special Judge Rex W. Kepner, who was appointed to hear the case by the Indiana Supreme Court. Page, former deputy prosecutor, public defender and special judge, had many friends among local court officials.
Landske was charged with murder days after he fatally shot Page on Aug. 15, 2018, outside Page's home in the 1200 block of West Fourth Street in Hobart.
After selecting a jury Monday morning, Toth and King presented their opening statements.
Two of Landske's daughters, Cheryl Lynn Boisson and Jacqueline Basilotta, both of Kansas, also took the stand and described the shock they felt upon realizing what their father had done. Both women were with Landske the day of the shooting.
Family agreed to dismiss Page
Months after Landske's wife, Sue, died in February 2015, William Landske and Boisson took the couple's tax documents to Page, who for many years had volunteered to prepare the couple's taxes, Boisson said.
Page and Sue Landske became friends while she served in the state Senate, attending Republican National Conventions together. Page eulogized her at her funeral.
Boisson testified her parents' tax documents were packed in eight to 10 boxes when she and her father initially dropped them off with Page in spring 2015. William Landske continued to forward tax documents to Page in the years after.
Eventually, there was a "dust up" in the family about which of the couple's five adult children should get what, Toth said. One thing all of the siblings agreed on was that someone other than Page should prepare the taxes, he said.
Page had sought several filing extensions, and the family wanted the issue resolved more quickly.
Rick Landske also had been seeking to become his father's power of attorney without informing his sister Boisson, who already was her father's power of attorney, according to testimony.
Boisson and Basilotta said they planned to pick up the tax documents at Page's home Aug. 15, 2018. Their brother was to accompany them, but he did not respond to texts and calls when Page asked them to arrive earlier than planned. 
The sisters testified that before they left, they spoke with Landske as he sat in his bedroom in his Cedar Lake home.
He told Boisson he was talking to his late wife, whose ashes he kept beside the bed. Such behavior was not unusual, Basilotta said.
Boisson said Landske asked twice what Page had done with the taxes in the past three years and once used an expletive, though it wasn't unusual for Landske to use profanities.
She said Basilotta didn't want to see Landske upset and assured him they would pick up the documents and be done with Page.
Toth asked Boisson if she remembered telling police her father said, "It will all be over today."
Boisson testified she believed her father was simply reaffirming what she and Basilotta had said: that they would pick up the documents and things would be OK.
Basilotta said she drove with Landske, while her sister drove alone in a different vehicle. Landske said little during the ride, she testified.
'An ocean of bags'
The sisters testified Page and his husband, Kevin Swanson, met them when they pulled up outside the residence.
When they entered the foyer, they saw "an ocean of bags," Boisson said. 
Toth showed her a photo of the bags neatly lined up in Page and Swanson's foyer, along with at least one box. 
"The sheer volume of all these bags," she said. "There was a lot. That took me aside."
However, Boisson testified Page previously informed the family of the number of bags. That was why she and her sister drove different cars to pick up the documents, she said.
As the sisters and Swanson began to pick up boxes and bags, Page led Landske off to look at the yard, Boisson said.
Page wanted to say goodbye to Landske, because Page thought they might not see each other again, she said.
In his opening statements, Toth described what happened next. 
"He shoots (Page) in the chest," he said. "(Page) stumbles and falls forward, and Bill Landske puts three more in his back."
Boisson described how shocked she was, saying she couldn't believe her father shot someone. As Page fell to the ground, Landske stumbled around, she said.
"I approached my dad, and I put my hands on his shoulders. He just looked totally gone, bewildered," she said. "I said, 'Dad, what did you do?'"
An off-duty Hobart police officer, who lived nearby, called 911 to report hearing gunshots and screaming. Basilotta also called 911. Police arrived and ordered everyone to the ground. 
When police told Boisson she could get up, she hesitated.
"I didn't want to see something," she said.
'So what happens next?'
At one point, Landske asked an officer, "So what happens next?" Toth said. 
Landske later gave police a statement, which was videotaped, in which he talked about walking with Page to a remote part of the yard, Toth said.
"He draws him in close with his arm around him, to make sure he can put that bullet in his chest," he said. 
King denied that Landske planned the killing.
Landske routinely carried a gun, had a lifetime permit to carry a concealed weapon and had been friends with Page for decades, he said. 
Police repeatedly asked Landske if he planned to harm Page that day, King said. 
"Again and again, his answer was, 'When I saw the mounds of documents, I snapped,'" King said. 
King's voice rose as he described the documents, which were packed in 48 paper grocery bags and three boxes in Page's foyer.
"He was overwhelmed. There, in front of his eyes, bag after bag after bag, box after box after box, of accumulated documents, was his life and his wife's life," King said. "And he snapped."
The bags contained older documents, delivered to Page shortly after Sue Landske's death, Basilotta said. The boxes contained newer documents for taxes which Page had not yet prepared.
Also among the documents was Basilotta's birth certificate and Sue Landske's desk diaries, she said. 
"Things that didn't need to be there," she said.
Lanske's trial is set to continue about 9:30 a.m. Tuesday in Lake Criminal Courtroom 2.
Sign up for our Crime & Courts newsletter
Get the latest in local public safety news with this weekly email.