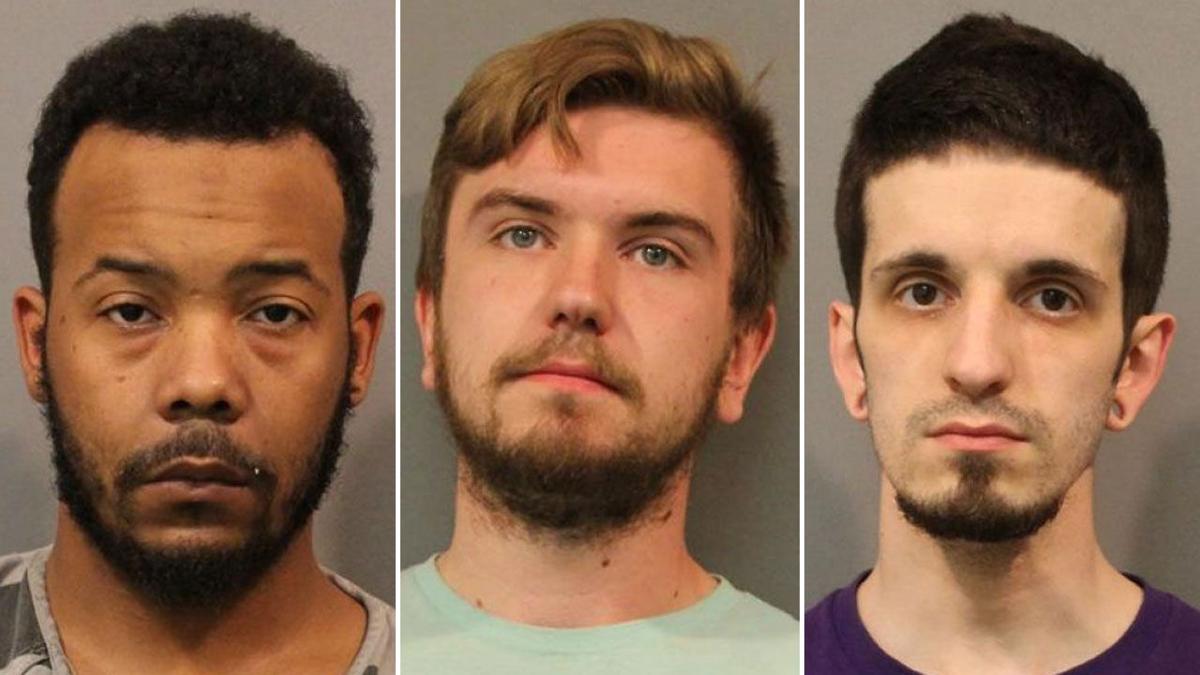 CROWN POINT — Three men were charged this week in the 2014 rape of a woman at a Merrillville apartment after rape kits were discovered by a detective and deputy prosecutor spurred on by a recent policy change to resolve a glut of untested kits. 
Lake County Prosecutor Bernard A. Carter said the new charges were the direct result of his initiative to reopen 240 cases where evidence was gathered in Lake County assault kits but never submitted to state police for testing.
Carter credited the filing of the new case to the work of Deputy Prosecutor Nadia Wardrip and Merrillville Detective Allison Ellis, who found the victim's untested rape kit during an inventory of evidence at the Merrillville Police Department.
Ellis asked members of the public who know of any other possible sexual assaults involving these defendants to call her at 755-3531.
Ajahn D. Batty, 25; Joshua W. Shipp, 23; and David G. Werner, 26, were all charged Wednesday in Lake Criminal Court with two counts each of rape, a Level 3 felony. Batty and Shipp are also charged with two counts each of felony criminal confinement. Werner is charged with one count of felony criminal confinement.
Ellis initiated an investigation into the three men after she found the woman's rape kit, collected in October 2014, during a recent inventory of untested rape kits at the Police Department.
According to court documents, the detective discovered the men were not criminally charged in the woman's sexual assault, so she reviewed reports and records from the initial investigation.
The records indicated police were dispatched to St. Anthony's Hospital shortly before midnight Sept. 30, 2014, after receiving reports of a sexual assault.
The woman, who was at the hospital with her mother, appeared to be heavily intoxicated, documents state. A medical examination indicated she had injuries to her genitals consistent with forced sexual intercourse. A rape kit was collected.
The woman told police she was playing drinking games earlier that night at Shipp's Merrillville apartment with Shipp and a second man, identified as Werner, according to court documents. She said Shipp made a rule in the game that she would have to remove an article of clothing whenever she drank, and after three or four beers, she remembers waking up naked on his bedroom floor.
She initially said at the hospital that Shipp and Batty sexually assaulted her. During a second interview Oct. 7, 2014, she said Shipp sexually assaulted her in his room. She said Werner then brought her into his room, sexually assaulted her, and then Batty came into the room and sexually assaulted her, too.
Werner admitted in an interview with police he had sex with the woman on the night in question, but claimed it was consensual. He said once he finished, Batty entered his room and had sex with the woman. He said when Batty had sex with the woman, who was crying, she might have been too intoxicated to consent, court documents state.
Shipp initially denied in a police interview he had sex with the woman, but, when asked if his DNA would be found during the woman's sexual assault examination, he admitted he penetrated the woman with his hands.
Batty was interviewed last week and said he remembered the 2014 sexual encounter. He told police he arrived at the home that night and Shipp told him the woman was willing to have sex with several different men in a row, records state.
He said he had sex with the woman and noticed afterward she appeared "sloppy drunk," records state. He admitted the woman was crying during the encounter, and he did not believe she consented to have sex.
All three men's bonds are set at $60,000, records state.
New policy for untested rape kits
Carter announced a policy change following a state report in December that found 2,560 completed sexual assault examination kits across the state were never submitted for laboratory testing. The survey was sparked by women's advocates arguing this was neglect and bias against women who make rape allegations.
"This is a clear sign of someone dropping the ball," Carter said Friday night of the case out of Merrillville. "I want all kits tested. I don't care they have to be tested."
Carter said he recently formed a team of four seasoned female deputy prosecutors, including Wardrip, who will specialize in handing all rape complaints/charges from the beginning of the police investigation to the trial. He said the four women are committed to this mission and will be sensitive to victim concerns.
Carter said he recently put all police departments in Lake County on notice that in future rape cases, investigators are expected to pick up completed rape kits from hospitals within 72 hours of their completion and submit every non-anonymous kit to the Indiana State Police crime lab for testing within 30 days of pickup. He said the state needs to create a tracking system to audit the processing sex assault kits.
Recent arrests booked into Lake County Jail