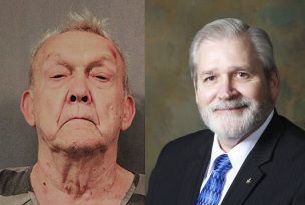 CROWN POINT — The 84-year-old widower of a state senator was sentenced Thursday to to 55 years in prison for killing a prominent attorney who was a friend of his wife for more than 30 years.
William "Bill" Landske, of Cedar Lake, was convicted of murder in August for shooting Tracy Edward Page multiple times in August 2018 after leading Page away from members of both of their families under the guise of having a talk outside Page's Hobart home.
Page's brother and sister-in-law, Paul and Sally Page, said Page's death left a hole in the fabric of the community.
"He never met a person he couldn't win over," Sally Page said of her brother-in-law.
Tracy Page was a pillar of every community he was part of, and his death continues to reverberate.
Kevin Swanson, Tracy Page's spouse and partner of more than 30 years, witnessed the ambush killing and remains so grief-stricken he could not attend Thursday's sentencing hearing, they said. Swanson also may not attend the Page family's holiday gatherings again this year as he attempts to find a "new normal."
"It's too painful for him to be with the rest of us," Sally Page said. 
Seeing the two empty seats during the holidays is painful, Paul Page said outside of court.
"It's another hole," he said. "Every time you turn around, it's another hole."
Tracy Page was a friend to the Landskes for decades, and the Page family will never understand why Landske killed Tracy Page, Sally Page said.
"Justice will be served," she said. "Bill Landske will die in prison."
Defense sought shorter sentence
Scott King, Landske's defense attorney, asked Special Judge Rex Kepner to sentence Landske to 45 years, the minimum under the guidelines.
Up until the day Landske killed Page, he led a law-abiding life, King said.
He raised law-abiding children, he owned businesses, and he served his community on the Cedar Lake Town Council for a time.
"We have this huge aberration of a moment, which has led us to this place," King said.
Landske was dealing with the grief of losing his wife, the late Sen. Sue Landske, in 2015 and was unable to handle the responsibilities regarding family taxes that she left to him, King said.
King said he advised Landske and Landske's children not to make any statements Thursday, because of a civil lawsuit Swanson filed against them following Landske's conviction. The Landskes have not yet filed an answer to the complaint.
At one point, Landske said, "I was being groped by a man," eliciting a whispered question by at least one person in the gallery about what he had said.
No evidence of such a claim was presented at trial, and Landske did not make a claim in a videotaped statement he gave to police hours after the killing. King said after court he wasn't sure what Landske said or to what he was referring.
"He was under a lot of stress," King said, adding Landske arrived in the courtroom in a wheelchair because he fell earlier in the morning.
Lake County Supervisory Deputy Prosecutor Michael Toth asked Kepner to sentence Landske to 55 years in prison.
It is because of Tracy Page's leadership over the years that Lake Superior Courts function as they do, Toth said. Page resigned from the public defender's office days before his death and served as a senior judge traveling the state.
Landske killed him over 48 bags of tax paperwork, Toth said.
Page was close to Landske's wife for more than 30 years, and Landske shot Page with his late wife's gun, he said.
"Not his gun," Toth said. "Her gun."
Kepner sentenced Landske to 55 years, the advisory sentence for a murder conviction. Landske calmly led Page away, shot him and later spoke openly with police about it, he said.
The jury chose to convict him of murder, not voluntary manslaughter, and unless Landske lives to be older than 100 he will die in prison, Kepner said.
Landske must serve 75 percent of his sentence and will receive credit for more than 400 days in jail before trial.
Lakeisha Murdaugh, attorney for Landske, said outside of court there were "no winners" after Thursday's hearing.
"The defense doesn't attempt to justify Mr. Landske's actions," she said. "We just recognize the tragedy on both sides." 
After court, Paul Page said the family was happy with the sentence, because they think Landske would have posed a risk to society if he were ever released.
Paul Page was at home in Indianapolis the day his brother was killed, expecting to meet Tracy Page for dinner. Instead, Swanson called and said Tracy Page had been killed. 
At first, Paul Page thought his brother had died in a car crash, he said.
When he arrived in Northwest Indiana hours after that call and began learning more, he didn't believe the killer was Landske, he said. 
"It was astonishing," he said. "It ripped my heart out. It ripped my wife's heart out." 
Check back at nwi.com for updates to this story.
Sign up for our Crime & Courts newsletter
Get the latest in local public safety news with this weekly email.