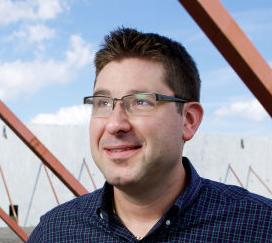 CROWN POINT —  Lawyers are calling on the Lake County prosecutor to hasten the filing of a felony charge against a local union leader accused of battery.
Attorneys Roy Dominguez and Susan Severtson wrote to County Prosecutor Bernard A. Carter to complain their client wants immediate action against Randolph "Randy" Palmateer, business manager of the Northwest Indiana Building and Trades Council. They made their letter public Friday.
The lawyers represent Christopher Meyers, 46, of Crown Point, a former planning director for the cities of Gary and Crown Point and currently an employee for the county auditor's office.
Meyers claims he has suffered a damaged retina and blurry vision since Palmateer struck him in the face April 6 with a leather-bound menu during a dispute at Gino's Steak House in Merrillville. He says he has missed work and his work and personal activities are being restricted by the injury.
Meyers complained to Merrillville police who submitted a report to the prosecutor recommending the filing of the lesser charge of misdemeanor battery.
Carter said April 12 he will request the appointment of a special prosecutor, to avoid any conflict of interest. Both Palmateer and Meyers have connections to local government.
Dominguez said Friday that a week has gone by and the prosecutor's office has yet to file any paperwork to advance the case. He said he hand delivered a letter Friday to the prosecutor's office requesting immediate action.
Carter couldn't be reached Friday afternoon for comment.
Palmateer declined comment. Merrillville attorney Paul Stracci, who represents Palmateer, said Friday afternoon, "If it wasn't apparent the case was politically driven before, it certainly is now."
Dominguez, a veteran figure in Lake County's Democratic Party, served as Lake County sheriff from 2003 until 2011. His wife, Betty Dominguez, is running for sheriff in the May 8 primary. She hasn't been endorsed by Palmateer's union.
Roy Dominguez said it is "sheer nonsense" to suggest Meyers is politically motivated. He said Palmateer was intoxicated and the assault was unprovoked.
Stracci said earlier Meyers blamed Palmateer for the loss of several jobs and started an argument. He said Palmateer only flipped a menu in the air and Meyers is making meritless allegations for financial gain. 
Roy Dominguez said he is requesting a protection order that restrains Palmateer from any contact with Meyers for the next two years. Lake Superior Court Judge John R. Pera has scheduled a May 4 hearing on the matter.