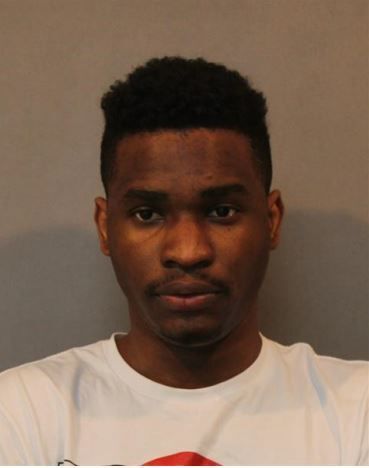 CROWN POINT — A Gary man was being held Tuesday on charges alleging he punched, tripped, stomped, strangled, gagged and bound a woman's hands behind her back April 27 after arguing with her about leaving their apartment.
Sylvester Okafor, 27, has not yet entered a plea to charges including felony attempted murder, three counts of criminal confinement, three counts of domestic battery, strangulation and intimidation.
Gary police responded to the couple's apartment in the 5800 block of Forest Court on April 28 after receiving a report of domestic abuse involving the woman, according to Lake Criminal Court records.
Okafor wasn't home when police arrived, records state.
An officer asked the woman if she needed help, and she said she did. She then told the officer about a home surveillance video on her cellphone, which lasted more than 36 minutes and showed the alleged beating, according to court documents.
During the alleged beating, her three children were in another room of the home, records state.
The woman said Okafor became angry because she had left their apartment to go to a beach earlier in the day and attacked her, according to documents.
The woman told police she was suffering from soreness throughout her body, had a tender throat and was having trouble holding her head up. An officer observed broken blood vessels in her left eye, trauma to her lips, a small bruise on her lower abdomen and missing hair at the back of her scalp, records state.
Okafor arrived home while police were at his apartment and was taken into custody, records state.
The video showed Okafor hit the woman in the face and head, used a technique to take her to the floor and applied pressure on her neck with his foot as she struggled and screamed, "I can't breathe," records state.
The woman was able to get up after Okafor walked away, but he returned and hit her head and threw her to the floor again, records state.
Okafor is accused of kicking the woman's body, hitting her, tying a towel around her mouth, binding her hands behind her back with some sort of rope, kicking her, slapping her buttocks with a knife as she lay on the floor, dragging her into another room, stomping on her abdomen, slapping her in the face and pouring hot water into her mouth while it was still covered with a towel.
He continued to hit her and stomp her, picked her up by the hair and again stood on her neck before walking to a kitchen area and eating a banana, records state.
The woman told police she knew the attack was over at that point, because Okafor told her to clean up glass from a figurine he broke over her, according to court documents.