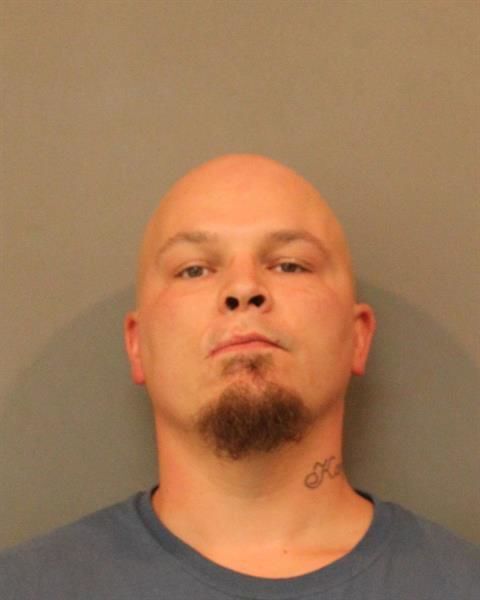 CROWN POINT — A Hobart man will have to wait until next month to learn his sentence for injuring two women, one of whom he tied up, beat and raped during an eight-hour ordeal.
Joshua M. Rodriguez, 33, pleaded guilty in April to criminal confinement, a level 3 felony, and three counts of domestic battery, including one level 5 felony and two level 6 felonies.
After listening to statements from the victims and Rodriguez and his mother, Lake Criminal Court Judge Diane Boswell said she wanted more time to review the case and continued Rodriguez's sentencing to July 14.
Rodriguez forced one of the women to take a chair to the basement of her Hobart home in February 2020, tied her to it, repeatedly punched and kicked her, used a knife to carve skin on her breast and raped her with an object, court records state.
The ordeal went on for about eight hours while the woman's children were sleeping upstairs, documents state.
The woman began pleading with Rodriguez to let her go, but she was unable to get away, Hobart Detective Sgt. Robert Brazil testified.
'He's a sick man who needs a lot of help'
Lake County Deputy Prosecutor Jessica Arnold said the state agreed to dismiss a rape count as part of Rodriguez's plea agreement, partly to spare the woman the trauma of testifying at trial.
Under his plea agreement, Rodriguez could face four to 27 years in prison.
Arnold read a statement from the woman, who wrote she met Rodriguez at age 18.
He was the first man who ever told her he loved her, the letter stated.
Six days after they married, he beat and raped her and told her there was "no such thing as marital rape," she wrote.
Rodriguez served prison time in Colorado for abusing the woman, records state.
"He's a sick man who needs a lot of help," the woman wrote.
Rodriguez began the attack on her in February 2020 after accusing her of cheating on him, she said.
Another woman told Boswell she met Rodriguez while managing a Region truck stop and their relationship became sexual in 2019, after Rodriguez allowed her to live with his family in Hobart.
The woman said Rodriguez attacked her May 9, 2019, after the Indiana Department of Child Services visited his home following allegations he hit his wife in the face May 4, 2019.
Rodriguez admitted in his plea agreement he hit his wife that day and struck the second woman May 9, 2019.
While Child Protective Services was in his home, Rodriguez called and texted the second woman incessantly attempting to manage the visit, she said.
When the worker left, Rodriguez returned to the home and kicked her out, she said. 
When she threatened to tell Rodriguez's wife about their relationship, Rodriguez attempted to force her to perform oral sex on him, she said.
They fought, and he began banging her head into a wall, she said.
Though she had experienced domestic abuse before, the attack was the first time she wasn't sure if she would survive, she said.
"Josh wanted to cause me as much pain in anyway possible, because I didn't take his instructions," she said.
The father of Rodriguez's wife testified he changed his life around over and over, because of crises caused by Rodriguez's abuse of his daughter and their children.
At one point, he had to leave his wife — who had terminal cancer — in the care of relatives to ensure his grandchild was safe, he said.
"The public must be protected from this violent sexual predator," he said.
Mom: 'He's not an animal'
Defense attorney Casey McCloskey called Rodriguez's mother, Pamela Ratcliff, to the stand.
Earlier in the hearing, bailiffs removed Ratcliff from the courtroom because she became disruptive during statements by the victims and their families. She was permitted back in to testify. 
Ratcliff testified her son was diagnosed with bipolar disorder at age 12 and suffered severe injuries at age 14, when he was hit by a car as he crossed U.S. 6 in Porter County.
Throughout his life, he's gone through cycles of taking medication, running out of medication and ending up in trouble because he stopped taking it, she said.
Ratcliff said she didn't know if her son committed the crimes discussed in court.
She said it takes two people to fight and alleged Rodriguez's wife had a drinking problem. She admitted her son used heroin.
"What he was made out to be in this courtroom was an animal," Ratcliff said. "He's not an animal. He has a good heart. He has love and compassion."
The deputy prosecutor asked for a maximum sentence of 27 years in prison.
Rodriguez has seven felony convictions, including for domestic abuse and child molesting, and he first became involved in the criminal justice system as a juvenile in 2002, Arnold said. 
McCloskey asked the judge to craft a sentence that would require Rodriguez to serve some time in prison but allow him to get treatment for his mental health issues.
"Josh is a product of what happens in our system today," he said.
In a rambling statement, Rodriguez said he wanted to apologize to the victims and their families.
"This is a hard thing for me, being able to accept the fact that I'm mentally ill," he said.
He said alcohol and drugs "bring nothing but destruction" for him.
He told the judge he's been to prison, and he didn't want to go back because "it's full of terrible people." 
When Arnold pointed out that Rodriguez didn't offer a personal apology to his wife, he said he didn't think he could address her because of a no contact order. He then offered apologies to her.
Boswell asked him what he needed. He said he needs to take medication regularly, continue with therapy, stay employed and possibly go back to school. He also enjoys cooking, he said.
Boswell said Rodriguez needs rehabilitation, but he also must pay the debt for what he did.
"The court does not have a solution to your problem," she said, before continuing his sentencing hearing to July.