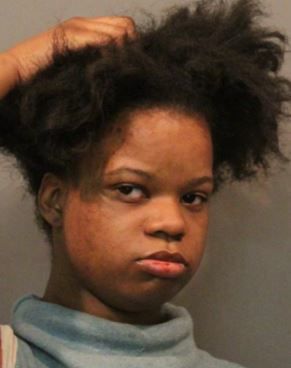 CROWN POINT — A Lake Criminal Court judge ordered mental health professionals Tuesday to evaluate a 17-year-old girl charged with murder in the death of a relative's 7-month-old son.
April Gross, of Gary, appeared disoriented and disheveled March 8 after calling 911 and repeatedly saying, "I killed baby, take me to jail," according to court records. 
The dispatcher asked Gross how she killed a baby, and Gross said, "I slammed the baby down on the floor," according to court documents.
Gross gave dispatchers an incorrect address, but they pinged the call to an apartment building in the 5100 block of Georgia Street in Gary.
When Gary police arrived, they found Gross in a hallway carrying infant Darius Whitley's limp body, according to court documents. Gross had a bloodlike substance on her lips, and her hair was in disarray, records say.
Darius' mother and grandmother, who is Gross' legal guardian, left the child with Gross while they went out, records state.
Gross has pleaded not guilty to murder.
Gross' attorney, Kerry Connor, filed a motion last week requesting professionals evaluate Gross for competency to stand trial and mental status at the time the baby was killed.
Lake County Deputy Prosecutor Jacob Brandewie raised no objections, and Judge Natalie Bokota ordered the evaluations.
After Gross was charged, Gary police Cmdr. Jack Hamady commended officers for doing all they could to attempt to save Darius' life.
Cpl. Jamall Joseph took the baby from Gross and gave him to Officer Jamal Milton, who immediately began chest compressions, according to court records.
Joseph placed Gross in his squad car, along with Milton and Darius, and drove them to the hospital as Milton continued lifesaving measures, records state. Officer Simon Lillie and Cpl. Darrian Donald helped escort the squad, Hamady said.
During the ride, Gross rubbed an officer's right arm and repeatedly asked, "Am I in trouble?" court records state.
At the hospital, Joseph asked Gross for her name and birthday, and she mumbled a reply, court records state.
When the officer asked Gross what happened, she said, "I killed my baby. Am I in trouble? It's 10 o'clock. Can I go? Is he ready? Am I in trouble?" court records state.
While at the hospital, Gross laughed when no one was talking to her and attempted to stand up several times. Officers later took her to the Gary Police Department's Juvenile Division, court records state.