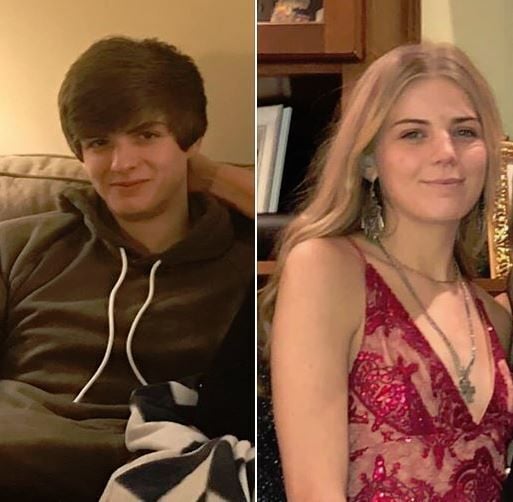 VALPARAISO — Exactly one month to the day after her son was sentenced to 179 years behind bars for the murder of two Lake County teens, Roxann Kerner appeared in the same courtroom for an initial hearing on charges alleging she attempted to help cover up the role of her son, Connor Kerner, in the crime.
Roxann Kerner, 47, of Chesterton, appeared before Porter Superior Court Judge Mike Fish, who entered pleas of not guilty on her behalf, according to the court.
A status hearing was scheduled for April 9 and a pre-trial conference on May 7.
Roxann Kerner, who is represented by defense attorney Russell Brown Jr., is charged with felony counts of obstruction of justice and perjury, and misdemeanor false informing, according to court documents.
She is accused of sending police what she intended to be an anonymous email tip on May 2, 2019, pointing the finger at another man for the Feb. 25, 2019, shooting deaths of 18-year-old Thomas Grill, of Cedar Lake, and 19-year-old Molley Lanham, of St. John, in the attached garage at her parents' Hebron-area home, according to court documents.
The tips says that Grill owed the man thousands of dollars. During a confrontation in the garage, Grill shot Lanham and the other man grabbed a second gun and shot Grill, the tip says.
Police said they were able to trace the email tip back to Roxann Kerner, despite her using a Virtual Private Network in an attempt to hide her IP address. They were able to do this because she used the same VPN when signing on to an inmate communication system to communicate with Connor Kerner at the Porter County Jail, charges state.
Police said they linked four other anonymous email tips to Roxann Kerner and received none further after questioning her attorney about the messages.
Roxann Kerner also is accused of telling police she and Connor rented a trailer to haul away trees that had blown down on their property. But a representative of that Highland rental firm testified during Connor's trial that he would not have rented out the auto hauler for that purpose.
Police said Connor Kerner loaded the dead bodies of Grill and Lanham, and various containers of flammable liquids, into the teens' Honda Civic, drove it to a rural area not far away from his grandparents' home and then set the vehicle on fire. Police said he planned to use a U-Haul truck to haul the burned car away and dump it into the Mississippi River.
Roxann Kerner, who testified in her son's murder trial after prosecutors and the judge agreed to grant her immunity if she cooperated, told jurors she was not directly involved with the details of the rental, charges state.
Yet a surveillance video shows her and Connor Kerner discussing the rental at the business and listening to instructions on how to use the winch to load a vehicle on the trailer, police said.
In sentencing Connor Kerner Dec. 8 to a "de facto" life sentence, now-retired Porter Superior Court Judge Roger Bradford described the shooting and beating death of Grill as "one of the worst I've ever seen" and said Lanham's execution-style shooting was "almost Mafioso."
Connor Kerner showed no obvious reaction to the sentence, but tears filled the eyes of the victims' family members, who a short time earlier had taken the witness stand to voice their pain.