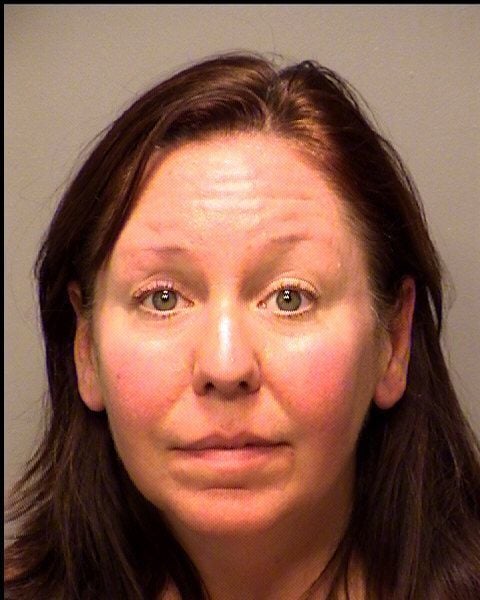 VALPARAISO — Nearly five weeks after her son, Connor Kerner, was found guilty of murdering two Lake County teens, Chesterton resident Roxann Kerner joined him behind bars and faces charges of attempting to cover up her son's role in the crime, according to court records.
The 47-year-old, who was arrested Tuesday night, is charged with felony counts of obstruction of justice and perjury, and misdemeanor false informing, according to charging documents unsealed late Wednesday afternoon by Porter Superior Court Judge Roger Bradford.
Roxann Kerner is accused of sending police what she intended to be an anonymous email tip on May 2, 2019 — two months after her son's arrest — pointing the finger at another man for the Feb. 25, 2019, shooting deaths of 18-year-old Thomas Grill, of Cedar Lake, and 19-year-old Molley Lanham, of St. John, in the attached garage at Connor's maternal grandparents' Hebron-area home, according to court documents.
The tips says the man in question used to live with 19-year-old Connor and knew where his grandparents kept their spare keys, the document reads.
It says further that Grill owed the man thousands of dollars. During a confrontation in the garage, Grill shot Lanham and the other man grabbed a second gun and shot Grill, the tip says.
The tip claims Connor was in South Bend at the time of the killings and the other man used keys he had from staying at Connor's home and "disposed of things there to frame Connor," according to charging documents.
The man reportedly got scared and told a false story to police.
Police said they were able to trace the email tip back to Roxann, despite her using a Virtual Private Network in an attempt to hide her IP address. They were able to do this because she used the same VPN when signing on to an inmate communication system to communicate with Connor at the Porter County Jail, charges state.
Police said they linked four other anonymous email tips to Roxann and received none further after questioning her attorney about the messages.
The charges cite a phone call from the jail where Connor told Roxann the man in question "is not involved in this."
Roxann also is accused of telling police she and Connor rented a trailer to haul away trees that had blown down on their property. But a representative of that Highland rental firm testified during Connor's trial that he would not have rented out the auto hauler for that purpose.
Police said Kerner loaded the dead bodies of Grill and Lanham, and various containers of flammable liquids, into the teens' Honda Civic, drove it to a rural area not far away from his grandparents' home and then set the vehicle on fire. Police said he planned to use a U-Haul truck to haul the burned car away and dump it into the Mississippi River.
Roxann, who testified in her son's murder trial after prosecutors and the judge agreed to grant her immunity, told jurors she was not directly involved with the details of the rental, charges state. Yet a surveillance video shows her and Connor discussing the rental at the business and listening to instructions on how to use the winch to load a vehicle on the trailer, police said.
Connor remains at the Porter County Jail awaiting sentencing Dec. 8 after being found guilty late last month on two counts of murder, two counts of murder in perpetration of a robbery, two counts of attempted robbery and one count of arson. He faces up to nearly 200 years behind bars.