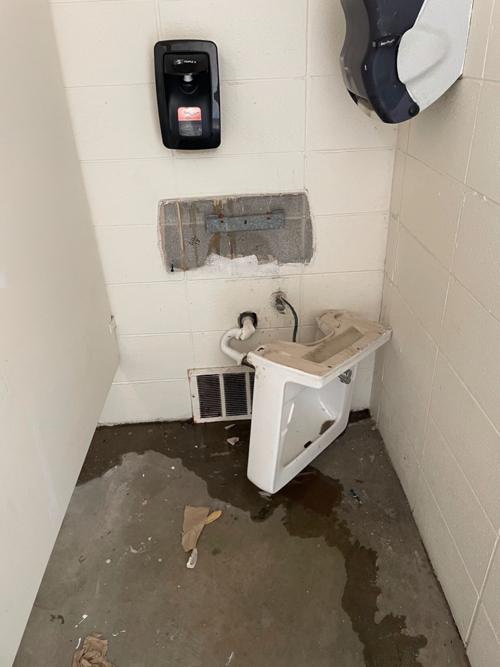 CHESTERTON — Another Region community is reporting vandals have damaged park property. 
It was discovered at 10:12 p.m. Tuesday when an officer was patrolling Chesterton Park at 515 West Porter Ave. on foot and went to check the bathrooms, according to a news release from town spokesman Kevin Nevers. 
In the women's restroom, the officer found a section of a wall had been burned, the shower curtains were dismounted and a roll of toilet paper was dropped in a toilet bowl, police said. 
In addition, a shower curtain had been partially burned and a wall was written on with black permanent marker in the men's restroom.
Parks in Chesterton are closed to the public from 10 p.m. to 5 a.m., which is enforced by police.
Recent vandalism in Highland parks have caused bathrooms to be closed more often, said the town's Superintendent of Parks & Recreation Alex Brown. 
Among the damages done to the town's parks, a playground had been vandalized with graffiti at Sheppard Park at 9229 Liable Road and there was serious damage to the women's restroom in Meadows Park at 9400 Southmoor Avenue.
Brown said he believes the worst damage stems from a social media challenge, where people are encouraged to vandalize public property. 
"[I am] 75% certain the worst ones are tied to the TikTok challenge, just due to the senselessness of it," Brown said.
Brown said as of recently, park employees encounter damage at least every other day, costing time and money. 
"Taking graffiti off of a playground took four man-hours last week," he said. "This time takes away from everything else we need to do. There are also costs associated with the damaged property. We're also seeing vandalism of many newer trees and that is not cheap."
Brown asked residents to keep an eye out and report suspicious activity, as damage has been done to multiple parks.