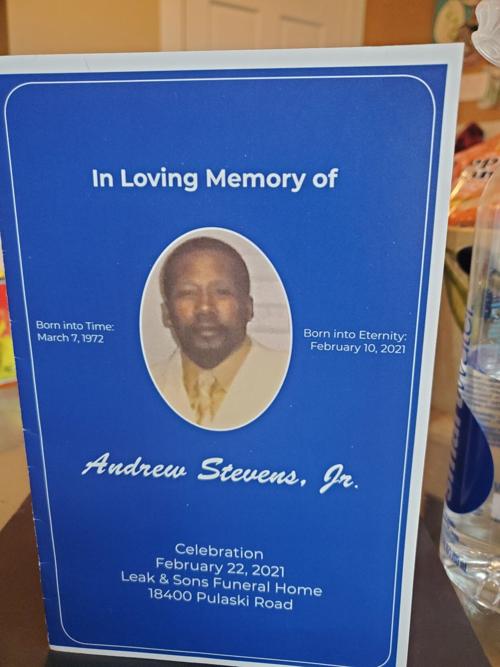 This article has been corrected to reflect the 34-year-old driver's extent of injuries.
CHICAGO — The mother of a man killed in a shooting on the Bishop Ford Freeway last month is pleading for more information in his death.
Linda Stevens-Moore, of Girard, Illinois, the mother of Andrew Stevens Jr., said she is desperate for closure.
"He was a decent person," Stevens-Moore said. "He was one of those people that was putting his life back together and had gotten back to that good place."
Stevens was 48 years old when he was slain. Police previously said he was from Glen Burnie, Maryland, but his mother told The Times he was actually living in the Chicago area for about a year or more before he died and hadn't updated his home address.
He was one of two drivers involved in a shooting that occurred on the morning of Feb. 10 on Interstate 94 at south of the Steel Bridge, or 138th Street.
His death was ruled a homicide, the Cook County medical examiner's office said.
Illinois State Police said officers responded to the area about 10:17 a.m. that morning after Stevens Jr. and another driver, identified as a 34-year-old man, exchanged gunfire while heading north on the highway.
Afterward, Stevens lost control of the car he was driving and struck a wall, causing it to overturn onto its driver side.
He was transported to a local hospital, where he was pronounced dead from a gunshot wound to his arm about 11 a.m. the same morning, police and the medical examiner's office said.
A 23-year-old woman and 4-year-old girl were in the car with Stevens Jr. but were uninjured, police said.
The 34-year-old driver suffered non-life-threatening injuries and was transported to a local hospital.
Police did not clarify which driver is believed to have shot first or what led to the shooting.
Stevens-Moore said her grandson had called her that morning to tell her about a police presence on the expressway. He initially thought there had been a car accident.
It was about an hour afterward she got a call back saying her son was injured in a crash. She said she quickly connected the dots.
Shortly afterward, the same grandchild called Stevens-Moore back to let her know Stevens had been shot and was at a hospital.
"I was first told it was a terrible accident. Next thing I heard was that he was shot," she said.
It wasn't until early in the week following Stevens-Moore's son's death that she was able to get any answers, she said.
She's still not sure why he was carrying a gun.
Stevens-Moore also noted that the child in the car is a family member and is a boy, not a girl.
To date, police have not released additional information.
State Trooper Omoayena Williams declined Thursday to answer questions regarding the circumstances of the shooting, citing a continuing investigation.
"This investigation remains open and ongoing. In order to protect the integrity of the investigation, no further information is being released," Williams said.
Remembering Andrew Stevens Jr.
Stevens-Moore wants people to remember her son as a man of faith and a loving father and grandfather who enjoyed life, loved traveling and staying fit.
Stevens was born on March 7, 1972, to Andrew Stevens Sr. and Stevens-Moore, who went by the name of Linda Stevens at the time, according to an obituary.
Stevens was the third of three children. He attended Simeon Vocational High School in Chicago and followed a career in construction.
Later, after he discovered a love for health and fitness, Stevens became a personal trainer.
He had five children — three sons and two daughters — who survive him along with his father, mother, aunt, three uncles, two stepdaughters, one stepson, two grandsons and granddaughters, four nephews and two nieces.
"It seems like we lose a lot of people like that when they turn their lives around for the better," Stevens-Moore said.
Anyone who may have witnessed or has any knowledge of the shooting may call police at 847-294-4400.