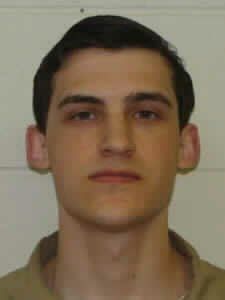 VALPARAISO — A Hebron man, who was sentenced at the age of 16 to 36 years behind bars after being labeled a violent criminal, has been denied early release from prison.
Porter Circuit Court Judge Mary Harper, who sentenced Miles Folsom on Jan. 15, 2010, said in a recent order that her hands are tied.
"Mr. Folsom is not eligible for sentence modification because he is a violent criminal ... it has been more than 365 days since his sentencing, and the prosecutor did not consent to modification," according to Harper.
Folsom, who is now 24, has an earliest possible release date of Sept. 24, 2026, according to the Indiana Department of Correction.
Folsom was sentenced on felony robbery and criminal confinement charges for pistol whipping and robbing an acquaintance on March 20, 2009.
He also was sentenced for burglarizing a home in the Gas Lite mobile home park on Oct. 30, 2008.
His case had been waived from juvenile to adult court.
Folsom told police he also was involved in numerous vehicle thefts and other burglaries that resulted in six or seven weapons that have never been recovered, prosecutors said. His "reign of terror" began at the age of 9 when he stole poisonous chemicals in a plot to contaminate Hebron's water supply, a prosecutor said at the time of sentencing.
The young man testified he had been using drugs since the age of 6 or 7.
"You are a very dangerous young man," Harper said at the time of sentencing.
Harper said it was her understanding Folsom had threatened to do her harm.
A week before sentencing, Folsom reportedly went to the bathroom at Porter County Jail, carved "I'm sorry" on his chest and attempted to hang himself.
He was rescued before he died and was well enough to be brought over to the court to tell the judge he is a changed man.