CHICAGO — At least eight federal lawsuits have been filed against Fairlife as a result of the alleged animal abuse at Fair Oaks Farms that came to light in early June, and the plaintiffs are seeking class-action status.
On Tuesday, lawyers gathered in Chicago to discuss the case, which could apply to "all persons in the United States that purchased the milk products."
The Coca-Cola Company and Fair Oaks owners Mike and Sue McCloskey are named as co-defendants in the suits, which are being consolidated into a single fraud case — overseen by U.S. District Judge Robert Dow Jr. — and come from across the country, including California, Florida and Indiana. 
Fairlife, based in Chicago, was launched in 2012 as a partnership between Coca-Cola, the distributor, and Select Milk Producers, a network of about 30 dairies that includes Fair Oaks — its flagship farm located in Newton County. 
The company markets itself as a nutritious brand of ultrafiltered, ethically sourced milk, with higher protein, less sugar and lower milk fat. Fairlife labels even include a promise that exceptional care was taken "every step of the way," from milking the cows to bottling the final product — a justification for its premium prices.
The plaintiffs claim they all purchased its milk solely because of this guarantee for "extraordinary animal care" — a stark contrast from the mistreatment seen in the multiple videos released by Animal Recovery Mission, an animal welfare group that sent undercover investigators to Fair Oaks Farms.
The footage showed Fair Oaks employees kicking, body slamming and striking calves with branding irons or steel rods, in what ARM officials billed as "the largest undercover dairy investigation of all time." Workers were seen abusing adult cows during the milking process, as well as using drugs, disposing of animals' dead bodies on company property. 
Keep reading for FREE!
Enjoy more articles by signing up or logging in. No credit card required.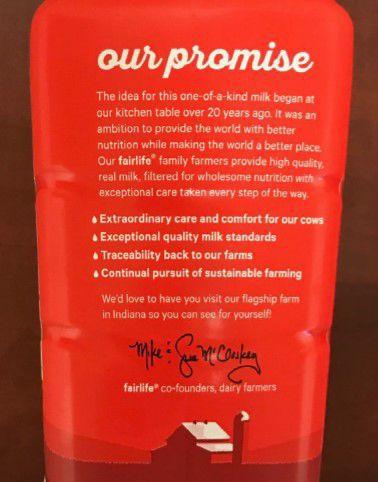 The company also was shown selling calves to the veal industry, which Fair Oaks Farms officials had said it didn't do. But the dairy accounted for less than 4% of all calves purchased by Midwest Veal, the Wabash County farm shown in the video released June 4.
"Defendants preyed on consumer desire for dairy products sourced from farms that ensure high levels of animal welfare by making animal welfare claims a central tenet of their labeling campaign," one of the lawsuits alleges. "But Fairlife's and its founders' 'promise' is a sham. Their cows do not receive 'extraordinary care and comfort.' As a matter of routine and practice, Fairlife's cows are tortured, kicked, stomped on, body slammed, stabbed with steel rebar, thrown off the side of trucks, dragged through the dirt by their ears and left to die unattended in over 100-degree heat. ... To add insult to injury, the abuse is rampant even at Fairlife's 'flagship farm in Indiana' that customers are urged to visit on the products' labels."
Mike McCloskey issued multiple statements via social media after the initial video and took complete ownership for the abuse. He said the four employees, who were trained in humane treatment, had violated standards to which they previously had agreed to keep when they were hired. Those depicted in the videos have since been terminated and face criminal charges.
The Newton County Sheriff's Office has identified three of the men: Santiago Ruvalcaba Contreros, 31; Edgar Gardozo Vazquez, 36; and Miguel Angel Navarro Serrano, 38. All are charged with the beating of a vertebrate animal, a Class A misdemeanor.
But only Gardozo Vazquez, a Mexican national, has been arrested. He remains in federal immigration custody at the Kenosha County Detention Center, where he was taken July 18.