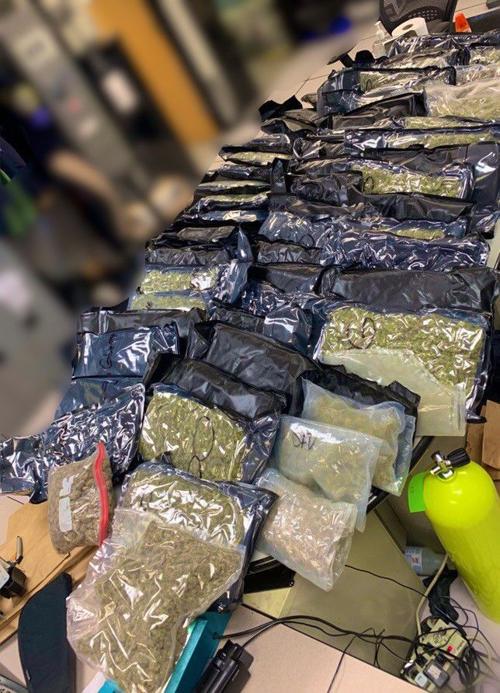 HAMMOND — During a three-day period, police recovered illegal narcotics, eight firearms, four stolen vehicles and more than 65 pounds of marijuana using the department's Blue Net license plate reader system, arresting three people in the process.
While patrolling the 5300 block of Henry Street on Aug. 10, Lt. Steve Kellogg said an officer located a stolen vehicle, which had been flagged across the city, with police unable to find it.
Once the car stopped outside a residence, Kellogg said the officer made contact with the vehicle's occupant. After obtaining a search warrant for the home, police found five guns, two stolen vehicles, a large amount of marijuana and more than $7,000 in cash inside.
The next day, an officer was alerted that a stolen vehicle had entered the city and attempted to track it down. Police soon located the car, whose driver tried to flee before eventually stopping in the 6500 block of Kennedy Avenue.
A search of the vehicle, which had been stolen earlier during an alleged carjacking in Illinois, revealed a "realistic-looking" BB gun and illegal narcotics, Kellogg said.The driver was arrested without incident.
On Aug. 12, a patrol officer received an alert, similar to the one as the day before, indicating a stolen vehicle was driving through Hammond. Police later found the car at a Luke's gas station in the 3500 block of Sheffield Avenue.
While officers tried to surround the stolen vehicle, the driver reversed and rammed into a police car. Three people then fled on foot from the vehicle.
Two individuals — both convicted felons — were apprehended, Kellogg said. Police also recovered a backpack, which had illegal narcotics and a 9 mm Glock pistol with an extended clip inside. A search of the vehicle revealed another handgun, a Glock .45 caliber pistol. One of the suspects is still at large.
Kellogg said these incidents represent "a few of the now dozens of success stories attributed to the use of Hammond's Blue Net." 
"The LPR system is just a tool that the hard-working men and women officers of the department use," Kellogg said. "It's the initiative, drive and resourcefulness of the officers using this tool that leads to these successes. Without their hard work, the crimes are blips on a screen."
Sign up for our Crime & Courts newsletter
Get the latest in local public safety news with this weekly email.