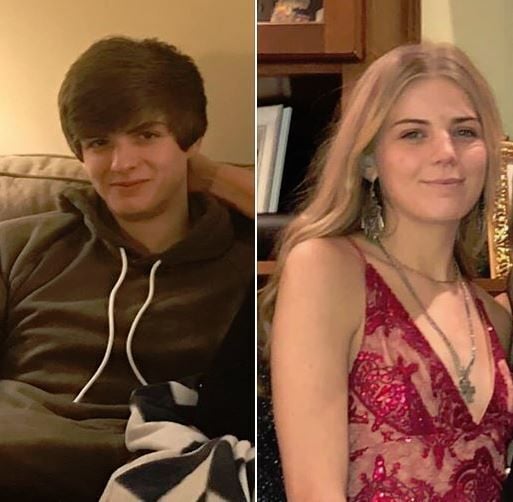 VALPARAISO — Chesterton resident Roxann Kerner told a judge Friday morning that on May 2, 2019, she provided Porter County police with a false tip blaming another man for a double murder carried out by her son.
With the admission, the 48-year-old pleaded guilty to a felony count of obstruction of justice in return for no time behind bars and a proposed sentence of 18 months formal probation. This level felony carries a potential of six months to 2 1/2 years behind years.
Prosecutors further agreed to drop a felony count of perjury and misdemeanor false informing as part of the proposed plea agreement that was taken under advisement until Jan. 4 by Porter Superior Court Judge Mike Fish.
Roxann Kerner is mother of 20-year-old Connor Kerner, who was found guilty in October 2020 on two counts of murder, two counts of murder in perpetration of a robbery, two counts of attempted robbery and one count of arson in the Feb. 25, 2019, deaths of Thomas Grill, 18, of Cedar Lake, and 19-year-old Molley Lanham, of St. John.
Connor Kerner is serving a 154-year term, which amounts to a lifetime behind bars.
Roxann Kerner's defense attorney, Russell Brown Jr., made a failed attempt to have the judge carry out sentencing in her case Friday.
Fish set the later hearing date after Porter County Chief Deputy Prosecutor Armando Salinas Jr. said he wanted to have a pre-sentence report done on Roxann Kerner.
Salinas also told the judge he intends to call up to four witnesses during that sentencing hearing and provide letters ahead of time.
Brown questioned the purpose of the witnesses, whom he understands to be family members of the two victims in the murder case. The deceased are not victims in Roxann Kerner's case, Brown said, citing an appellate court ruling that referred to such a move as irrelevant.
Fish took the challenge under consideration.
In addition to providing police with false information and attempting to disguise her identity to steer them toward a person other than her son during the murder investigation, Roxann Kerner was accused of giving false testimony during her son's trial about her role in the rental of a trailer her son hoped to use to dispose of the torched car and bodies of the murder victims.
When asked if she played any role in the rental, Roxann Kerner replied, "Not really, I was in the middle of a work call," court records show.
Yet a surveillance video shows her and her son discussing the rental at the business and listening to instructions on how to use the winch to load a vehicle on the trailer, police said.
Roxann Kerner had been scheduled to go to trial Jan. 25, but Fish vacated that and preliminary hearings.
Connor Kerner's co-defendant, John Silva II, 21, of Hamlet, went to trial in June, which resulted in a hung jury. Prosecutors plan to retry the case April 11 and continue more than two weeks if needed.
Silva, who initially told police he was not present during the killings, reportedly later admitted to being in the basement of the Hebron-area home when the killings occurred and then aiding in cleaning up the scene, police said. A recording of the murders he made was played during both trials.
Connor Kerner reportedly told a confidential informant he shot Grill and Lanham after Grill tried to rob him during a drug deal, according to the records. Connor Kerner loaded the bodies of Grill and Lanham in the trunk of a Honda Civic following their slayings, along with flammable liquids containers and set the vehicle on fire.