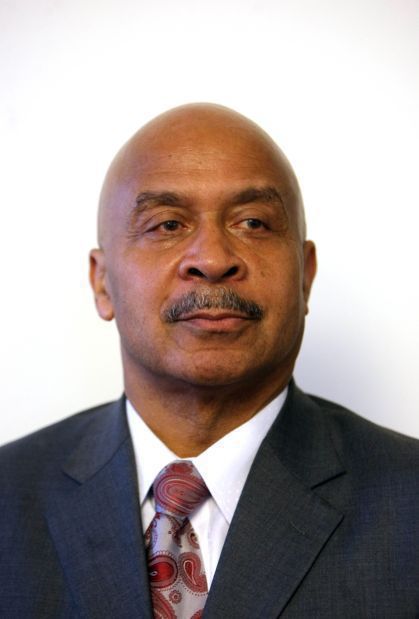 GARY — Retired federal agent Richard Ligon has been tapped as the city's next police chief and the first to serve in Mayor-elect Jerome Prince's administration come Jan. 1. 
Prince announced Ligon as his pick at a noon press conference Tuesday at Gary City Hall.
"Gary deserves a police chief who has the leadership and technical skills that will command respect of the department and the community alike and will enable our officers to keep our neighborhoods safe," Prince said. 
Ligon, a retired federal agent and military commander, has 36 years of military service in the Army and 23 years as a federal law enforcement officer. He also served about five years as a Gary police commissioner. 
The city of Gary has had a high turnover of police chiefs in the last 14 years — 10 to be exact. On Jan. 1, Ligon will be Gary's 11th police chief since 2006. 
Former Mayor Scott King appointed Jeffrey Kumorek in 2006. Former Mayor Clay also appointed Nathaniel Brannon in 2006, Thomas Houston in 2007, Lawrence Wright and then Reginald Harris in 2008, Gary Carter in 2009 and Anthony Stanley in 2011.
Houston's departure came after he was charged with — and later convicted of — federal civil rights abuses. Mayor Karen Freeman-Wilson appointed Wade Ingram in 2012 and Larry McKinley in 2014. Then, in January 2018, she appointed current chief Richard Allen. 
Ligon said he hopes to bring some stability to the police department and ease the transition to a new chief for the men and women of the department.
"We're definitely going to stabilize. To have as many chiefs as we've had in the last 10 years, that's unacceptable," Ligon said Tuesday.
Ligon inherits a Gary Police Department that has struggled in recent years with understaffed patrol shifts, an overworked homicide unit, aging vehicle fleets and outdated equipment. The department has a hard time also attracting new recruits and combating violent crime. This year, the city is also experiencing an uptick in homicides for the first time in years.
Prince and Ligon said some of their biggest priorities will be decided in the coming weeks as they sit down and have discussions with the command staff and the Prince administration. The city's anti-crime initiative, Gary For Life, will continue, Prince said, but he will seek to improve on the program's successes. 
Council President Ron Brewer, D-at-large, said he looks forward to working closely with Ligon on public safety issues in the city. He said he hopes Ligon takes a tough approach in combating gun violence. 
"I hope he takes an aggressive approach because it's very disturbing with the homicide rate being up," Brewer said. 
Ligon said he has no immediate plans to shakeup Gary's command staff but would like to sit down with each division to discuss ways to take the department in new directions.  
"If it's not broke, don't fix it. I was told, or (it was) recommended, maybe you should do letters of resignation. I said 'No way.' Some positions will have to be determined. Others, right now, they will be talked to, and I don't intend on making changes."
Prince said he wants to focus on his job as mayor, and leave staffing decisions up to Ligon. 
"The chief can absolutely rest assured know there will not be any micromanaging from City Hall and I will certainly rely on his expertise and his opinion and insight in terms of picking his staff," Prince said. 
Ligon is a graduate of Gary's Froebel High School. The Gary native unsuccessfully ran three times for Lake County sheriff in recent years.
He served as a law enforcement official for the U.S. Postal Service from 1981 to 2004.
Sign up for our Crime & Courts newsletter
Get the latest in local public safety news with this weekly email.