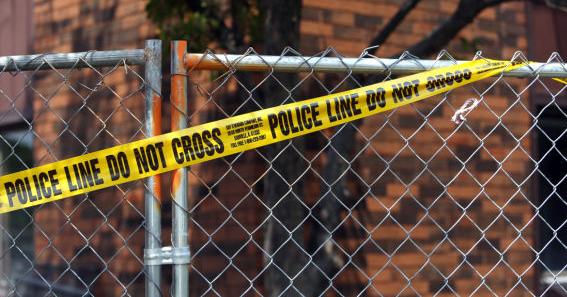 HOBART — Whoever bludgeoned Wilkie McGuire to death in the summer of 1996 likely acted on impulse — impassioned by rage in the heat of the moment.
At least, that's one theory Hobart Police Lt. James Gonzales is considering these days as he roots around in the case files of McGuire's unsolved murder to learn more about her killer.
The 83-year-old was killed some time between the night of Aug. 6, 1996 — when she was last seen alive — and Aug. 8, 1996. 
That was the day her 31-year-old grandson found McGuire strangled and beaten to death, her body sprawled out on her concrete basement floor, police said.
The grandson told police he went to McGuire's rented home in the 300 block of Cavender Street that Thursday to tell his grandmother her landline telephone was off the hook and that he was getting a busy signal, police reports show.
When police arrived, detectives found blood-stained canned goods scattered on the concrete and substantial amounts of blood spatter near her body. Police never recovered a weapon. 
"Whoever did this was likely very angry. That's a lot of overkill," Gonzales said.
Detectives initially did not suspect foul play, but six days later, the coroner's office ruled McGuire's death a homicide due to blunt force trauma to her head and neck areas. It was the coroner's opinion that the woman could not have suffered those injuries in a fall.
Police interviews with family and neighbors paint a picture of a kind, elderly woman who lived alone and was careful never to open the door for strangers.
There was no sign of forced entry into her home, Gonzales said. That leads him to believe McGuire may have known her killer — someone she thought she could trust.
Keep reading for FREE!
Enjoy more articles by signing up or logging in. No credit card required.
She was last seen alive on a Tuesday. Her daughter dropped her off at her home that afternoon after having lunch together. 
One of McGuire's neighbors reportedly told police he received a call the day before from a long-distance number and an unknown male asked to speak with McGuire, Gonzales said.
After the neighbor contacted McGuire, McGuire reportedly walked over to the neighbor's house and spoke with the individual, who asked for her phone number, Gonzales said.
Some time later, McGuire received a call from the individual yelling at her and demanding money, according to an interview with McGuire's daughter. The daughter told police she received an emergency message not long after that from McGuire, telling her to come back to the house because she was afraid of the person on the other line, Gonzales said.
Two days later, she was found dead. 
Gonzales said he doesn't believe McGuire's killer did it for financial gain or during a robbery attempt. 
Now that he's taking a fresh look at the case, Gonzales said there is physical evidence from the crime scene he wants to be tested. He declined to go into further details.
Gonzales said he thinks someone out there knows what happened to McGuire. 
"I believe someone's talked about this, maybe to a spouse, an ex, but they feel intimidated to come forward," Gonzales said.
Anonymous tips are welcomed if it helps bring police closer to McGuire's killer.