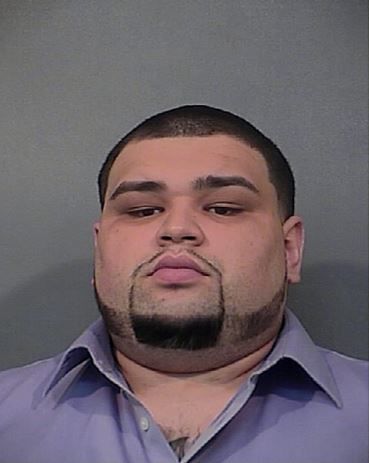 CROWN POINT — A man previously convicted of killing a man in 2011 while driving drunk vomited on himself and was unable to walk without assistance after he was arrested Sunday on suspicion of operating while intoxicated, court records allege.
In the most recent case, Michael Temores, 33, of St. John, is accused of hitting a motorcycle in a Schererville parking lot, leaving the scene of the crash and striking a guardrail in an unincorporated part of town.
Temores was held at the Lake County Jail from Sunday to Tuesday, when he was released pending further investigation, officials said.
Sheriff's police planned to seek charges, including felony operating while intoxicated and habitual traffic offender, Lake County Sheriff Oscar Martinez said.
Schererville police planned to charge Temores with misdemeanor failure of duty, records showed.
Temores was sentenced in 2014 to 11 years in prison for killing 61-year-old Fred Skafgaard, of Lansing, on Dec. 30, 2011, in a drunken driving crash near Hohman Avenue and Ridge Road in Munster. 
His driver's license was suspended for five years, and he was eligible for a hardship license. Lake Circuit Court Judge Marissa McDermott in June denied his petition for specialized driving privileges.
Temores had been drinking at the grand opening of the AquaVor nightclub in Hammond and was going about 90 mph when he ran a red light and slammed into Skafgaard's pickup truck. He eventually pleaded guilty to a class B felony count of causing death while operating while intoxicated.
Temores was released from prison in May 2017, Department of Correction records show. Temores' release date was affected by credit he received for jail time served before his sentencing and good behavior while incarcerated.
Before he was charged in Skafgaard's death, Temores had been cited or charged in more than 100 traffic-related offenses, records show. He had two prior drunken driving cases that were later pleaded down to lesser charges.
About 1 a.m. Sunday, Schererville police were dispatched to a parking lot at the southwest corner of Cline Avenue and U.S. 30 after a man driving a gray Chevrolet Silverado pickup truck ran over a parked motorcycle, records show.
Witnesses told police the driver of the pickup truck circled the lot and fled south on Cline Avenue. They were able to take a photo of the truck's license plate and tailgate, which had a large white magnet or sticker on the passenger side.
Schererville police located the Silverado crashed into a guardrail near 93rd Avenue and Blaine Street. Temores was sitting in the driver's seat, records allege.
Temores was attempting to leave, but the Silverado could not move because of damage from the crash, according to documents. Temores got out of the truck's passenger side.
Lake County sheriff's police arrived to investigate the crash, and Temores twice refused to take a chemical test, records state.
Police found a gun in the pickup truck during a search, records state.
An officer noted Temores smelled of alcohol, had slurred and delayed speech, and appeared to be unsteady on his feet.
Temores was placed in the back seat of the officer's police car, where he vomited on himself and the seat, records allege.
Police took Temores to Franciscan Health hospital in Crown Point to be medically cleared. While there, he was placed in a wheelchair because he was unable to walk on his own, records state.
Police also obtained a warrant for a blood test, which was granted. The result was not disclosed in police records.