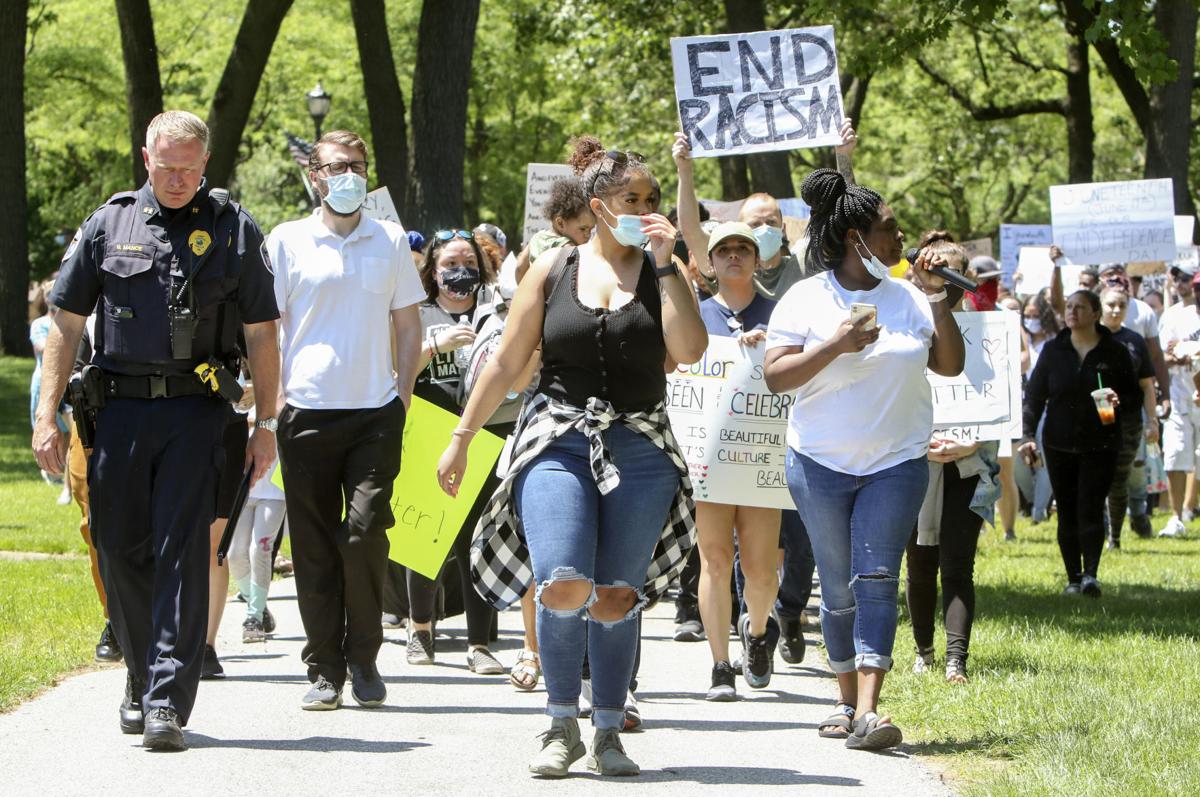 The Merrillville Police Department — which has 57 full-time officers, of whom only eight are black, Hispanic or Native American — polices a town where minorities make up 67% of the population.
That was one of the key findings after The Times of Northwest Indiana surveyed 26 law enforcement agencies regarding diversity among ranks as part of a larger discussion about police reforms in the wake of George Floyd's death.
The Merrillville Police Department fared the worst in terms of its diversity across Lake, Porter and LaPorte counties, the data shows. Departments in Hammond, Griffith, Portage and Gary weren't far behind.
Overall, minorities make up 67% of Merrillville's population, but only account for 14% of the town's police force. The data also shows Hammond's police force has the second-worst minority representation in the Region: Minorities make up 65% of the population, but account for only 22.5% of the city's police department.
Fatal encounters between white officers and minority men and women in recent months have sparked protests through the U.S. — and tough conversations within some of the Region's police departments — about ways to improve community relations.
Having a diverse demographic is but one tool at police agencies' disposal — use-of-force and racial bias training, disciplinary action, and changing policing culture from within are also musts, local police chiefs said.  And a diverse force doesn't necessarily mean a department won't have its share of problems.
But context is everything: Recent interviews with agency leaders spotlighted the inherit challenges in recruitment and retention in a historically white- and male-dominated career field.
Many police chiefs also say it's difficult to balance diversity goals with hiring only the best of the best.
All but three departments — Cedar Lake, Winfield and Chesterton — in the Region had fewer minorities within their ranks than reflected in the population of the municipality they serve.
Several larger departments — like Munster, Schererville, Valparaiso and Hobart — came closest to mirroring the population they serve but still fell short.
Vanessa Allen-McCloud, a Gary native and president and CEO of the Urban League of Northwest Indiana, said departments should make minority recruitment a top priority — even those that are cash-strapped or have long struggled to find minorities.
"These departments are saying, 'Well, we can't find any (minorities).' My question to them is 'Well, how far are you casting your net? Are you casting your net only in your neighborhood or are you reaching out to those neighborhoods with an African American population?' " McCloud said. "Consult with your mayor, the controller, and find the money and make it a priority."
WATCH NOW: Riding Shotgun with NWI Cops series
Catch up on all the action of the "Riding Shotgun with NWI Cops" police ride-along series by The Times.
The video series, which aims to air one new episode per month, has our reporters and videographers "riding shotgun" in the passenger seat of a Region officer's squad car each month, introducing you to the men and women who patrol our streets while taking you inside the work of their police shifts.
Who fared the worst?
In Merrillville, black residents make up 44% of the population, but the department only has three — or 5% — black officers on staff. The department said it also has four Hispanic officers and one Native American officer.
Kosta Nuses, assistant police chief in Merrillville, said he can't speak to the former administration's hiring process because he was promoted within the last eight weeks with the retiring of longtime Chief Joe Petruch.
"I couldn't tell you. … But there are a set of standards, and you can't just take somebody who fails the test or fails a background check — doesn't matter if you're white, Hispanic or black," Nuses said.
He said he and the Merrillville's new police chief, Wiley Luther Cuttino — who also happens to be the first black person to serve in the role — are in the early stages of a new recruitment strategy that partners with local schools on an Explorers-type program.
The Hammond Police Department is already making strides to mirror the city's demographics — by sponsoring residents' time in the police academy.
When Thomas McDermott Jr. first entered the mayor's office in 2004, the majority of the city's police force were white — and more often than not, they were white males who didn't live in Hammond.
"We had a system based on test scores, fitness, mental aptitude, and we would just rank them one to 100. We'd take the top five and invite them in. But after watching the system fail us, we created the Academy Bound program, which lets (the city) sponsor students who want to become police officers," said McDermott, the longest serving mayor in the city's history.
The Academy Bound program is by far the city's most successful recruiting effort, Hammond police Lt. Steven Kellogg said.
"This method of recruiting not only ensures that applicants are Hammond residents, but also affords financial assistance to those qualified applicants who may not be able to afford the cost of academy tuition," he said.
Since the program started in 2017, 12 recruits have graduated and joined the department's ranks so far, including six minorities and one female, Kellogg said.
McCloud of the Urban League said having a diverse police department is not only about improving relations with the community; it also fosters a more culturally sensitive department.
"If you have minorities in your ranks, you can have better conversations on the history, the background and the environment people come from. If you don't have a diverse police rank, how can you know that? How can you have that conversation if your department is all white?" McCloud said.
'Bonds of trust'
Hispanics, and blacks to a lesser degree, are underrepresented on the Portage Police Department in comparison to the city's population. Nearly 91% of the department is white, whereas nearly 30% of the city's population is black or Hispanic.
Portage police Sgt. Rob Maynard said while his department does not entirely match the community, the force does have representation from each major demographic group and would welcome a more diverse force.
"Ultimately all officers receive the same training and have the same work standards regardless of race," he said. "What we may be lacking is some institutional knowledge of certain aspects of our community."
Some studies have shown that a police force that is not representative of the community tends to lead to distrust within local minority groups, which can make the job of policing that much harder, Maynard said.
"Regardless of the department's racial makeup we will always strive toward that, but building those bonds of trust and cooperation is easier when people see a police force that looks like them and can easily communicate with them."
"Having Spanish-speaking officers, for example, is extremely valuable when engaging with the Hispanic community," he said. "It's not that every Hispanic officer speaks Spanish and non-Hispanic officers are certainly capable of learning Spanish, but having Spanish-speaking Hispanic officers goes back to that original point that those bonds of trust will be built easier."
The department has not traditionally recruited officers, but now finds itself with far less applicants than in the past, Maynard said.
The number of people applying to work in law enforcement is down nationwide, and the Portage Police Department has seen the same locally, he said. 
"With that being said, we are looking at increasing our recruitment efforts and that will certainly entail targeting minority applicants. I've read some professional articles that say a lot of minorities are hesitant to enter into a law enforcement career due to pressure from family and friends not to, especially when higher-paying, lower-risk jobs are readily available for those who have the qualifications we are looking for," Maynard said.
'I'm a white chief'
In Griffith, Police Chief Greg Mance said the police department's lack of diversity is not for a lack of trying.
Black, Hispanic and other minorities make up 35% of the town's population, yet only 6.5% — or two — are on a police force of 31.
Mance said since 2013, his department has offered workshops in partnership with Indiana University Northwest's Center for Urban and Regional Excellence and the Southlake YMCA in an effort to recruit more minorities and females.
The workshop goes over the interview process and exam procedures with potential candidates.
"It takes away the mystery," Mance said.
The workshops appears to have sparked new interest, he said.
In 2013, his department had 63 applicants, and of those, 57 were men, six were women, and five were minorities.
Two years later, after Mance launched the workshops, the total number of applicants nearly doubled to 111, and female and minority applicants increased five-fold — to 23 and 35 respectively.
Griffith hired a female officer that year, and the minority finalist wound up joining the Indiana State Police, Mance said.
Another challenge is the Griffith Police Department has an incredibly low turnover rate so new hires are few and far between, he said.
"I hear many people say, 'Police need to do this, police need to do that.' You know, I can preach and put it out there as much as I want that, 'Hey, I'm actively recruiting and actively taking steps,' but it's hard for me to reach some of the groups we're trying to reach. I'm a white chief in a (mostly white) police department, it's hard to take that first step," Mance said.
Mance, who disagrees with the idea of defunding police departments and reallocating those dollars elsewhere to address crime, also said diversifying alone won't solve the problem.
"A lot of progress has been made by law enforcement, but unfortunately it only takes one event to erase decades of progress. With the death of Mr. (George) Floyd, I understand there is a justified mistrust of law enforcement," Mance said. "All we can do is double down our efforts to build bonds of trust, but it's hard. I think in Griffith, we have a very good relationship with our community, but it's a constant battle we all have to be aware of."
McCloud said she is eager to workshop with police departments in the Region for an outside, fresh perspective about diversity and implicit bias above and beyond the training police departments already undergo.
The Urban League of Northwest Indiana offers diversity and inclusion workshops to nonprofits and for-profit organizations, she said. Her team provides a safe environment to talk about stereotyping, racial and implicit bias and cultural competency. They also assist with developing action plans, she said.
Usually, an organization will contact the Urban League because training is mandatory after an incident.
"Or they tell us they felt it was time to have these courageous conversations," McCloud said.
'One mistake away'
East Chicago — originally made up of immigrants — remains one of the Region's most diverse melting pots, with only 5.9% identifying as non-Hispanic white, according to Census data.
Given the city's racial mix, its police department is fairly diverse: Blacks make up 32% of officers in East Chicago, compared to 32% of the city's population; 43%of its officers are Hispanic, compared to 58% in the city.
Rivera said while a diverse force can improve community relations, the department is focused on hiring East Chicago residents, so they understand the residents they interact with, along with their culture, and the high poverty and unemployment rates.
"When we're taking away people's freedom, nobody is happy. But if an officer is from EC, there's this sense of understanding. You understand them based on their morals and values, and they don't think you're looking down on them. … I'm a product of this city, I go to community meetings, and people, they see me shopping here, riding my bike around town and out in my uniform," Rivera said.
The department offers incentives to city residents to join by offering finalists an additional 15 points, out of 100, for their rankings — just for living in the city, East Chicago Police Deputy Chief Jose Rivera said.
"You have to pass the tests, the interviews, so you still have to qualify," Rivera said.
Rivera said the city also provides another incentive to potential candidates to live in the city: $15,000 in down payment assistance for an existing home or $30,000 toward a new home in East Chicago.
Tough conversations have been sparked across the nation within law enforcement following the death of the George Floyd and other high-profile killings of black men and women by white officers. The protests do not go unnoticed by police, Rivera said.
"We have been so fortunate, but we always tell our officers, 'Let's remember we're only one mistake away from this occurring here, so keep practicing what we preach," Rivera said.
'Only five took the job'
Far too often, minority applicants don't make it through the hiring process — either by failing the physical or psychological tests or background check, according to Brian Evans, the recently appointed interim police chief in Gary.
Hundreds of candidates applied in 1994, the same year Evans was hired at the Gary Police Department, he said. 
For comparison, in 2019, the department received about 100 applicants. From there, only 29 passed the written test and 12 failed the background check due to having a felony, or misdemeanor domestic battery or firearm possession conviction on their record, he said.
"Only five took the job. It was a diverse group, but that is where we are today," Evans said. "This downward trend of applicants has been going on for a long time. Law enforcement, as a profession, has to compete with a global society. Young people don't see it as a career."
Evans, who is black, said his hiring experience was unique. He was hired with the Gary Police Department during a distinct time in the U.S. when then-President Bill Clinton controversially proposed that the federal government pay for 100,000 additional police officers across the country to combat rises in crime.
"The city of Gary hired 50 officers that year, and I was one of them. Just like now, (well over half) of the officers who started with me did not finish when I was there five years later," Evans said.
Evans, like many chiefs in the Region, believes what happened in Minnesota to George Floyd is a tragedy — and should be condemned.
Captured on a viral video, Floyd died May 25 after a white officer with the Minneapolis Police Department pinned him to the ground with a knee to the neck for nearly nine minutes as Floyd pleaded: "I can't breathe."
Evans said that isn't reflective of how most officers and departments operate.
In July, Evans' boss, Gary Mayor Jerome Prince, signed an executive order creating a police commission responsible for analyzing the department's use-of-force policies and recommend changes if necessary.
"That's what makes good policing. You discipline, but it's not about punishment. It's about coaching and learning," Evans said. "When you have to discipline, it should be about changing behavior."
Hebron has one Hispanic officer among its force of 10, which amounts to 10% minority representation on the department as compared to 12% for the community.
"I fully support the concept that a police department's demographics should reflect those of the community that they serve," Hebron Police Chief Joshua Noel said.
"I believe that the Hebron Police Department does an excellent job of that, with exception to female officers," he said, referring to the two females on the 10-member force. "I do truly wish that we had a higher percentage of female officers on the department. Unfortunately, given the current applicant pool that has been challenging, but I feel we are in a better position than most area departments in this regard."
'We hire the best candidate'
The Porter County Sheriff's Office has no black officers and two Hispanic officers amounting to 2.9% minority on the department as compared to 19% among its population.
"The Porter County Sheriff's Office is committed to providing the community with educated, professional and well-trained police officers that can be trusted," the department said when asked for comment. "We hire the best candidate regardless of sex, race, or religion. We urge anyone that is interested in law enforcement to join our team."
In Valparaiso, about 88% of the department is white, which is on par with the city's population, which is about 86% white. The diversity in the community is fueled by the local university.
"We do our best to have our agency reflect this diversity, as all members of the community want to the see themselves within the construction of their police officers," the department said. "We continue to work toward expanding our diversity amongst our workforce, and even though the demographics, in terms of percentages, are represented well when compared with our population, we would love to see the raw data, the actual numbers, reflect our community culture."
The department said it is always seeking the best candidates, and specifically looking for ways to become more diverse. The department discusses the importance of diversity as part of a video on its Facebook page.
"We have expanded our hiring and recruitment team, creating more opportunities for us to attend university and college career fairs, as well as those supported by organizations that bring attention to hiring minorities," the department said. "We have also partnered with universities across the state and surrounding states, to bring our hiring message to them."
The department said leaders there continue to seek opportunities for all people to see the Valparaiso Police Department as a place they would like work, and Valparaiso as a place they would want to live.
"Our social media platforms continue to expand, as does our overall outreach. These platforms and programs will continue to help us as we take this step of inclusion in our workforce."
'Checks and balances' 
Despite the town of Munster being mostly white, the town's Police Department still makes an effort to diversify.
Its department is nearly an exact mirror of its demographics: Minorities make up about 25% of the town's population and about 24% of the force. Hispanics account for 19% — or 8 — of the department's 42 officers, compared to the town's 14%.
That's in part because the department is accredited through the Commission for the Accreditation of Law Enforcement Agencies (CALEA), according to Lt. Daymon Johnston.
It's a prestigious status to have, as only a few departments attempt accreditation because the resources it requires, and even fewer qualify, Johnston said.
In Northwest Indiana, only police departments in Munster, St. John, Schererville and Valparaiso are part of CALEA, Johnston said. There are only just over a dozen total across the state of Indiana.
CALEA requires accredited agencies to adopt certain standards and take steps to mirror the communities they serve.
To become accredited, a department must open itself up to a top-down rigorous review of policies procedures, standards, and operations by a team of CALEA assessors, Johnston said.
"We try to be as ethical as we can, treat people with respect and dignity, and with CALEA, we have checks and balances," Johnston said.
Sign up for our Crime & Courts newsletter
Get the latest in local public safety news with this weekly email.